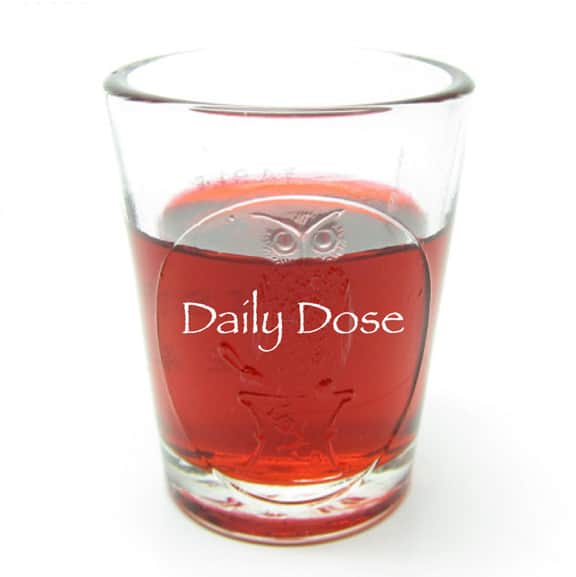 April

 

•

 

June

 

 
|
2 0 1 7
19 April 2017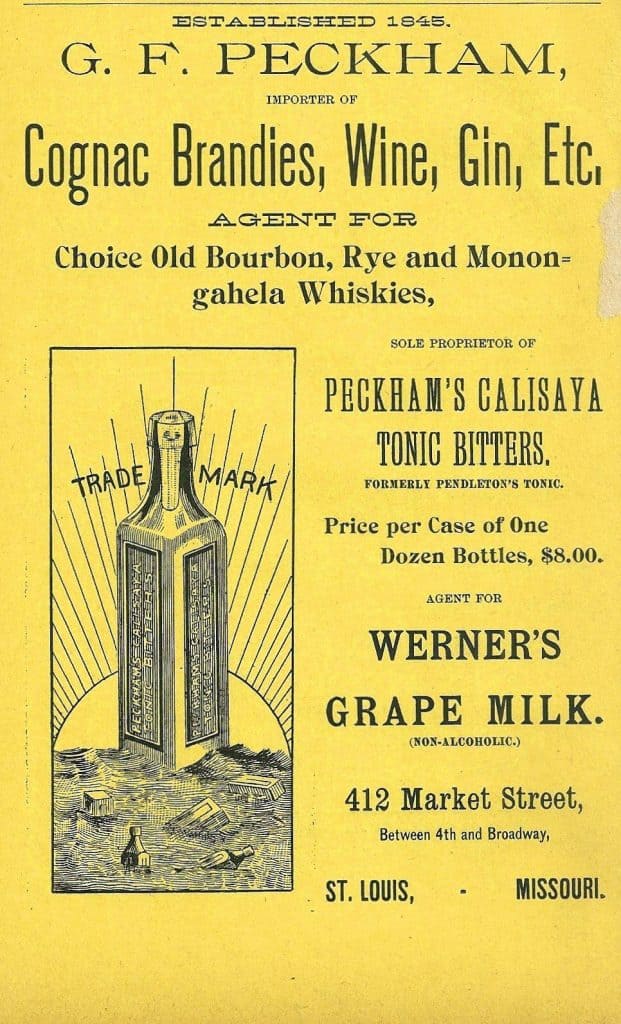 Cool ad posted by Lou Holis for Peckham's Calisaya Tonic Bitters (formally Pendleton's Tonic). I don't believe there is a surviving bottle out there?
17 April 2017
Looks to be reference to an unlisted "King B Bitters" put out by the Hall Brothers in San Francisco. Certainly am aware of those guys.
16 April 2017
Brad Seigler submits this image for Dr. Russell's Pepsin Calisaya Bitters. Read: Augauer Bitters and the Gauer Family – Chicago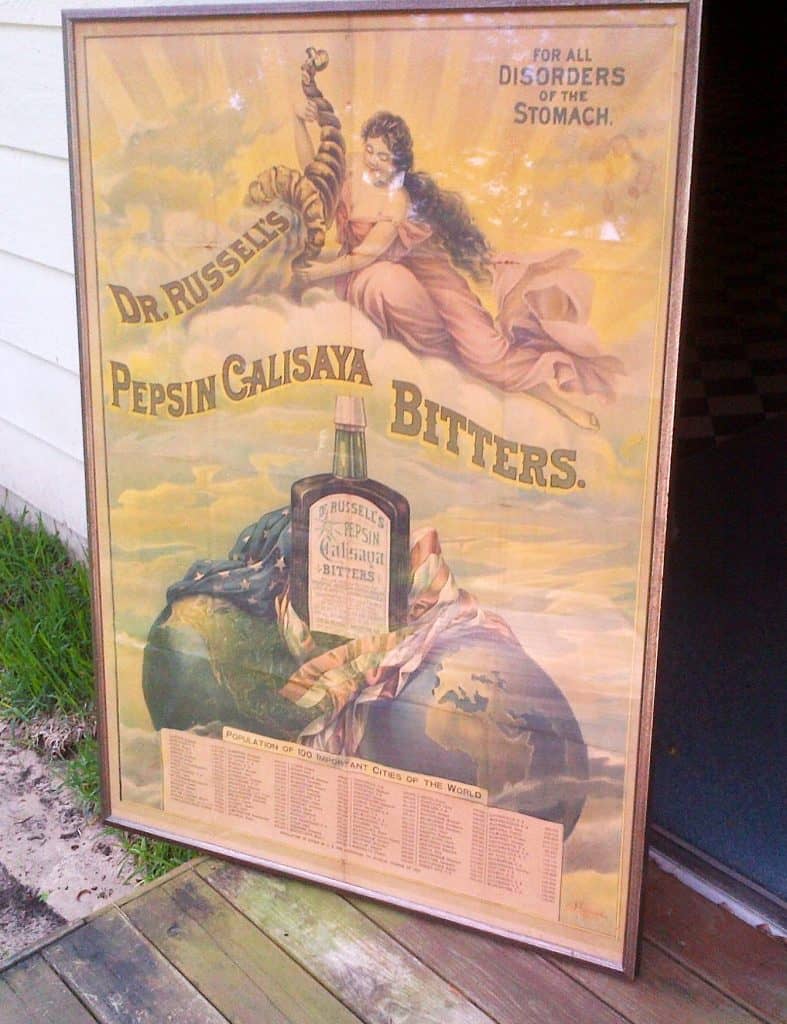 15 April 2017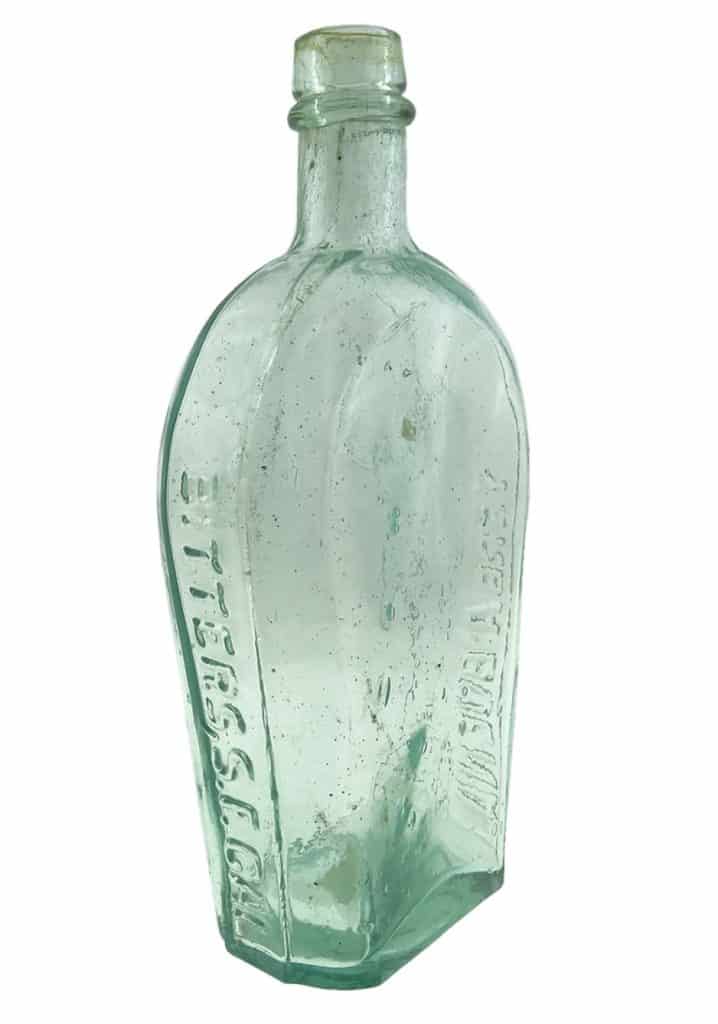 Someone got a great deal on this one. Went to your Yerba Buena Bitters – A San Francisco Strap Flask page on your site. The picture was not there representing an aqua one. This was on the American Bottle Auctions For Sale page last year. – Lou Holis
All: There is a super yellow/green tone example on eBay now. Superb Colored Western Bitters- Yerba Buena
14 April 2017
Love this framed advertising piece for Dr. Miller's Celebrated Root Bitters. W. D. Miller, Saint Paul, Minn. Posted by Steve Ketcham.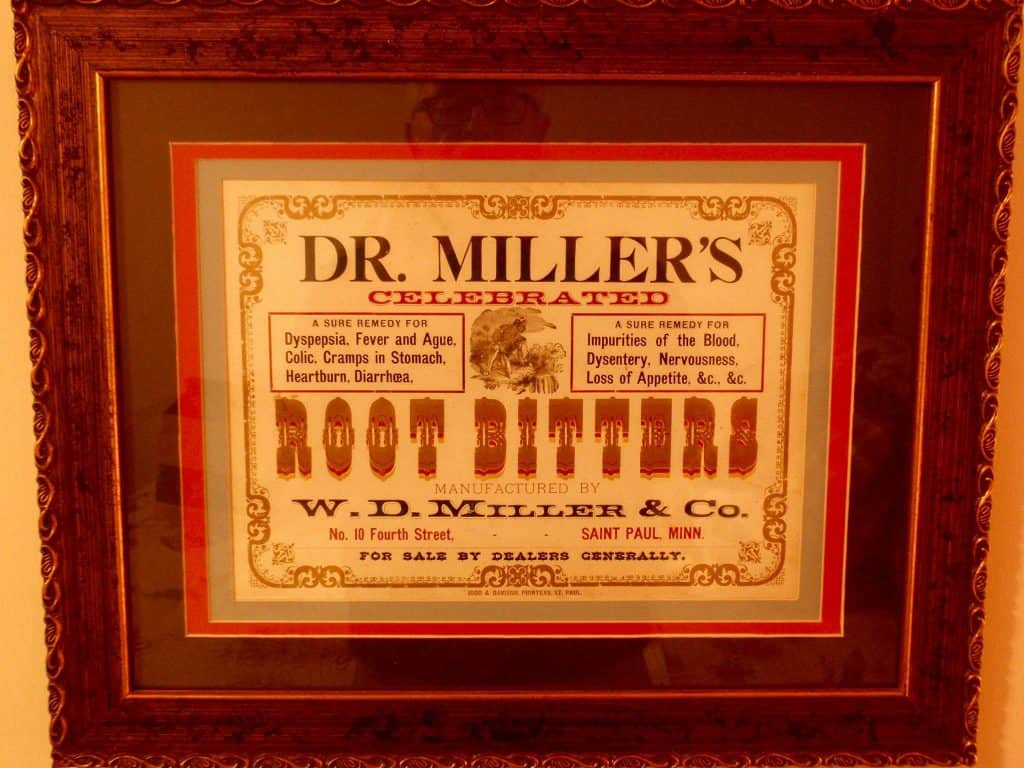 13 April 2017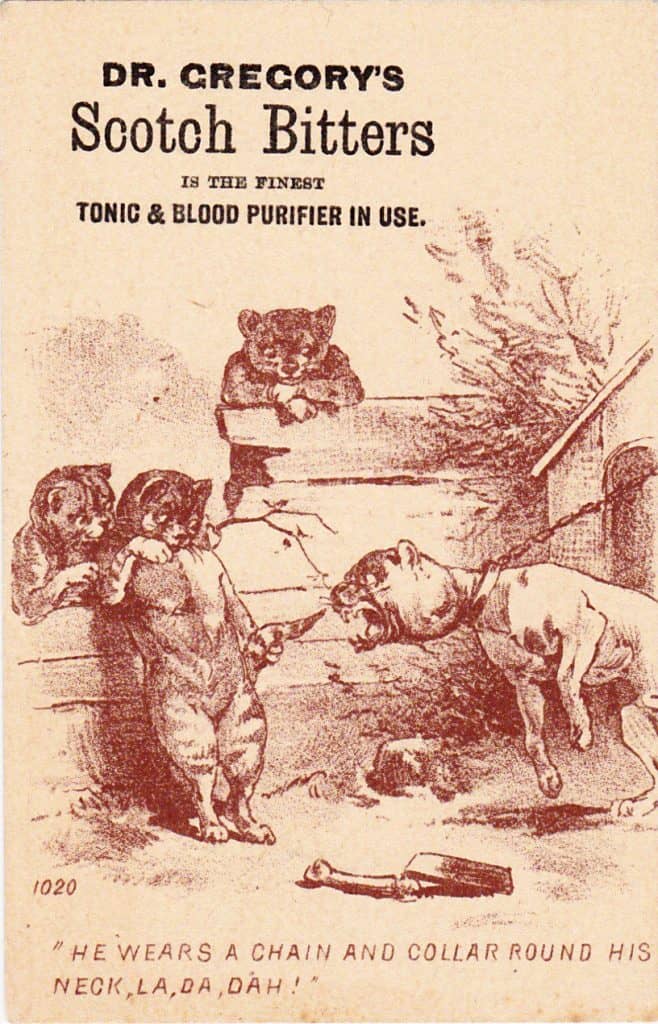 Today a very nice Dr. Gregory's Scotch Bitters advertising trade card submitted by Joe Gourd. I was able to pick up an example bottle at the recent Baltimore Antique Bottle Show this past March.
Read: Gregory's Scotch Bitters – Minneapolis
12 April 2017
FRESHLY DUG & UNLISTED BITTERS!

Ferdinand,
I hope all is well with you.
Thought you might like to see the attached photos…dug this yesterday in Texas and have never seen this variation of the Home Bitters bottles (St. Louis, Missouri) before…dug plenty of (broken) examples of the amber squares but not this one. Haven't washed it up yet. Not a very exciting bottle but pretty early…was digging a barrel privy (which was sadly empty) and this showed up in a small trash pit along one outside wall of the privy.
Best Regards,
Brandon DeWolfe, P.E.
Houston, Texas
Read More: The Home Bitters – St. Louis
Read More: An unlisted Home Bitters?
Read More: Home Bitters Company | Prepared Black Berry Brandy
Read More: Another Home Bitters Variant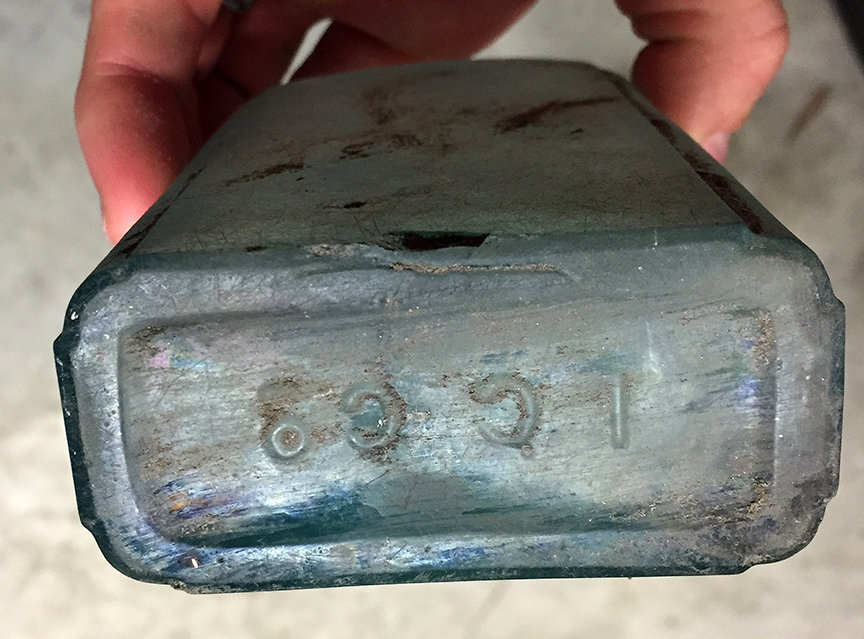 11 April 2017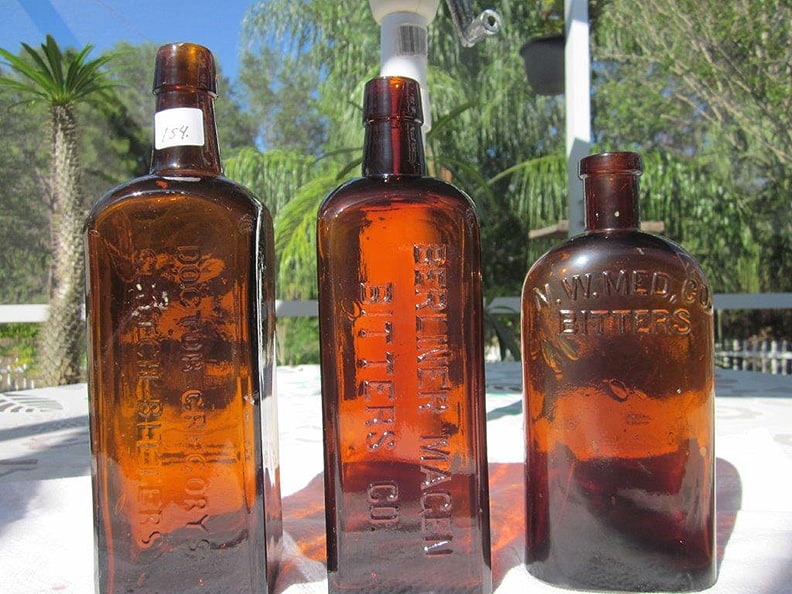 Ferd,
Here are some more bitters dug in the same privy in North Dakota as The Mikado
Tonic. The "DOCTOR GREGORY SCOTCH BITTERS " is G 113 in Bitters Bottles by Ring & Ham and is extremely rare. The "BERLINER MAGEN BITTERS" is B 86
rated scarce from Duluth MN. The N.W. Med. Co. Bitters (NORTH WEST MEDICINE
CO.) is from St. Paul MN. Listed as N 1-L, extremely rare. It would seem
this home owner in South Dakota traveled to Minnesota. I wonder if the Dr. Gregory
Bitters is from Minnesota? Best Regards,
Gary (Beatty)
Read: Gregory's Scotch Bitters – Minneapolis
10 April 2017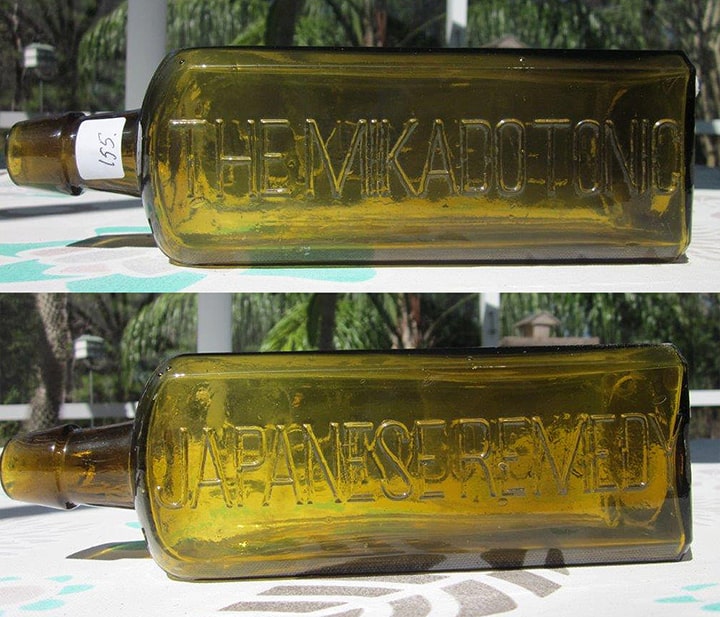 Ferd,
Can you use these photos for Daily Dose or FaceBook? "THE MICADO TONIC"
is embossed on back side "JAPANESE REMEDY" it is definitely an American
bottle. It Is olive yellow. The name MICADO in Japanese is "Emperor or
Honorable Gate." It was dug in N. Dakota and I cleaned it. I think it is
like other bitters with exotic names trying to capture the thought something
better. The Millville fruit jar I found in a junk shop. The clamp & rubber
look original to me.
Best Regards, Gary (Beatty)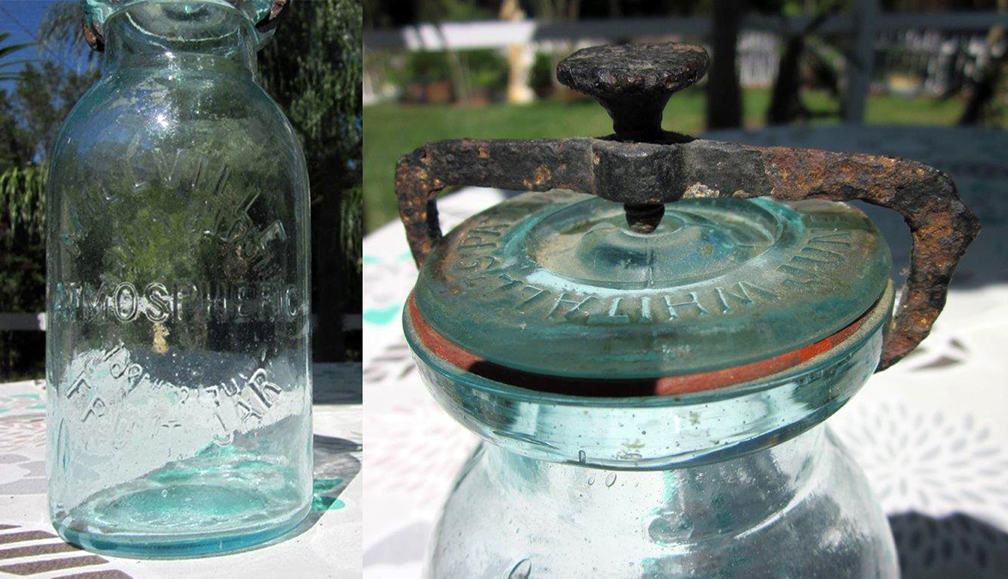 05 April 2017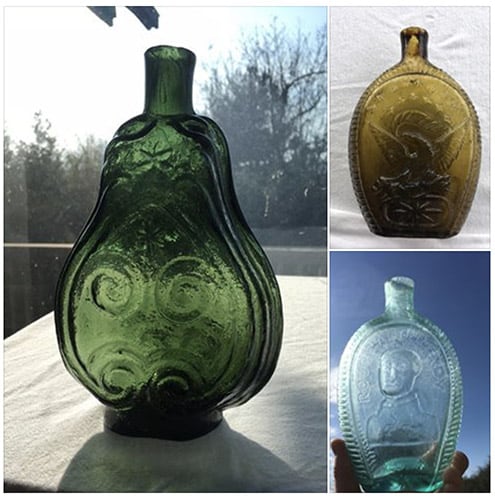 Crazy Recent Digging Finds. Look for an article in an upcoming issue of Bottles and Extras:
Sorry it has been so long since I have written a bottle digging article. We have been digging almost every weekend.
We have a three person Tri-State digging crew, since we have one person from Ohio, one from West Virginia, and I'm here in Pennsylvania. We have been hitting it hard the last year or so, with many cool and historic finds… Recently, we have dug some pretty great bottles and thought it may make a nice additional to the New Finds column.
In about a 30-day period (31 to be exact), we dug a Rough and Ready Zachary Taylor Quart flask, then followed that up with a colored pint Louisville double eagle, then a couple weeks ago we dug a quart green scroll flask… all in excellent condition! I can't believe that the quart flasks were not damaged, as all these flasks were at the bottom of 8 to 10 footers. 
Lots of bad holes in between and seems like most of the holes we dig (when there is a good bottle) only have one good bottle… but we will take it! Hard work and perseverance pays off for sure!
I've attached pictures of these finds… I'll make sure to follow up soon with some bottle digging articles! 
Thanks,
Jeff Mihalik
04 April 2017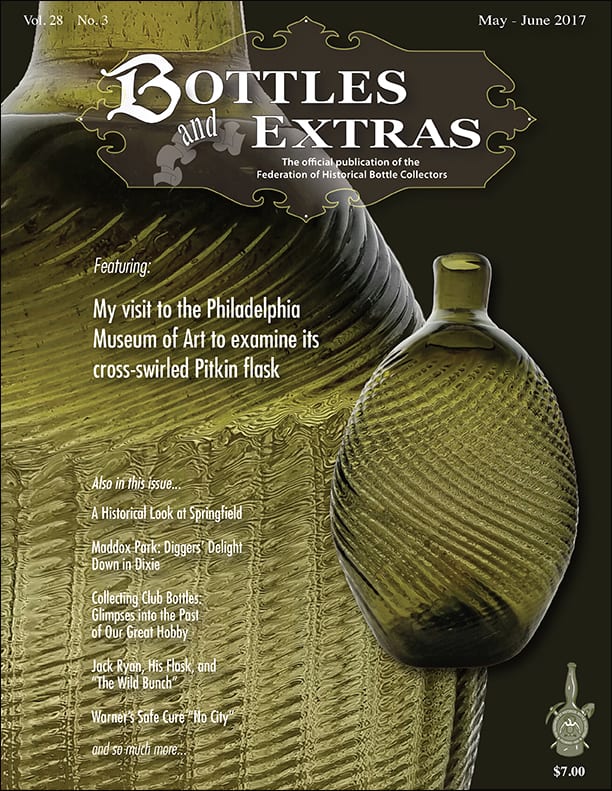 The May June 2017 issue of BOTTLES and EXTRAS is at the printer! Looks who has the feature article space "On the Cover of the Rolling Stone"!
Inside this issue.. Bottles and Extras, Vol. 28 No. 3 | May – June 2017 | No. 231 (Coming Soon!)
Features: Historical Look at Springfield Jim Bender 14 Maddox Park: Diggers' Delight Down in Dixie Bill Baab 22 He dug in the park for 51 weekends Dave Swetmon 25 Jack Ryan, His Flask, and "The Wild Bunch" Jack Sullivan 29 Warner's Safe Cure "No City" Michael Seeliger 34 Collecting Club Bottles: Glimpses into the Past of Our Great Hobby Bill Baab 38 My Visit to the Philadelphia Museum of Art to see its cross-swirled Pitkin Dana Charlton-Zarro 52
Vignettes: Shards of Wisdom 4 History's Corner 5 Lost & Found 61 Member Photo Gallery 64
Departments: FOHBC Officer Listing 2014-2016 2 President's Message 3 FOHBC News, From and For Our Members 6 Classified Ads & Ad Rate Info 66 Membership Directory 67 FOHBC Show-Biz, Show Calendar Listings 68 Membership Application 72