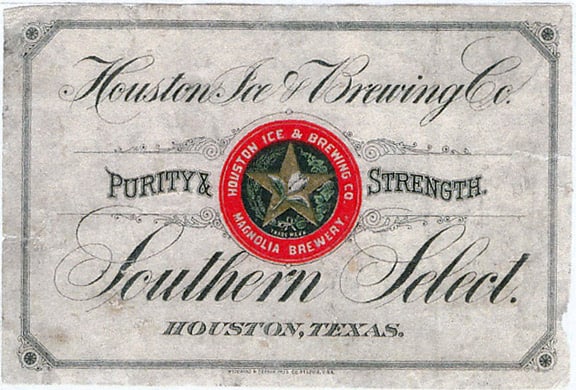 Houston Ice and Brewing Co.

Magnolia Brewery
10 November 2013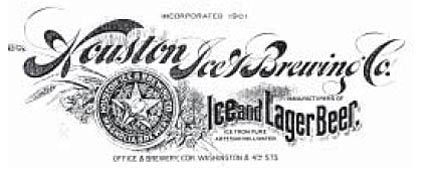 The first time I can find Hugh Hamilton and the roots of the Houston Ice and Brewing Company is an 1887-88 listing within the Houston City Directory. He is located at the corner of Washington and 4th Streets and is the Proprietor and vice-president of Crystal Ice Factory. With a factory and beer vaults, he is also a dealer in hard and soft coal, he manufactures "Hamilton's Celebrated Ice Machines" and he is representing the great Christian Moerlein Brewing Co. in Cincinatti, Ohio. He also lived at this location. This guy had beer on his mind. The advertisement below pretty much sums it up.
One year later in 1890, Hugh Hamilton is President of the Houston Ice Company, Bertrand Adoue, is vice-president and Hyman Prince is secretary and treasurer.
In 1892, the Houston Ice and Brewing Company was formed with the same principals. Hugh Hamilton hired architect Eugene Heiner, an important Houston architect in the late nineteenth century to design and build a four-story main building for the brewery at the original site. In the spring of 1893, the new building was completed. By 1915, the company had expanded to more than ten buildings joined together physically and stylistically. The brewery had now become one of Houston's largest companies and encompassed more than 20 acres north and south of Buffalo Bayou.
The Houston Ice & Brewing Company, also called the Magnolia Brewery, was well known for its beers which were sold at five-cents a bottle. After a somewhat sudden reorganization and name change in 1915 to the Houston Ice & Brewing Association, the company brewed beer until operations shut down for Texas Prohibition in 1918.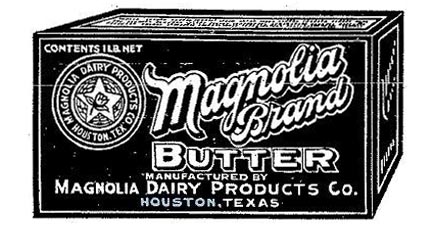 Although the firm sold most of its beer in generic bottles with paper labels, it sold "splits" in embossed bottles from ca. 1910 to ca. 1918. In 1920 they were selling Magnolia Brand Butter (see above) and brewing a nonintoxicating cereal beverage called Bone-dry (see further below)in an attempt to survive Prohibition. After Prohibition, the firm reopened in 1934.
Read: Hugh Hamilton and the Magnolia Brewery by Louis F. Aulbach and Linda Gorski
See: Houston Ice and Brewing Co. Beer Bottles
Visit: Magnolia Ballroom