Young America or Young Frankenstein?
21 April 2011 (R•110914) (R•111014)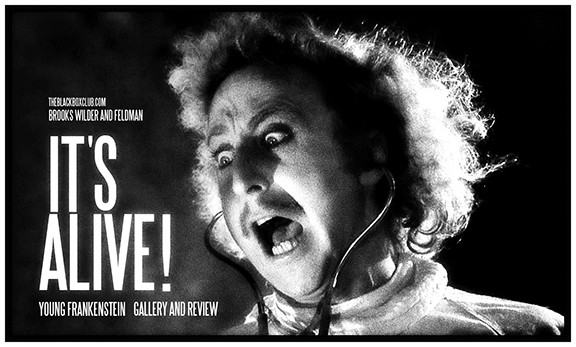 Along with collecting and specializing in the beautiful color runs, I cherish the freakish and absurdly crude, rare and x-rare bitters squares. This example of a Young America Stomach Bitters was purchased on eBay back in 2002. It is so raw, crude and orange peeled that you can only imagine Young Frank drinking from it!! This bottle is to DIE for. When back illuminated, it looks like It's Alive!
The Carlyn Ring and W.C. Ham listing in Bitters Bottles is as follows: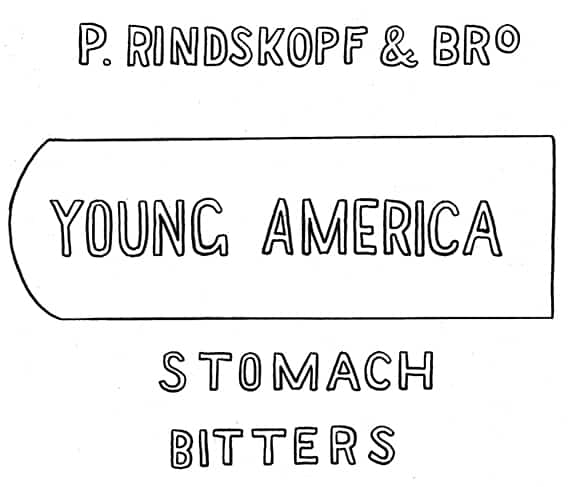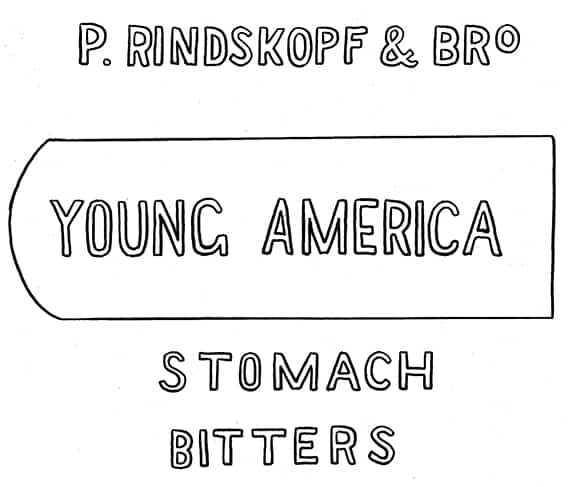 Y7

  YOUNG AMERICA STOMACH BITTERS
YOUNG AMERICA // STOMACH / BITTERS // f // P. RINDSKOPF & BRO //
9 1/2 x 3 (6 1/2) 3/8
Square, Amber, LTC, Applied mouth, Rare
Rindskopf
They story starts here with Loeb Rindskopf from Bohemia who was one of the Jewish pioneers in Milwaukee arriving in the mid 1850s or so. He had a large family with many sons and daughters. Listings show a P. Rindskoph & Brother, wines and liquors (Phillip and Louis Rindskoph) in Milwaukee, Wisconsin city directories from 1862-1878 at 277 E. Water. There was also a L. Rindskoph & Son, wholesale wines and liquors (Leopold and Samuel Rindskoph) at 266 E. Water during the same years. Later they were in to bottling and brewing.
"P. Rindskoph & Bro" is embossed on the Young America Stomach Bitters. Phillip Rindskopf was born on March 16, 1836 in Bohemia and died on February 22, 1867 in Milwaukee ward 15, at the young age of 31. Prior to this, Isham & Company (Percy Ray Isham) was selling the bitters per the advertisement below. They were sole agents in Milwaukee.
Read: Isham's Stomach Bitters – Chicago
Take note of what appears to be a black women with a top hat carrying an oversized bottle of Young America Stomach Bitters. Pretty cool. I see some characters on the hat? Are those two little swords? I am missing some of the symbolism though this is Civil War era.