The Cherokee Medicine Company Galveston, Texas
Is this Lueder "Louis" Koester?
07 April 2019 (Koester jug added late the same day)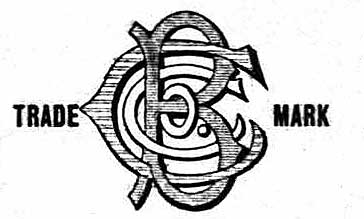 Advanced Texas bottle collector Brad Seigler recently sent me a picture of an aqua square embossed The Cherokee Medicine Co. from Galveston, Texas. It is pictured above sitting to the left of an aqua IXL Sarsaparilla & Iodide Potassium from Houston and an amber Dr. Tobin Liver Medicine from Austin. All three of these bottles are extremely rare.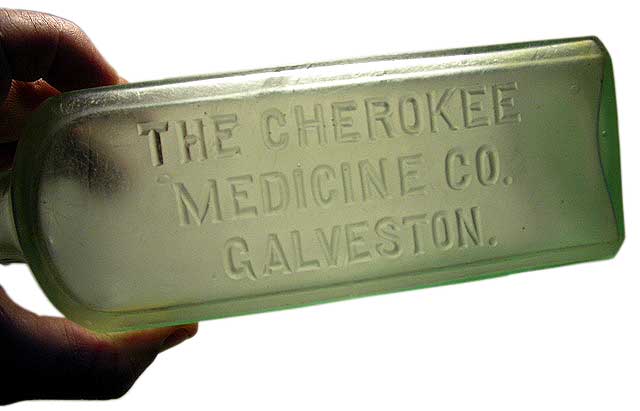 Brad wrote the following about these three bottles over at Antique-Bottles.net:
I went to see my best collector friend this weekend, and managed to get a couple really nice bottles from him. The Cherokee Medicine Company, from Galveston, is the only undamaged example that any of us have seen to date. The only other example to ever come up was posted on this site, but it is badly broken.
The IXL Sarsaparilla looks a lot like the Morley's sassy from St. Louis, but it is embossed "IXL Sarsaparilla & Potassium Iodide, Dr. R. Cotter, Houston Tex."
Dr. Richard Cannon owned one of these too, but this one came from Bill Agee's collection. There is one more that came from eBay a few years back.
The amber Dr. Tobin's Liver Medicine bottle is from Austin, Texas. I have a small clear one, and there is a large clear one in the same mold as this one. Both of those are rare, but this is the only amber one I have come across to date.
It was a nice day getting to see the Texas countryside, old friends, great bottles and I even got to bring a few bottles home with me. Thanks for looking guys!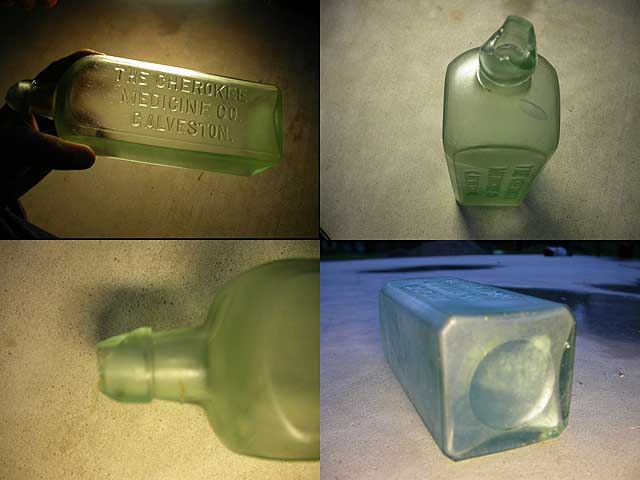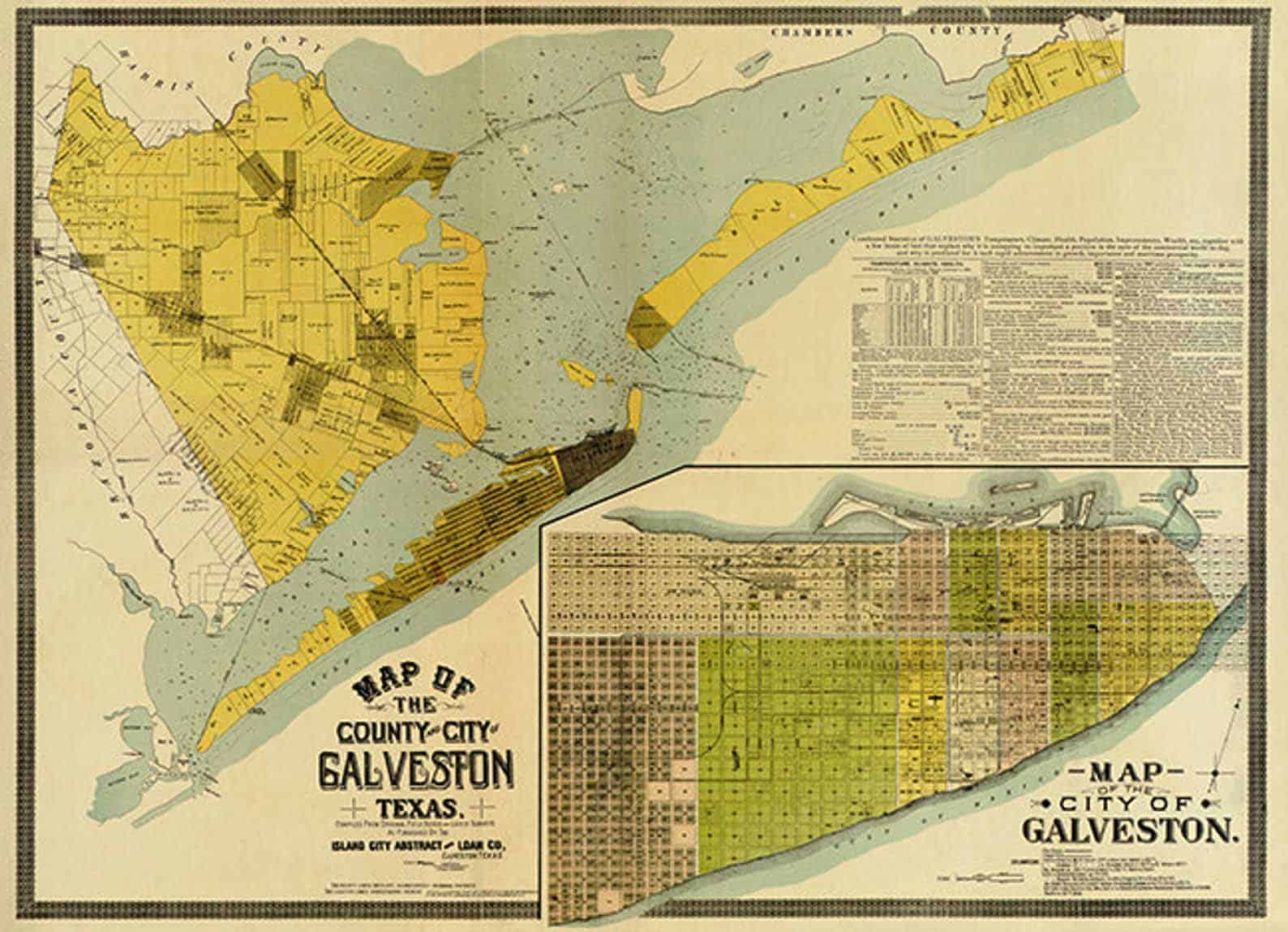 In corresponding with Brad, he feels that this aqua Cherokee Medicine Company bottle contained a bitters based partly on the accompanying 1905 advertisement he sent for L. Koester (see below) who was a wholesale liquor dealer in Galveston. He also was the proprietor of Cherokee Bottling Co. which bottled wines, cordials and bitters. It certainly looks like a bitters bottle. Let's check it out.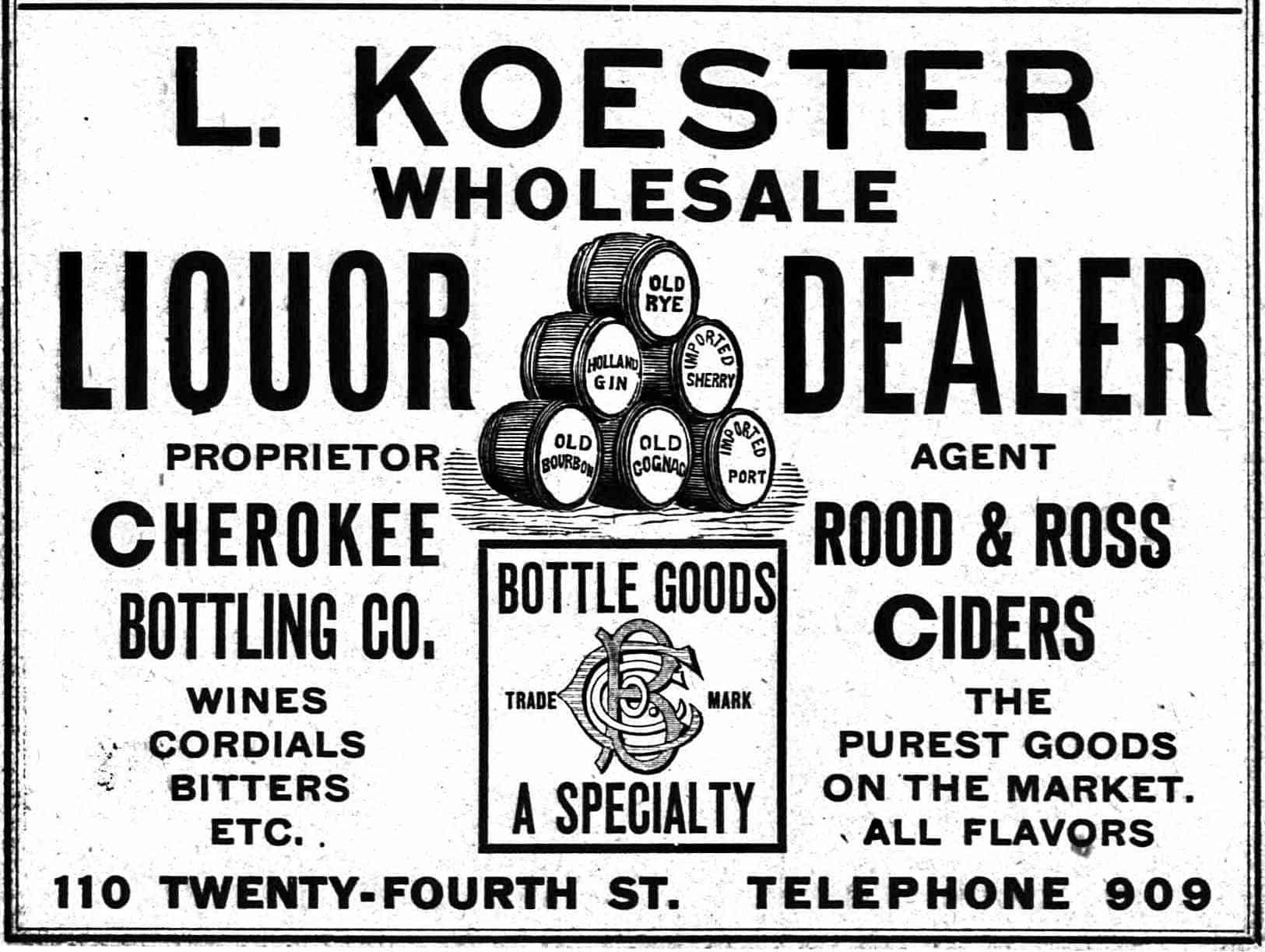 First of all, L. Koester stands for Lueder "Louis" Koester who was born on 17 April 1847 in Schönebeck, Bremen, Deutschland, which of course is Germany.
Below you will see the earliest advertisement I could find for Cherokee Bottling Co. which features "Golden and Silver Eagle Bottled Liquors" for sale by Henry Toujouse and J. J. Schott, Druggist and Agents for Galveston. Note that bitters are not referenced, nor is L. Koester. The ad is from The Galveston Daily News, Tuesday, May 27, 1890.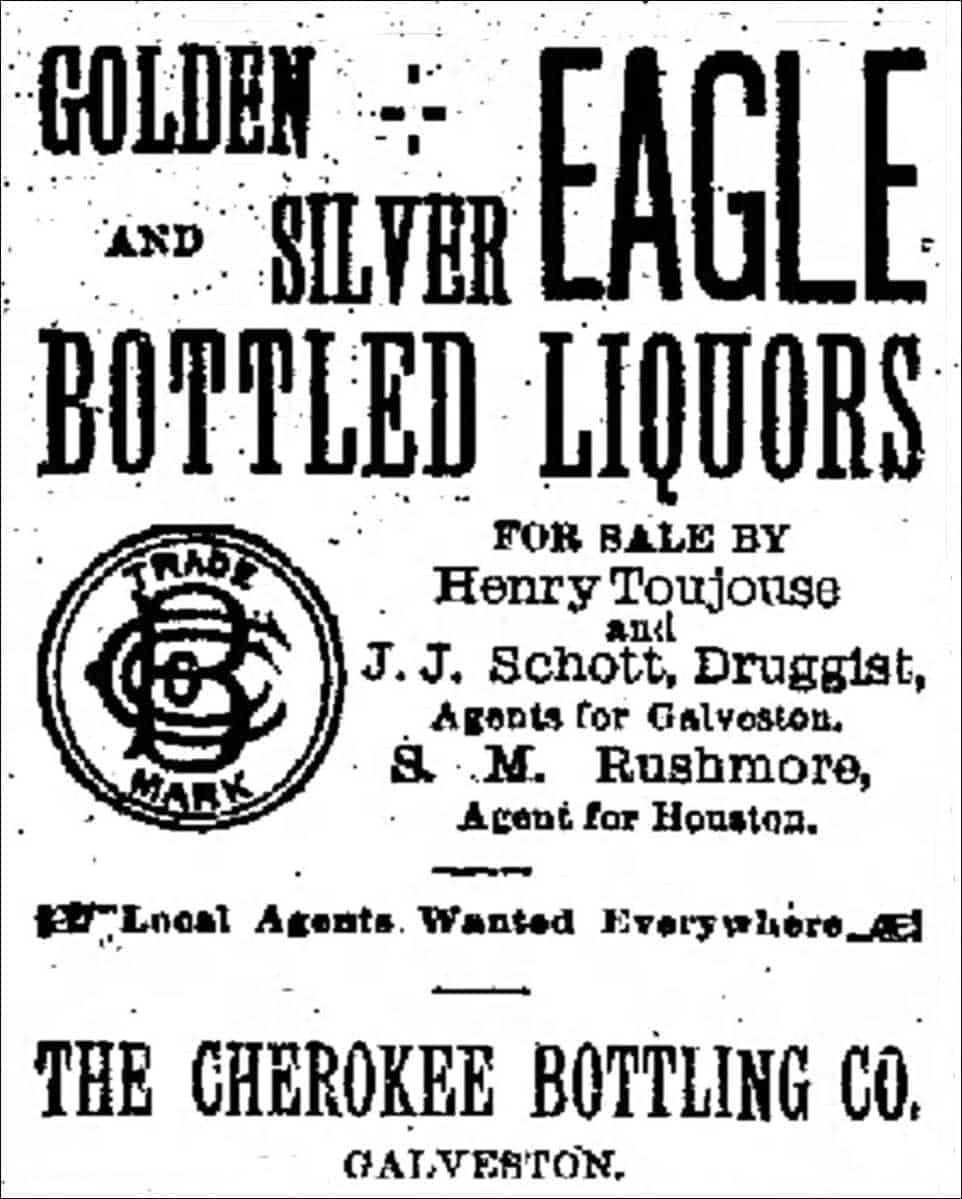 An 1880 Galveston, Texas City Directory first lists Koester working with LeGierse & Company who were wholesale grocers located at 52 Strand. He was residing at Tremont House between O and O 1/2 Streets. The Strand business and historical district is off of downtown Galveston and consists mainly of Victorian era buildings.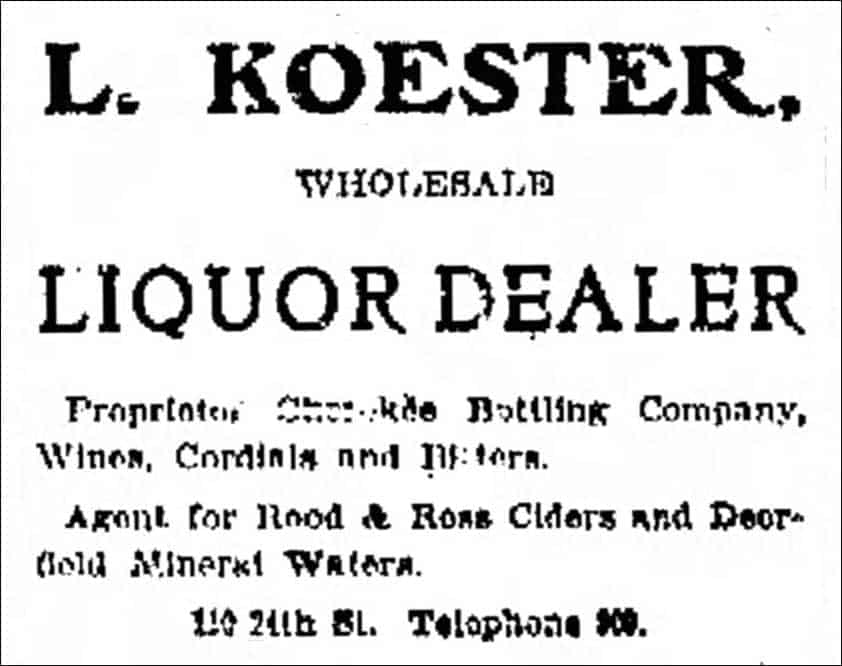 In 1894 and 1895, L. Koester was listed as a wholesale liquor dealer and proprietor of Cherokee Bottling Company which specialized in wines, cordials and bitters. He was the agent for Rood & Ross Ciders and Deerfield Mineral Waters and was located at 110 Twenty-Fourth South with a Telephone number of 909.
In all of these ads, there is no mention of The Cherokee Medicine Company so I suspect that Koester used the "Cherokee" name in Galveston. This is a jump as I can find no direct listings for The Cherokee Medicine Company or Koester being tied to it. This probably amplifies the rariety of the bottle. Why advertise for something that barely even existed?
As you might expect, there are other "Cherokee" medicine references in the late 19th and early 20th century. This includes:
1875: A. J. Hunt's Celebrated Cherokee Bitters (Columbus Courier, Thursday, June 24, 1875) [Kansas] Unlisted The new listing by Bill Ham for the forthcoming Bitters Bottles Supplement 2:
Advertisement
H 213.85  A. J. Hunt's Celebrated Cherokee Bitters
Columbus Courier, Thursday, June 24, 1875  [Columbus, Kansas]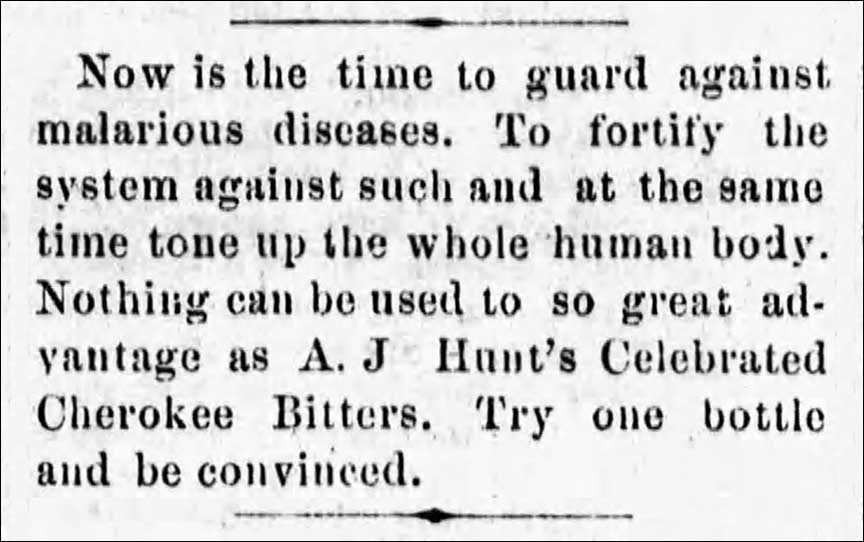 1875: The good citizens of Rockingham and Page Counties, Virginia disgusted with the practices of illicit venders of intoxicating liquors in Port Republic and Luray selling "Cherokee Bitters." I think in this case, Cherokee Bitters is a "catch all" name for all quack bitters. (Spirit of Jefferson, Tuesday, January 26, 1875) [Charles Town, West Virginia]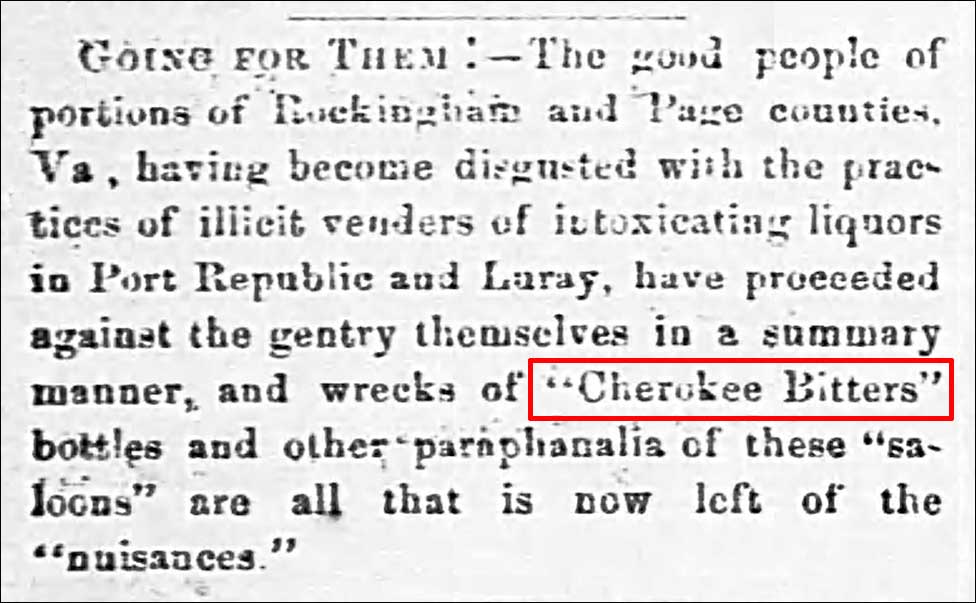 1881: Dr. Brunt, the great Indian medicine man, intends to make a specialty of the manufacture of the renowned Cherokee Bitters. (Osage Mission Journal, Wednesday, January 12, 1881) [Mission, Kansas] This could be related to A. J. Hunt's Celebrated Cherokee Bitters mentioned above 1875.

1882: J. G. Yeiser, Manufacturer and Proprietor of the Celebrated "Cherokee Bitters," Rome, Georgia (The Coosa River News, Friday, November 3, 1882) [Centre, Alabama] Unlisted
C 91.3 CELEBRATED CHEROKEE BITTERS, J. G. Yeiser, 81 Broad Street, Rome, Ga,, Manufacturer and Distributor. The Coosa River News, Friday, November 3, 1882, Centre, Alabama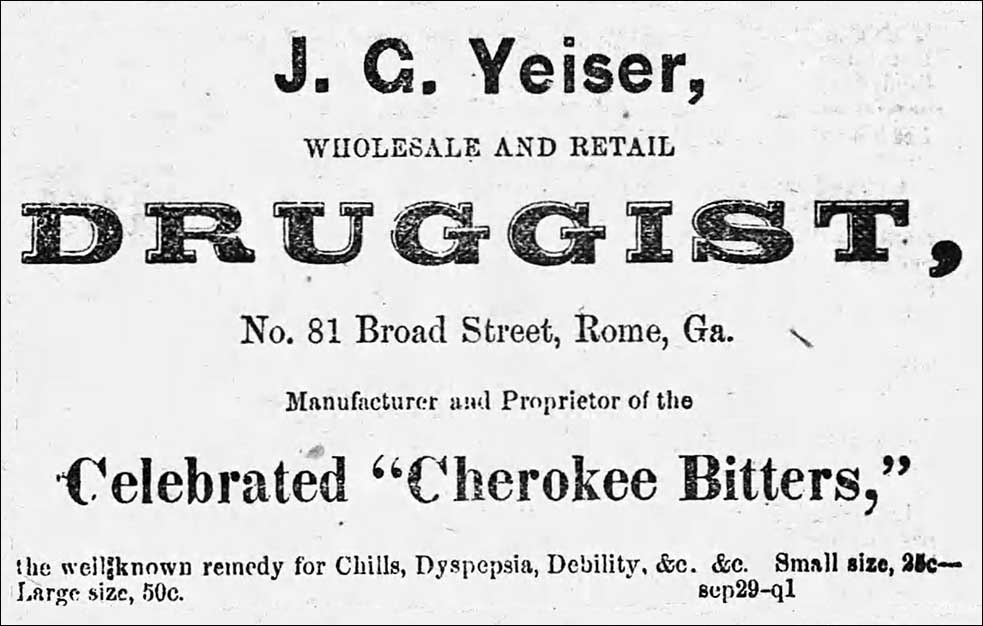 1915: Cherokee Medicine Company (Atlanta) selling Old Indian Liver and Kidney Tonic (The Atlanta Constitution)

I'm sure Koester's life was interrupted by The Great Galveston Hurricane, known regionally as the Great Storm of 1900 which was the deadliest natural disaster in United States history. The hurricane left between 6,000 and 12,000 fatalities in the United States. Most of the deaths occurred in the vicinity of Galveston after storm surge inundated the entire island with 8 to 12 feet of water. It looks like Koester survived the great storm but records are scarce in the aftermath.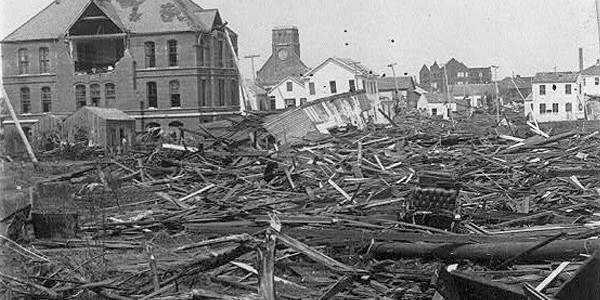 From 1903 to 1905, Koester is listed again as a wholesale liquor dealer and proprietor of Cherokee Bottling Company specializing in wines, cordials and bitters. He is agent for Rood & Ross Ciders and is located at 110 Twenty-Fourth Street in Galveston. In 1906, L. Koester, along with being listed as a wholesale liquor dealer and proprietor of the Cherokee Bottling Co., (wines, cordials and bitters), is also representing the purest of ciders. He was also the proprietor of Seaport Rye and agent for Mallard and Mount Vernon Rye and Chicken Cock Whiskey. He was now located at 2424 Strand, Telephone 909.
The 1908 & 1909 Galveston, Texas City Directory lists the California Wine House, with L. Koester selling wines and liquors addressed at 2010 Market Street, Phone 618. He certainly moved around often with his various addresses in Galveston. Advanced Texas digger Brandon DeWolfe sends in the picture below with the following, "Saw your post about the Cherokee Medicine Co. and L. Koester and thought you might like to see this photo of a jug from him, fresh from a privy about a month ago. To say I was elated would be an understatement!"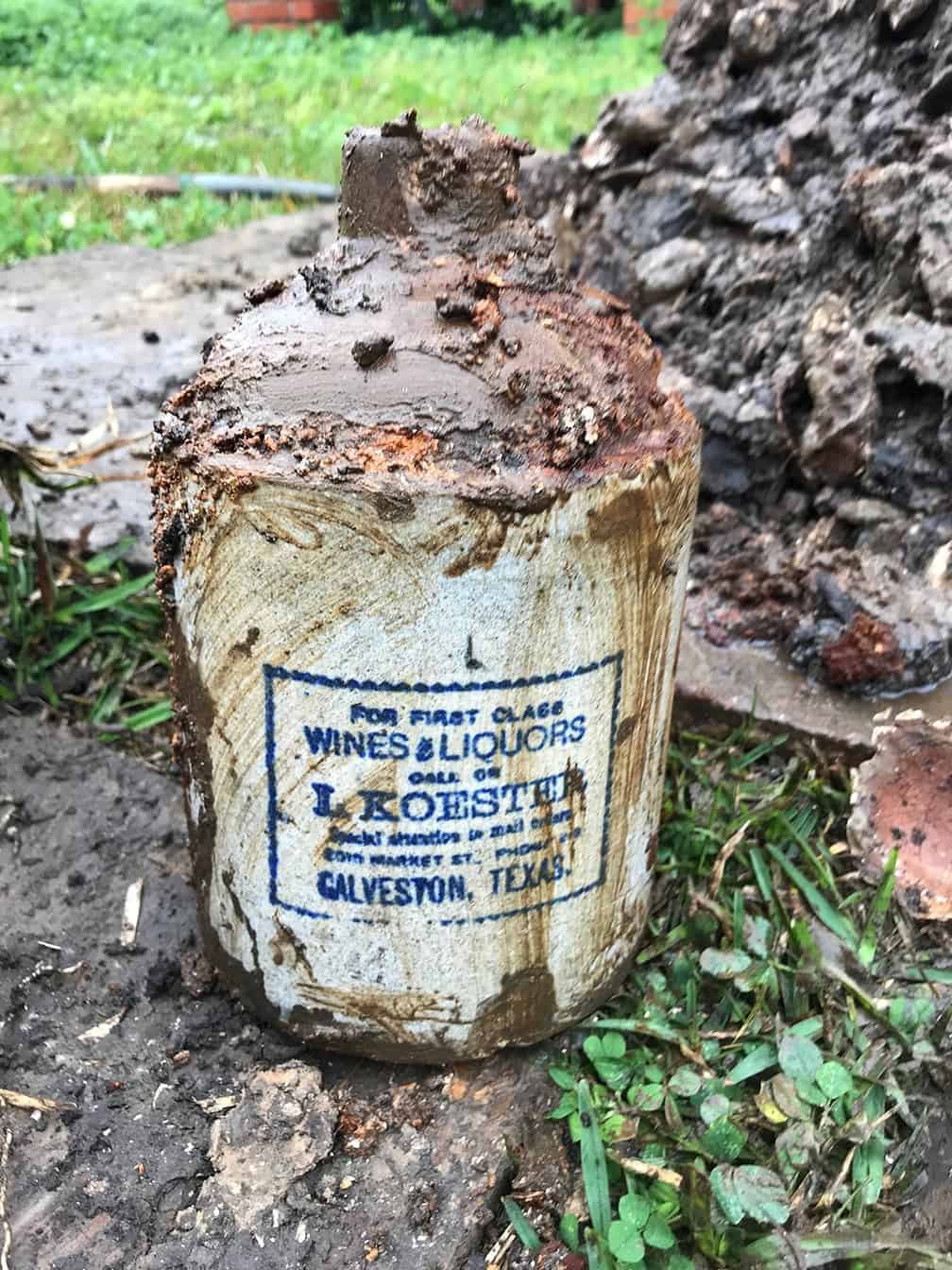 Louis Koester died on March 7, 1915 in Galveston, Texas. He was 67 years old. His wife was Augusta F. W. Koester and their children were Augusta Genesa Bauss, Pauline Wilameina J. Becker and Herman Koester. Herman would eventually work as a druggist in Galveston. You can see the family in both pictures below. Louis Koester has the Van Dyke beard.
Was Koester the proprietor of Cherokee Medicine Co.? Did he or Cherokee Bottling Co. make a bitters? The jury is out on these questions. More advertising and/or a labeled example might conclude the case.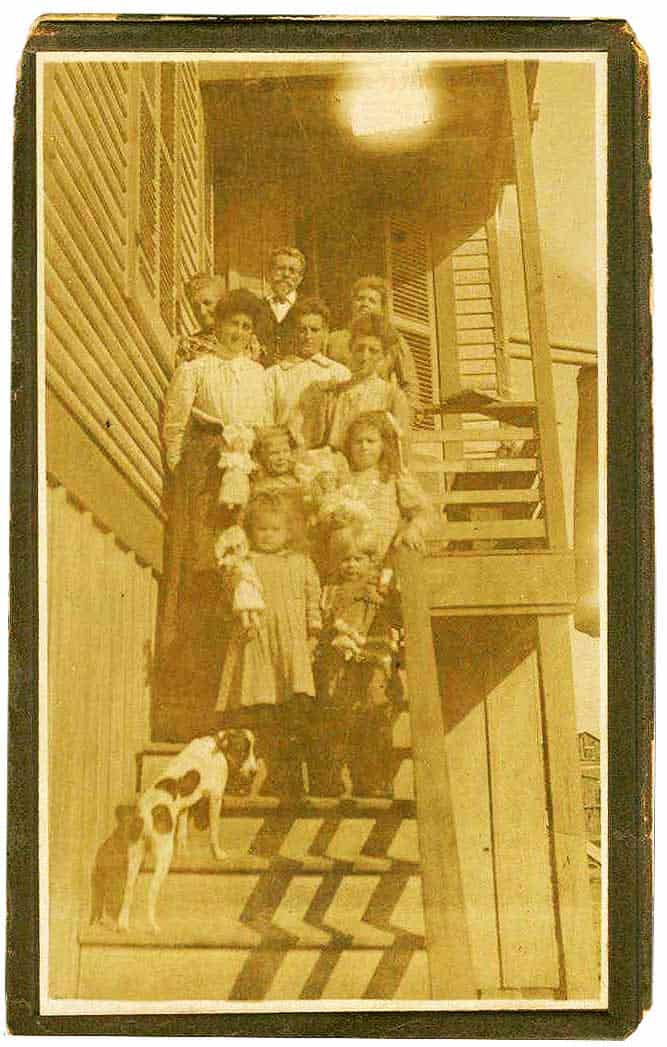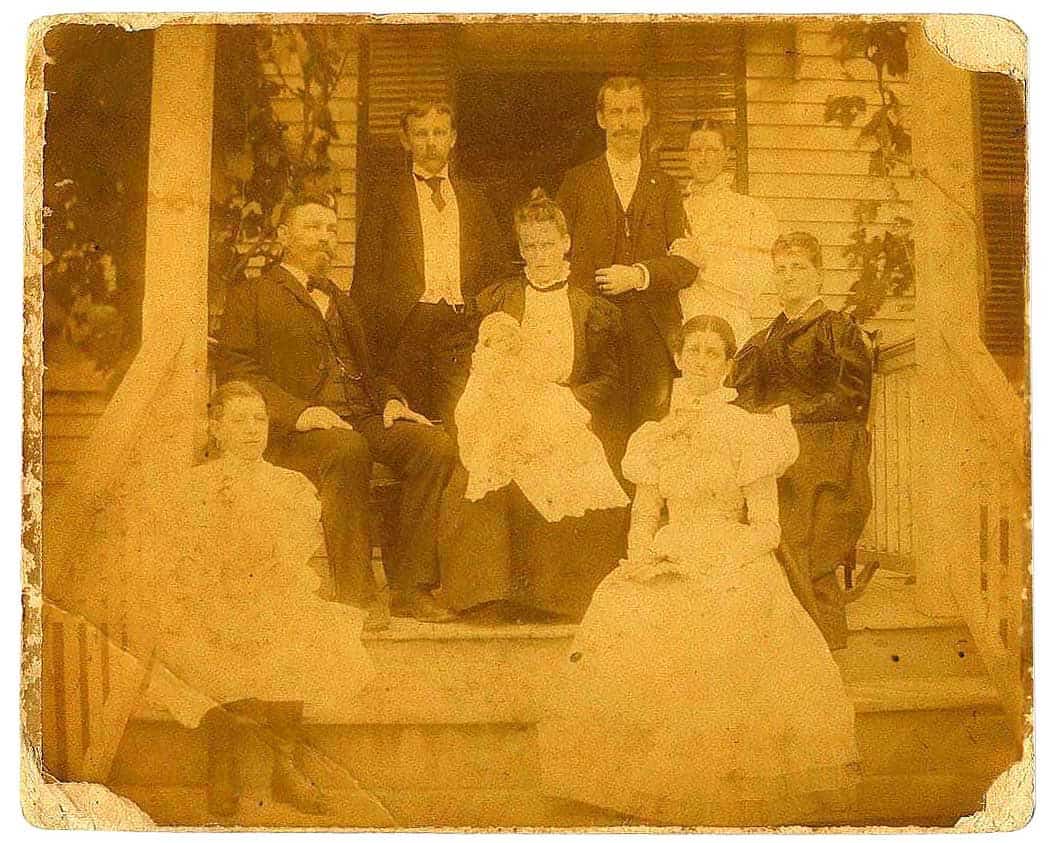 Select Listings: 
1847:

Lueder, Julius "Louis" Koester, Birth 17 April 1847, Schönebeck, Bremen, Deutschland
1880:

L. Koester with LeGierse & Co., Wholesale Grocers, 52 Strand, res. Tremont bet. O and O 1/2 – Galveston, Texas – Galveston, Texas, City Directory, 1880
1882:

LeGierse & Co. (Morris Lasker, Jake Davis), Importers, wholesale grocers, liquors, wines, tobacco, cigars, ne cor Strand. 24th – Morrison & Fourmy's Galveston City Directory
1890:

Newspaper advertisement (above in post) Golden and Silver Eagle Bottled Liquors for sale by Henry Toujouse and J.J. Schott, Druggist, Agents for Galveston, The Cherokee Bottling Co., Galveston – The Galveston Daily News, Tuesday, May 27, 1890
1894:

Newspaper advertisement (above in post) L. Koester, Wholesale Liquor Dealer, Proprietor Cherokee Bottling Co., Wines, Cordials and Bitters, Agent Rood & Ross Ciders and Deerfield Mineral Waters, 110 Twenty-Fourth St., Telephone 909 – The Galveston Daily News, Thursday, September 1, 1894
1895:

Newspaper advertisement (below) L. Koester, Wholesale Liquor Dealer, proprietor Cherokee Bottling Company, Wines, Cordials etc., Bottled goods a specialty, 110 Twenty-Fourth St., Telephone 909 – The Galveston Daily News, Thursday, September 1, 1895

1903-1905:

Directory advertisement (above in post) L. Koester, Wholesale Liquor Dealer, Proprietor of Cherokee Bottling Co., wines, cordials and bitters etc., Agent Rood & Ross Ciders, 110 Twenty-Fourth St., Telephone 909 – 1905 Galveston, Texas City Directory
1906: 

Directory advertisement (above in post) L. Koester, Wholesale Liquor Dealer, Proprietor Cherokee Bottling Co., wines, cordials and bitters, also the purest ciders, Proprietor Seaport Rye, Agent for Mallard and Mount Vernon Rye, Chicken Cock Whisker, 2424 Strand, Telephone 909 – 1906 Galveston, Texas City Directory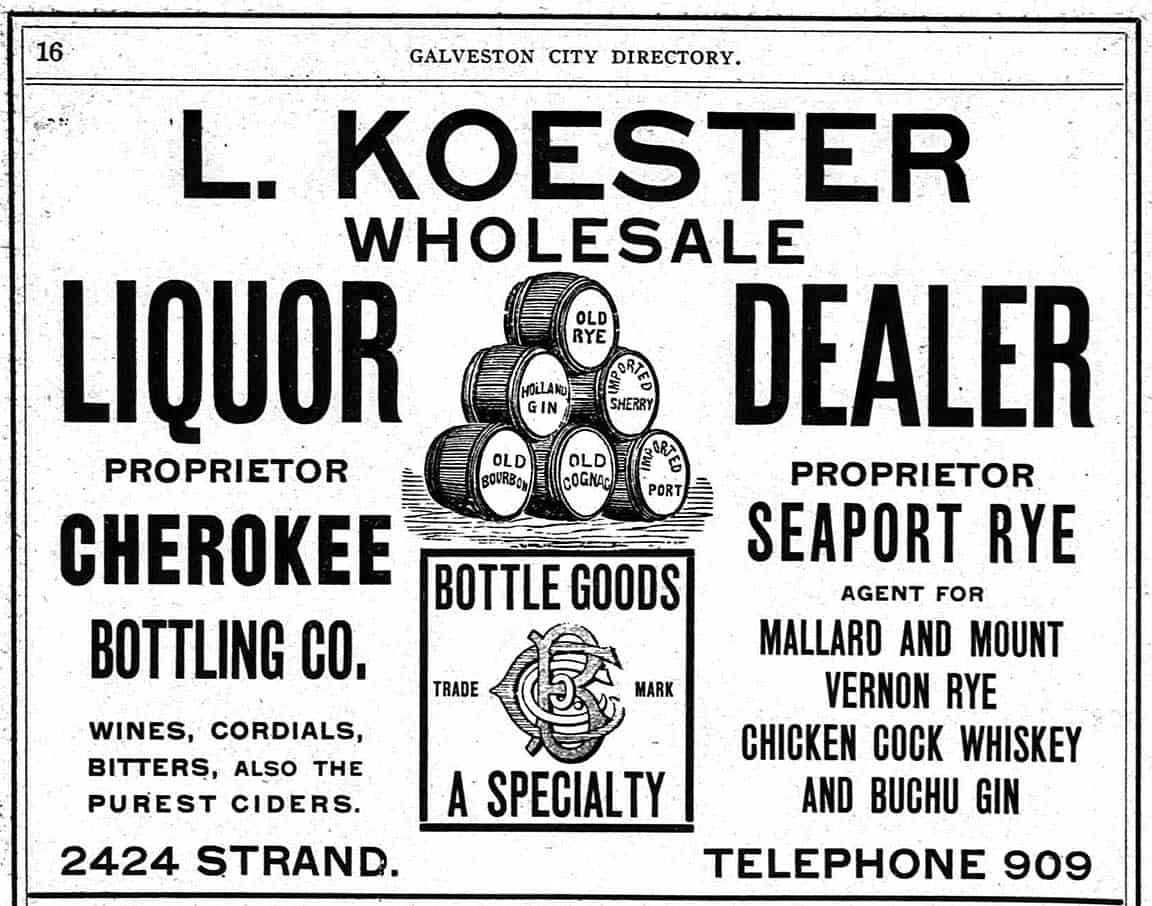 1908-1909:

 Directory advertisement (below) California Wine House, L. Koester (Lueder or Louis), Wine and Liquor Dealer, Family Wines a Specialty, 2010 Market Street, Phone 618 – 1908 & 1909 Galveston, Texas City Directory
1910:

Lueder Koester, Age in 1910: 63, Birth Year: abt 1847, Birthplace: Germany, Home in 1910: Galveston Ward 7, Galveston, Texas, Street: Avenue P, House Number: 3427, Immigration Year: 1871, Relation to Head of House: Head, Marital status: Married, Spouse's name: Augusta L Koester, Father's Birthplace: Germany, Mother's Birthplace: Germany, Native Tongue: English, Occupation: Own Income, Home Owned or Rented: Own, Home Free or Mortgaged: Free, Farm or House: House, Naturalization Status: Naturalized, Years Married: 36, Household Members: Luedar Koester 63, Augusta L Koester 58, Emily L Koester 22 – 1910 United States Federal Census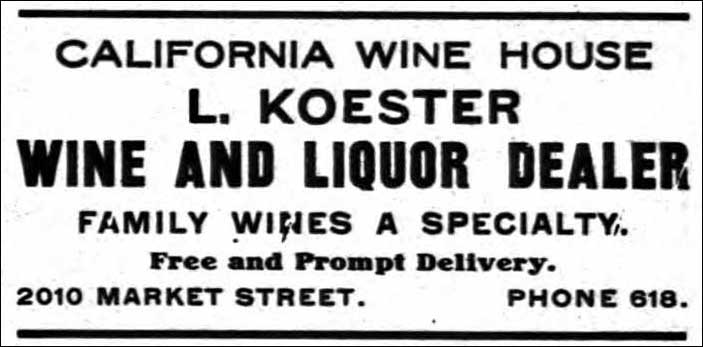 1915:

Lueder, Julius "Louis" Koester, Death 7 March 1915 (aged 67), Galveston, Galveston County, Texas, Burial, Old City Cemetery, Galveston, Galveston County, Texas, Spouse: Augusta F W Koester, Children: Augusta Genesa Bauss, Pauline Wilameina J. Becker, Herman Koester – U.S., Find A Grave Index, 1600s-Current