Dr. Thomas A. Hurley's Stomach Bitters – Louisville
29 December 2018

The Hurley's Stomach Bitters bottle is rated extremely rare and is from Louisville, Kentucky. My example is pictured at the top of this post. There is actually a variant which is unlisted and is pictured further below. Very similar but different indented panels and typography. I think it might be earlier. So who was Thos. A. Hurley?
The Carlyn Ring and W.C. Ham listing in Bitters Bottles is as follows:
H 214  Hurley's Stomach Bitters
(Top of Post)
THOS. A. HURLEYS // STOMACH / BITTERS // LOUISVILLE, KY // f //
Hurley, Riddle & Co., Proprietors, Louisville, Kentucky
10 1/2 x 2 3/4
Square, Amber, LTC, Applied mouth, 3 sp, Extremely rare
The Daily Picayune (New Orleans) December 12, 1865
The new listing by Bill Ham for the forthcoming Bitters Bottles Supplement 2:
H 214.5  Hurley's Stomach Bitters
THOS. A. HURLEYS // STOMACH / BITTERS // LOUISVILLE, KY // f //
Hurley, Riddle & Co., Proprietors, Louisville, Kentucky
10 1/2 x 2 3/4
Square, Amber, LTC, Applied mouth, 3 sp, Extremely rare
Similar embossing as H 214 except indented panels are square at top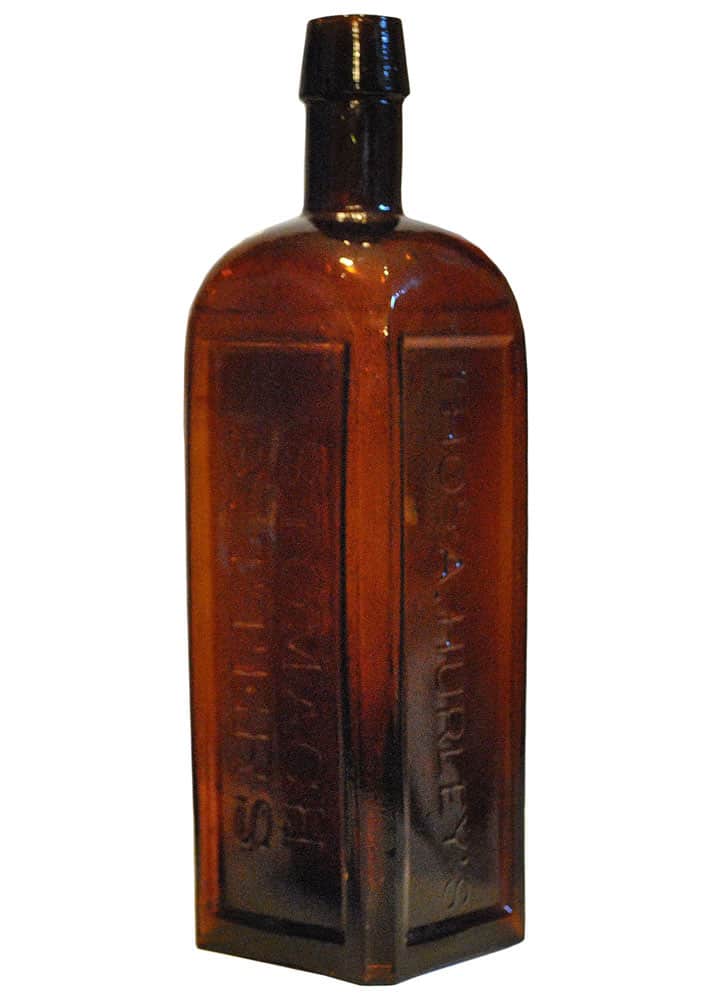 Dr. Thomas A. Hurley
Thomas A. Hurley was a life-long druggist born about 1813 in either Tennessee (1850 census report), Kentucky (1860 census report) or Maryland (1870 census report). That's real helpful! I can't confirm any birth location which is odd. We sometimes see conflicting information in these census reports as record-keeping was sometimes not so precise when giving and filling in the forms back then. Hurley also got into the patent medicine trade.
In 1837, Hurley married Susan M. Rogers in Nelson, Kentucky which might be our best bet for where he was born. Maybe his parents were from Tennessee and Maryland? Their children were John R. Hurley, Sarah E. Hurley, Louisa A. Hurley, Henry A. Hurley and William F. Hurley.
Hurley's first drug store newspaper advertising occurs in The Louisville Daily Courier in 1850 where he is listed as a Druggist and Apothecary located on the corner of Seventh and Green Streets in Louisville, Kentucky. He was selling medicinal extracts for prescriptions along with Turkey Rhubarb, Pearl Starch, Venetian Red and Tobacco. In 1852, Thos. A. Hurley is noted as a candidate for School Trustee in the Seventh Ward in Louisville. There isn't much follow-up information here in this direction so he may not have been successful.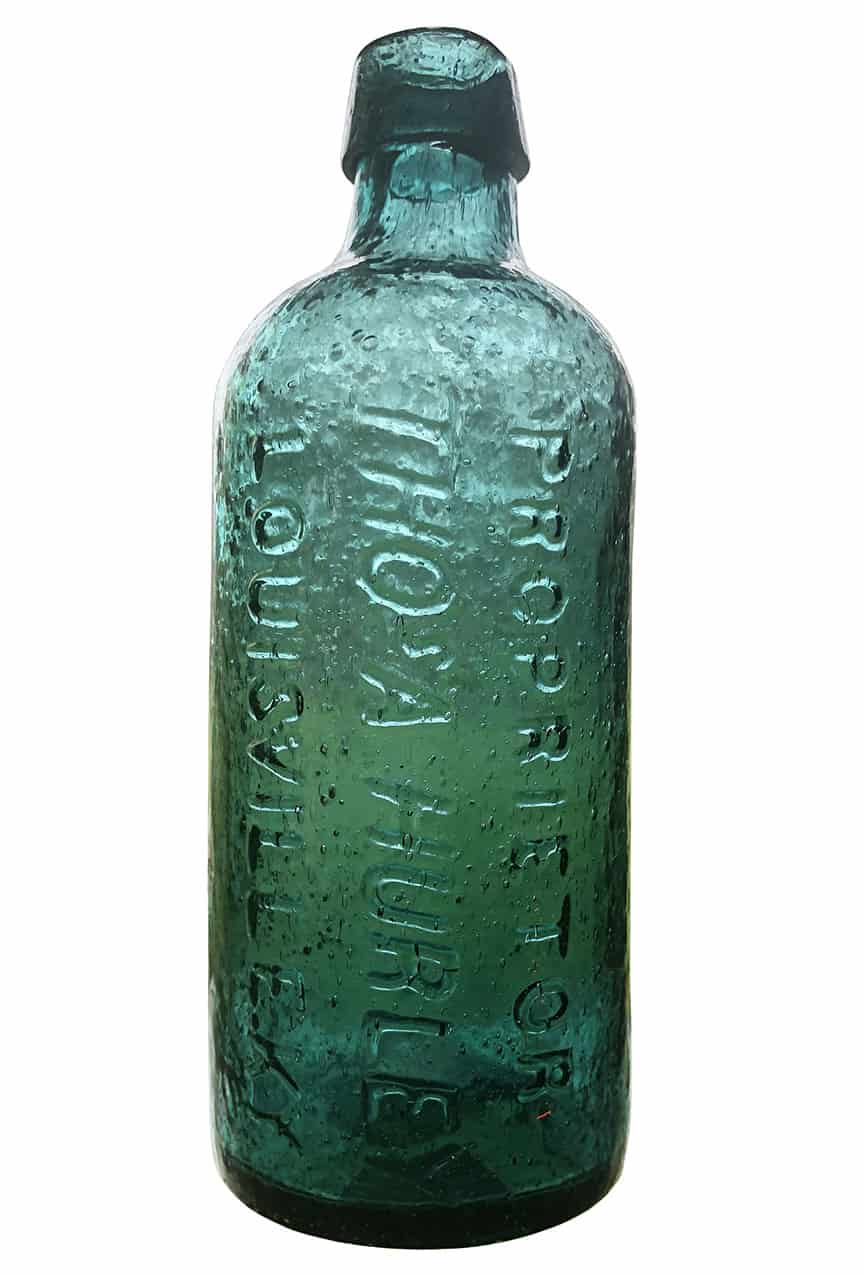 By 1857, we see that Hurley listed his Seventh and Green Street drug store for sale. The sale was completed in 1858 to J. Walker Seaton, another druggist. Hurley wanted to pursue his Sarsaparilla and Patent Medicine Depot on Fifth Street between Market and Main Streets. 1861 advertising in the Louisville city directory notes Hurley as a druggist and manufacturer of Hurley's Sarsaparilla and Hurley's Quick Yeast. His address is No. 318 West Market Street, between Third and Fourth Streets. One of his druggists bottles from my collection is pictured above. Quite crude.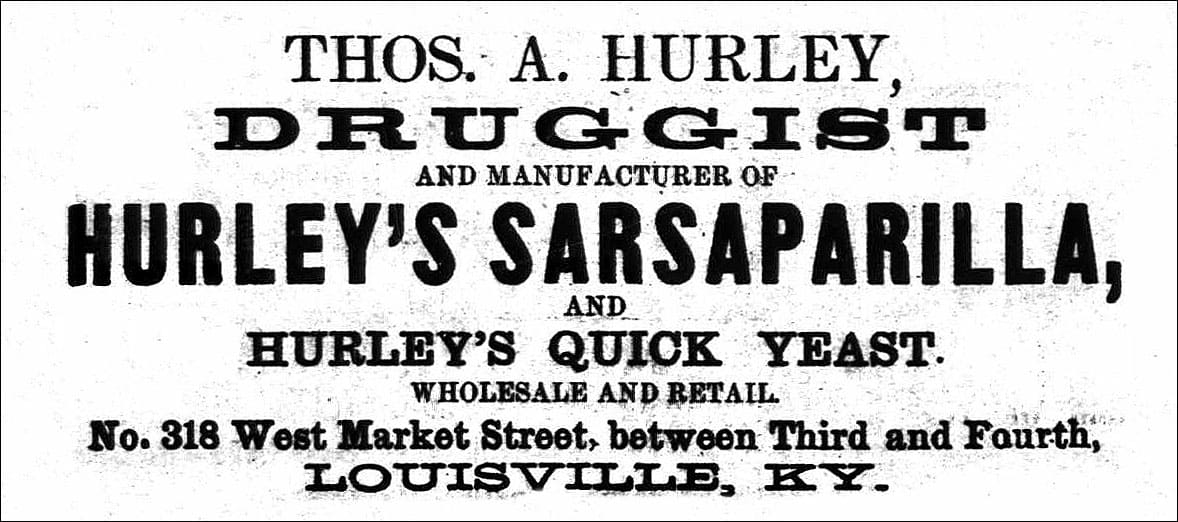 In 1865 or so, Hurley partners with James Ruddle and J.W. Seaton and their concern is called Hurley, Ruddle and Company. The druggists are located at 254 Green at the corner of 7th Street. Their signature medicines were Hurley's Ague Tonic, Hurley's Stomach Bitters, Hurley's Sarsaparilla, Hurley's Worm Candy, Oriental Pearl Drops and Seaton's Chemical Ink. This was probable when the first Hurley's Stomach Bitters bottle was made. Advertising said it was for debility, loss of appetite, weakness, indigestion, dypepsia, want of action of the liver, or for a disorderod stomach.
In 1867, this partnership would end with the dissolution of Hurley, Ruddle and Company. Thomas A. Hurley would continue Hurley's Drug Store at same address while James Ruddle and J.W. Seaton purchased the exclusive rights to sell Hurley's proprietary medicines. James Ruddle & Company were now listed as the proprietors with their laboratory located at 41 Bullitt Street in Louisville. A full page advertisement represented below, shows the full range of products being sold by James Ruddle that year.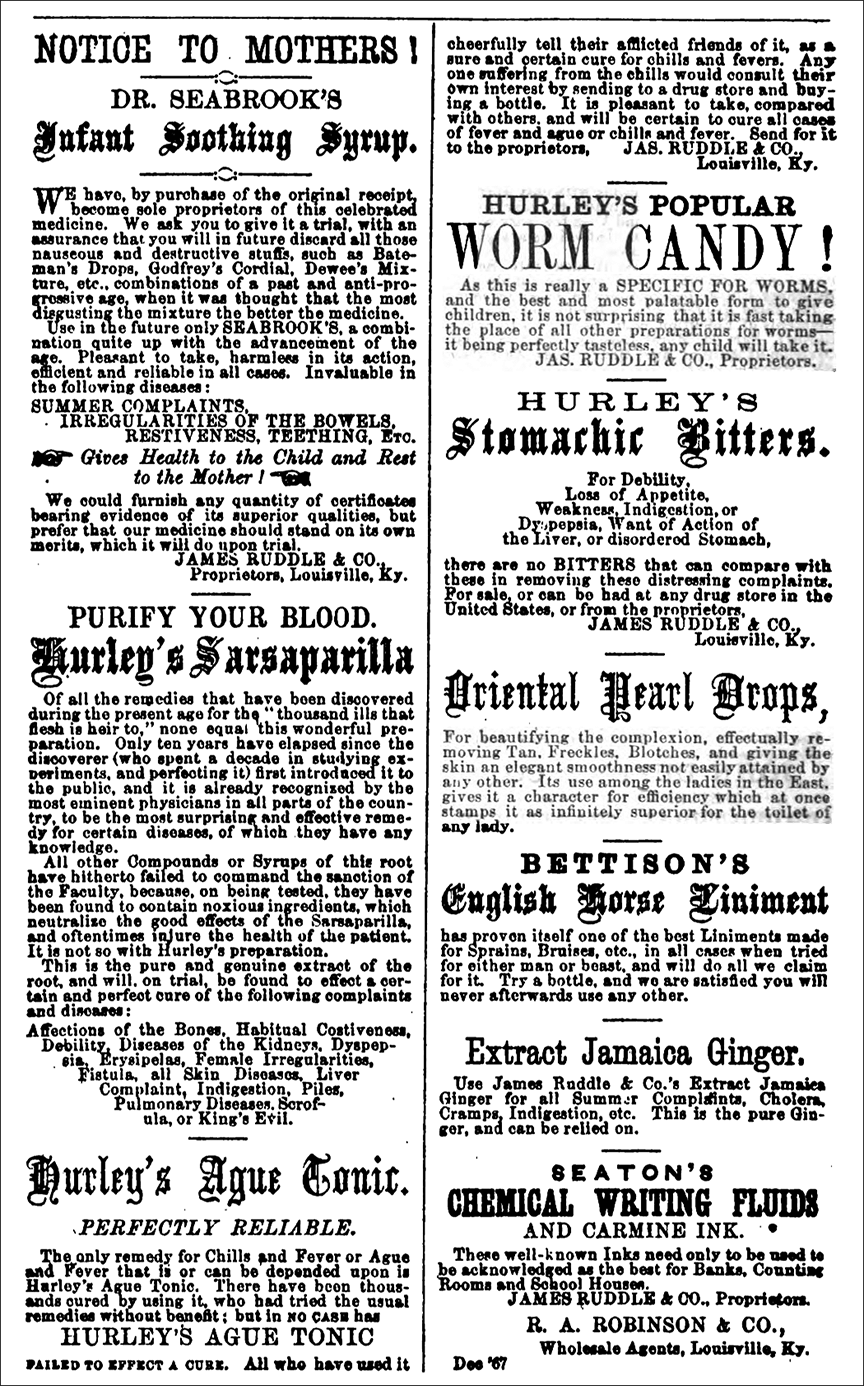 By the way, I can not find any records confirming if Hurley was actually a physician though he advertised himself as one. Sometimes, by making and selling medicines, you could magically become a doctor back then.
We last see Thomas A. Hurley listed as a druggist in 1875. He died soon after of consumption on June 24, 1876 in Louisville. His named medicines would continue to sell through J.W. Seaton in Louisville and other outlets.
Select Listings:
1813:

Thomas A Hurly, Birth Year: abt 1813, Birthplace: Tennessee, Kentucky or Maryland (various locations noted in United States Federal Census reports (see below).
1837:

Marriage: Thomas Hurley, 30 October 1837, Marriage Place: Nelson, Kentucky, Spouse: Susan M Rogers – Kentucky, County Marriage Records, 1783-1965
1850:

Thomas A Hurley, Druggist, Age: 37, Birth Year: abt 1813, Birthplace: Tennessee, Home in 1850: Louisville Ward 7, Jefferson, Kentucky, Family Number: 158, Household Members: Thomas A Hurley 37, Susan M Hurley 32, John R Hurley 11, Sarah E Hurley 9, Louisa A Hurley 6, Henry A Hurley 3, William F Hurley 0, Mary A Hurley 21 – 1850 United States Federal Census
1850:

 Newspaper advertisement (below) Thos. A. Hurley, Druggist and Apothecary, Corner of Seventh and Green Streets – The Louisville Daily Courier, Thursday, January 24, 1850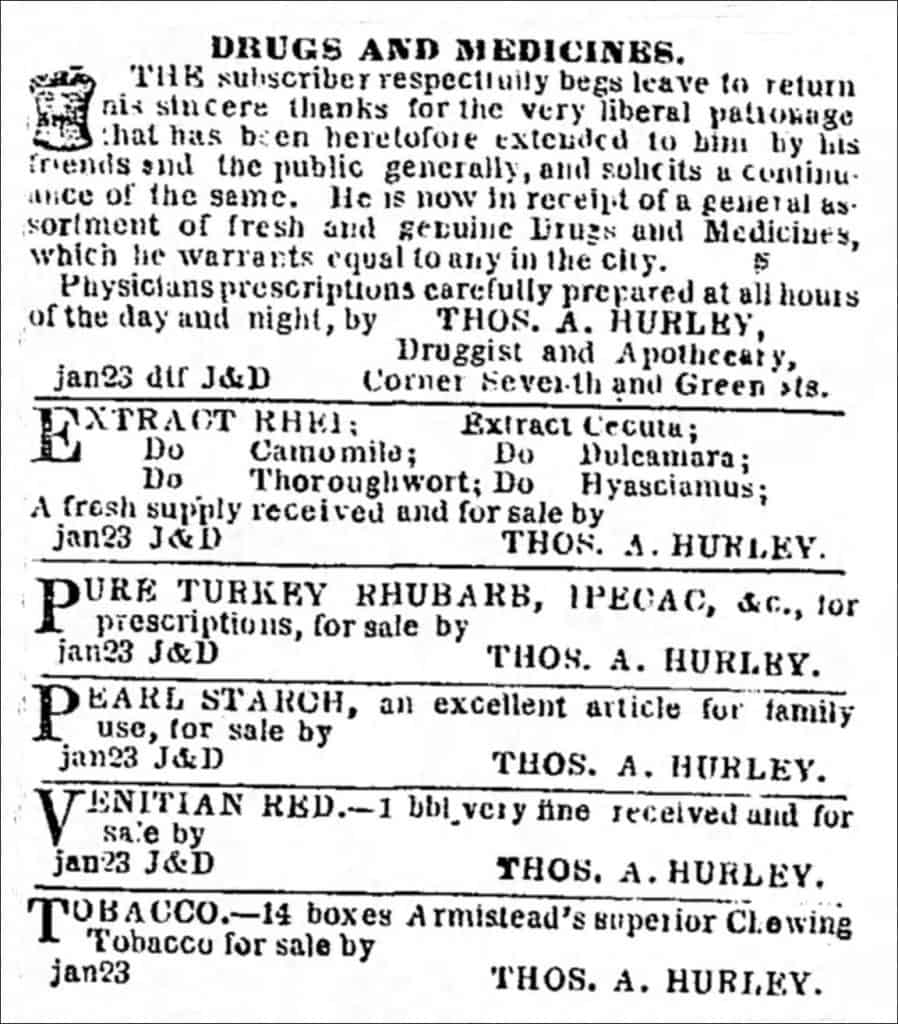 1852: 

Newspaper notice (below) Thos. A Hurley candidate for School Trustee in the Seventh Ward – The Louisville Daily Courier, Saturday, April 3, 1852

1857:

 Newspaper notice (below) A Drug Store for Sale, Thos. A. Hurley, Corner of Seventh and Green Streets – The Louisville Daily Courier, Thursday, September 17, 1857

1860: 

Thos Hurley, Physician, Age: 48, Birth Year: abt 1812, Birth Place: Kentucky, Home in 1860: Louisville Ward 7, Jefferson, Kentucky, Post Office: Louisville, Dwelling Number: 692, Family Number: 857, Real Estate Value: 1,000, Personal Estate Value: 500, Household Members: Thos Hurley 48, Susan M Hurley 42 – 1860 United States Federal Census
1858: 

Newspaper notice (below) Thos. A. Hurley sold drug store to J. Walker Seaton, corner of Seventh and Greet Streets – The Louisville Daily Courier, Tuesday, June 15, 1858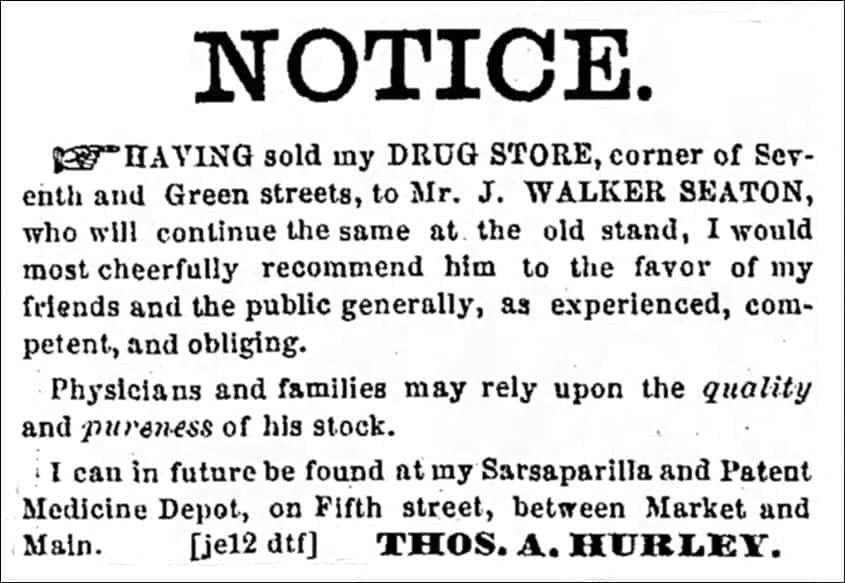 1861:

THOMAS A. HURLEY, druggist, 318 W. Market, h 604 Seventh (see advertisement) – Louisville, Kentucky, City Directory, 1861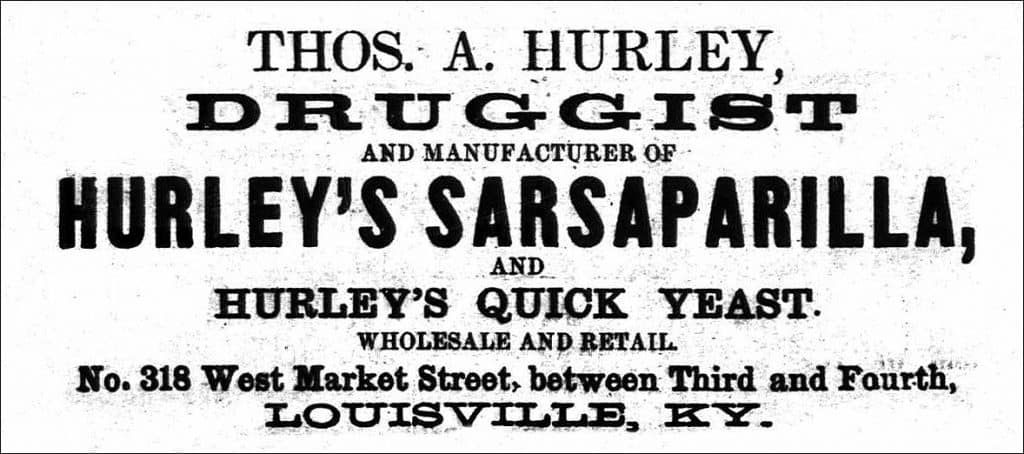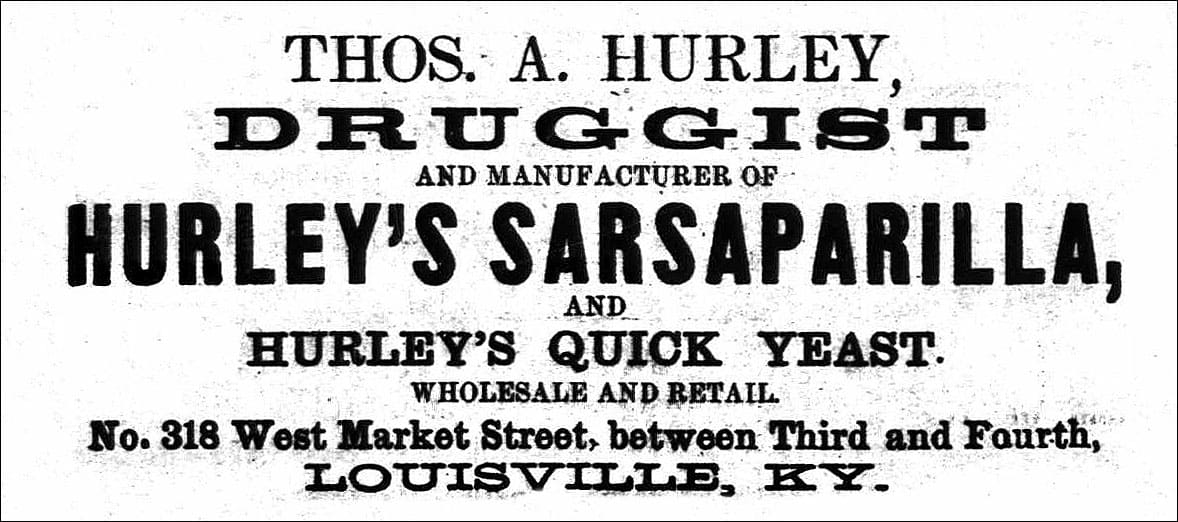 1865-1866:

Hurley, Ruddle and Co., druggists (Thomas A. Hurley, James Ruddle and J.W. Seaton), 254 Green, cor 7th – Louisville Kentucky City Directory, 1866
1866: 

Newspaper advertisement (below) Hurley, Ruddle & Company, Louisville – Daily Mississippi Clarion and Standard, Sunday, July 15, 1866

1867:

 Newspaper notice (below) Dissolution of Hurley, Ruddle and Co., Dr. T.A. Hurley will continue the drug business, James Ruddle and J.W. Seaton purchases the exclusive rights to sell Hurley's proprietary medicines (Hurley's Syrup of Sarsaparilla, Hurley's Worm Candy, Hurley's Ague Tonic and Hurley's Stomach Bitters) – The Courier Journal, Thursday, February 7, 1867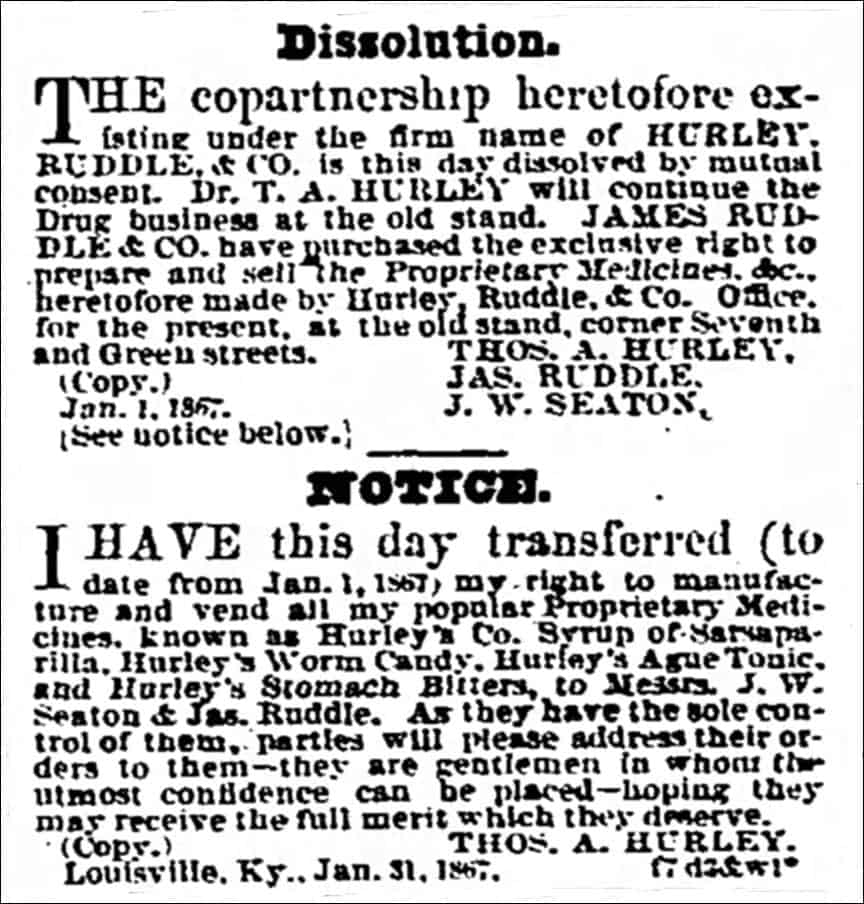 1867:

Thomas A. Hurley, druggist, (Drugs and Medicines), 254 Green, cor 7th – Louisville, Kentucky, City Directory, 1867
1867: 

Newspaper advertisement (below) Hurley's Drug Store – The Louisville Daily Courier, Friday, February 22, 1867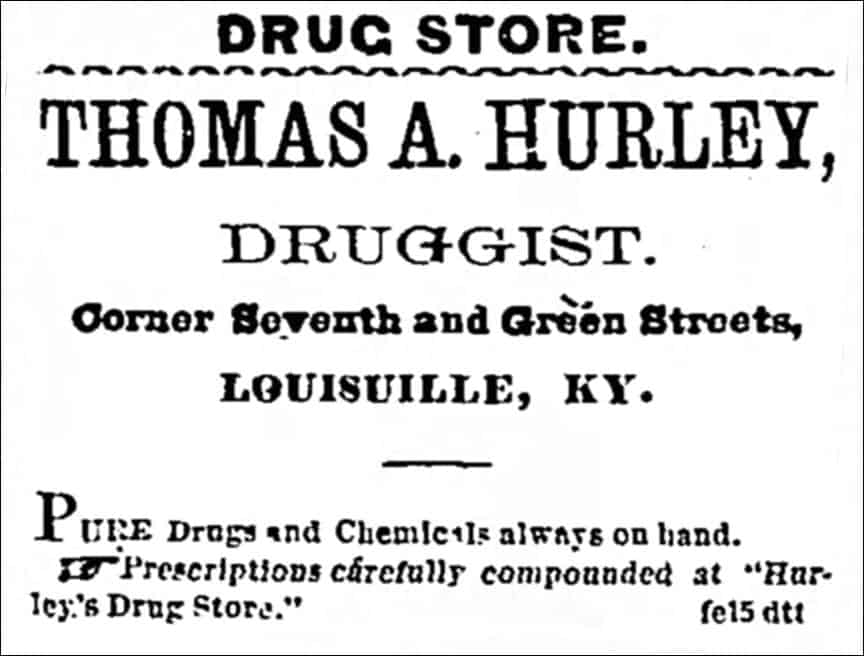 1868: 

Newspaper advertisement (below) Hurley's Stomachic Bitters, James Ruddle & Co., Proprietors, Laboratory 41 Bullitt Street, Louisville – Clarion Ledger, Thursday, May 7, 1868

1869:

Newspaper advertisement (below) Never Known to Fail, Dr. Thos. A. Hurley's Vegetable Worm Candy sold by Jas. Riddle & Co. Proprietor, Louisville – Quad City Times, Monday, June 21, 1869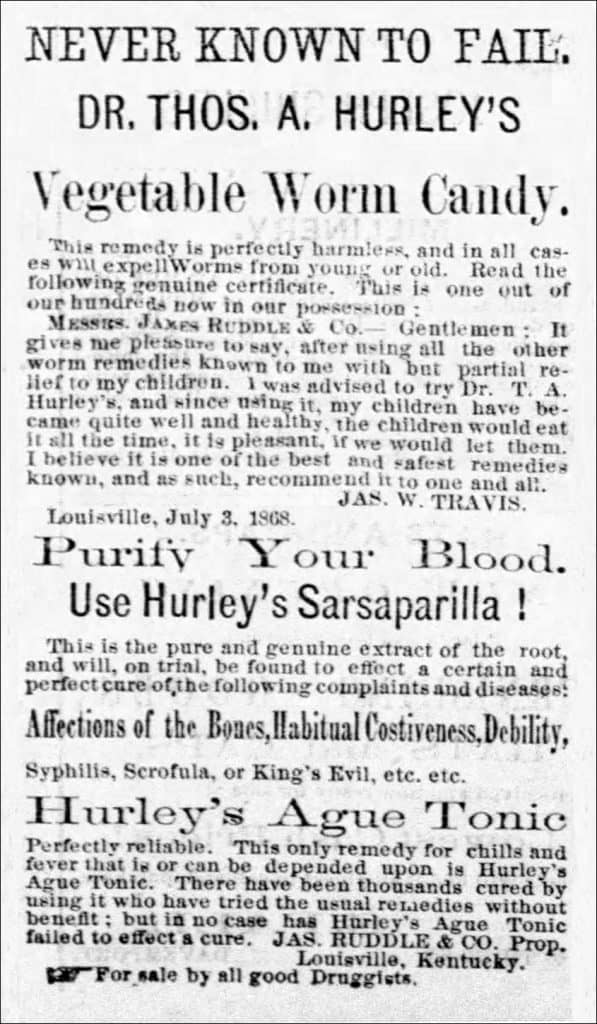 1870:

 Thos A Hurley, Druggist, Age in 1870: 57, Birth Year: abt 1813, Birthplace: Maryland, Dwelling Number: 181, Home in 1870: Louisville Ward 8, Jefferson, Kentucky, Personal Estate Value: 300, Inferred Spouse: Sarah M Hurley, Household Members: Thos A Hurley 57, Sarah M Hurley 52, Ellen Hurley 28, Emma Hurley 13 – 1870 United States Federal Census
1870:

Thomas A. Hurley, r 345 6th – Louisville, Kentucky, City Directory, 1870
1871:

Thomas A. Hurley, druggist, r 193 7th bet Walnut and Chestnut – Louisville, Kentucky, City Directory, 1871
1872:

 Newspaper advertisement (below) Hurley's Stomach Bitters being sold for one dollar a bottle – The Andrew County Republican, Friday, May 10, 1872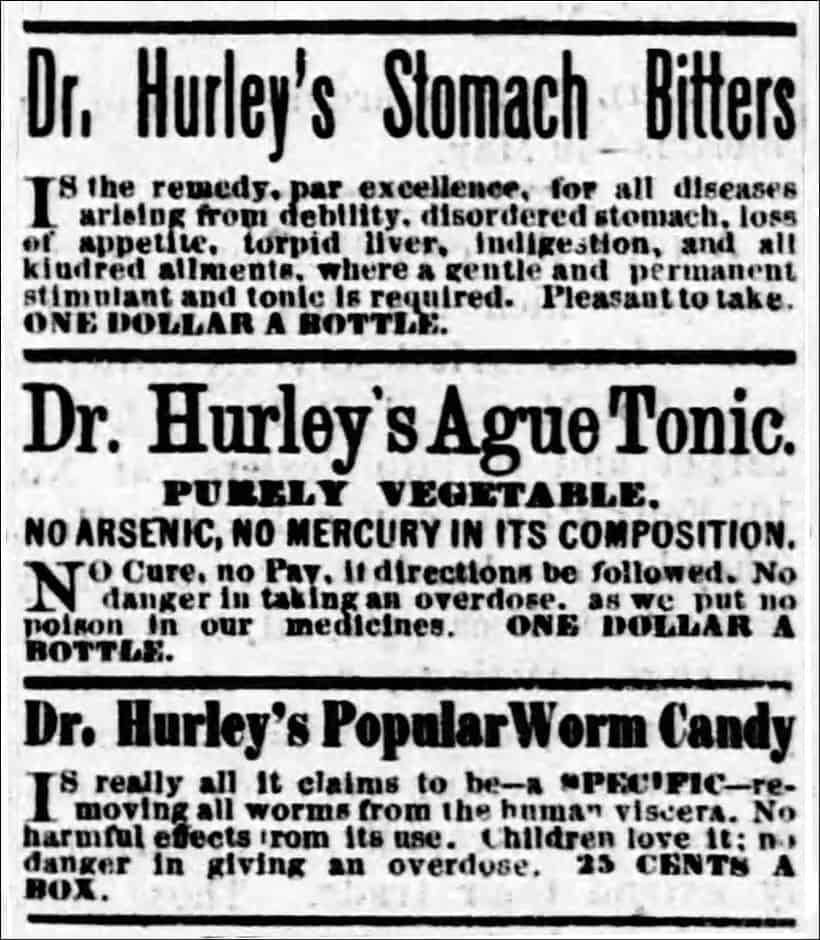 1873: 

Thomas A. Hurley, clerk, G.H. Cary, r 193 7th nr Walnut – Louisville, Kentucky, City Directory, 1873
1873:

 Newspaper advertisement (below) Dr. Hurley's Popular Worm Candy – The Christian Leader, Saturday, May 3, 1873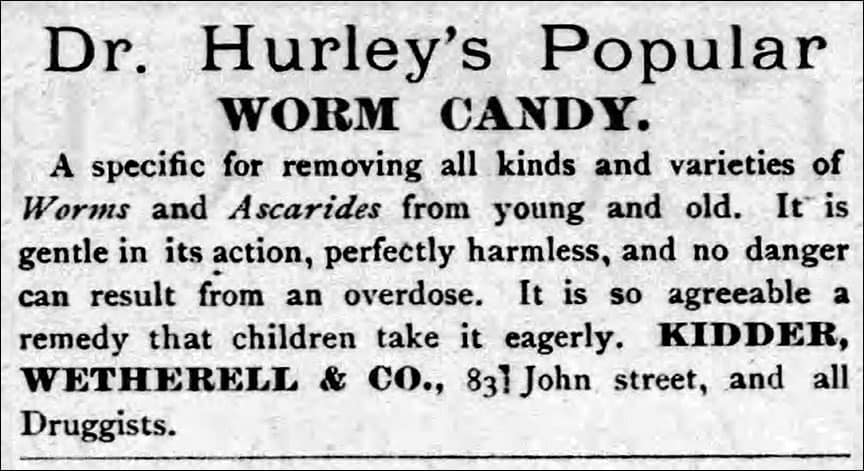 1875:

Thomas A. Hurley, druggist, (Drugs and Medicines, Retail and Wholesale), 248 Jefferson, nr 7th – Louisville, Kentucky, City Directory, 1875
1876:

Thomas A. Hurley, Death Age: 62, Birth Date: abt 1814, Birth Place: Maryland, Death Date: 24 June 1876, Death Place: Jefferson, Kentucky – Kentucky, Death Records, 1852-1965