Stage Actress Beauties

-Looking at some Damiana Bitters Advertising Trade Cards
15 October 2016

As we posted on an odd Damiana Bitters the other day, I thought it would be nice to round this off with some Damiana Bitters advertising trade card images from bitters ephemera authority Joe Gourd up Chicago way. This series is called Stage Actress Beauties and focuses on the wonder women who took to stage before motion pictures were developed. Joe adds,
"Ferd, Here are the images you requested. Glad to help out. I thought that we had used a number of them previously but I could not find them in any of your posts. All of these ladies were stage stars in the late 19th century. They lent their celebrity to the promotion of these bitters much as celebrities are doing today. Each are worthy of separate posts in their own right. I have done some research and have limited biographies on each of them. I look forward to reading your Damiana Bitters post. Regards, Joe"
---
Maud Allan (27 August 1873 – 07 October 1956) is looking sweet and innocent on this Damiana Bitters piece. Maud was a pianist-turned-actor, dancer and choreographer who is remembered for her "famously impressionistic mood settings". Allan was born as Beulah Maude Durrant in Toronto, Ontario, Canada.
Miss Allan spent her early years in San Francisco, California, moving to Germany in 1895 to study piano at the Hochschule für Musik in Berlin. She later changed her name, prompted in part by the scandal surrounding her brother Theodore Durrant, who was hanged in 1898 for the sensational murder of two women in San Francisco. Allan never recuperated from the trauma of this event which had an effect on her for the rest of her life. The execution was immediately followed by her abandonment of piano-playing and the development of a new means of self-expression in dance.
---
Lotta Crabtree (November 7, 1847 – September 25, 1924) is seen peeking through some drapery on this Damiana Bitters trade card. Miss Crabtree was an American actress, entertainer and comedian. She was also a philanthropist.
Born Charlotte Mignon Crabtree in New York City to English parents and raised in the gold mining hills outside San Francisco (where she first rose to fame), Lotta Crabtree would go on to become one of the wealthiest and most beloved American entertainers of the late 19th century. From her beginnings as a 6-year-old until her retirement at the age of 45, she entertained and was named "The Nation's Darling". Her life story was filmed as Golden Girl (1951), starring Mitzi Gaynor.
---
Kate Gerard was an American stage actress who had a leading part in New York and other cities in "The Two Orphans" in 1876. The cast included many of the actors and actresses who appeared in the play when it was first produced in New York including Charles R. Thorne, Jr., J. B. Studley, H. S. Murdoch, Claude Burroughs. H. F. Daly, and Miss Kate Claxton, Miss Maude Harrison, Miss Fanny Morant, Miss Ida Vernon, Miss Kate Gerard, and Mrs. Farren took the principal parts.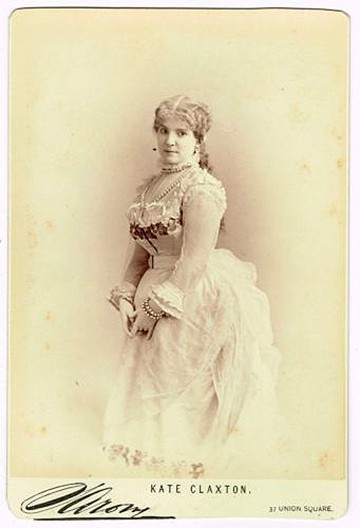 I'm not certain but Kate Gerard and Kate Claxton both may have been performing in The Two Orphans in 1876 at the Brooklyn Theater when a fire occurred with up to 300 lives lost. Certainly Kate Claxton was there. Part of me wonders if this is the same person?
Note: I believe this is another Gerard who was a stage actress in London below.
Miss Gerard For a long time it has been a widespread complaint that good actresses are scarce, and promising actresses in a lamentable minority. Miss Gerard, whose picture in the character of Ophelia adorns our frontispiece this month, comes forward at exactly the right time when leading ladies are at a discount. This very clever lady is comparatively young at her art, and has made her rank in an astonishingly short space of time. She made her first appearance at the Theatre Royal, Plymouth, in 1877, as Lydia, in "The Love Chase." Afterwards engaged at the Olympic, she quickly attracted the attention of connoisseurs, and worked both hard and successfully. She played Cecilia Moonshine, in "Boots at The Swan;" Gianina, in Mr. Henry Neville's "Violin Makor of Cremona;" Phoebe Marks, in "Lady Audley's Secret;" Nan, in "Good for Nothing" – a most admirable performance, natural, thorough, and sincere; Margery, in "The Rough Diamond;" Lady Betty Noel, in "Lady Clancarty;" Jessie O'Hara, in " The Vagabond" – I never shall forget a pathetic exit in the first act that moved the whole house to enthusiasm; and Stella, in "Jealousy."
All this was hard but profitable work, for the style of the young actress ripened at every new effort. London then lost Miss Gerard for a while; for in 1878 she took an engagement with the "Caste " company, and played Esther Eccles ("Caste"), Mrs. Pinchbeck ("Home"), Bella (" School"), Blanche Hay ("Ours"), and Ruth Deybrook ("M.P."). In 1879, Miss Gerard was engaged by Mr. and Mrs. Bancroft to play an important character in "Duty," but ill-health kept her away from the Prince of Wale's; and she next appeared, in 1880, at the Haymarket Theatre, as Fanny Tarbox, in Mr. Dion Boucicault's "Bridal Tour," and from all accounts made the hit of the evening by some charming acting. I regret that I was out-of-town and never saw it.
Then came the Ophelia – a performance strange and uncertain at first, but so true in the mad scene that the whole audience was won over to the young actress. It was in perfect time and tune, and the pathetic scream made all who listened shiver. I have seen many good Ophelia's, Kate Terry I think the best, Ellen Terry admirable and unapproachable in the love scene with Hamlet, and an Italian lady, who played when Salvini was over here, made a veritable triumph; but I have not been so touched in the mad scene as by Miss Gerard, who conquered every prejudice against her by the sincerity of her art. If this lady continues to study, she will be of the greatest value to the stage, for MISS GERARD AS OPHELIA. If this lady continues to study, she will be of the greatest value to the stage, for she has everything in her favor – youth, good looks, variety of expression, and very marked intelligence. Everyone will be anxious to see how she gets on, for this clever young lady will have much to do during this important and varied engagement of Edwin Booth. – C. S.  – The Theater: A Monthly Review and Magazine, 1880
---
Maud Branscombe was an American stage celebrity and celebrated beauty having the "look" in style in the era than her performing skills, though accounts say she gave pleasant stage performances in light musical productions. She was stunningly beautiful and she was photographed by the New York theatrical and celebrity photographer Jose Maria Mora. As her images caught on with the general public, she became an international celebrity, and images of here were in demand for advertising as she is pictured an scores of advertising trade cards. She was basically the "it" girl in popular culture for a brief time. The peak of her popularity was in the late 1870s and very early 1880s. Biographical information is rather scant for Maud Branscombe, but she apparently made her first appearance on the New York stage in 1876.
---
May Fortescue (09 February 1859 – 02 September 1950) was an actress, singer and actor-manager of the Victorian era and a protégée of playwright W. S. Gilbert. She was a member of the D'Oyly Carte Opera Company from 1881 to 1883, when she left the company following her engagement to a nobleman, young Arthur William Cairns, Lord Garmoyle (later the 2nd Earl Cairns). Cairns soon broke off the engagement under pressure from his friends, and Fortescue returned to the stage in leading roles.
With the £10,000 that she received in her breach of promise lawsuit, Fortescue started her own touring theatre company, often performing the plays of W. S. Gilbert. Coincidentally, Gilbert visited Fortescue on the day he died. Her acting career continued until 1926.
---
Rose Massey (c.1851 – July 23, 1883) was a 19th-century stage actress. Massey first appeared at the Haymarket Theatre in London in July 1867, playing the role of Mary Meredith in Our American Cousin, but later gained attention in her 1871 performance as Fatima in Blue Beard at the Covent Garden Theatre. Her New York debut was in February 1869, in The Field of the Cloth of Gold at Wood's Museum.
Massey played a number of roles opposite actor Henry James Montague, who she followed to the United States and later sued in 1875 for breach of promise to marry. She claimed to have a son fathered by Montague, and it made a stir when Massey also released "sappy" letters to her from Montague. That case ended, however, when Montague died in 1878. In addition to her liaison with Montague, Massey also had a relationship with Alex Henderson (1828-1886) (spouse of burlesque producer Lydia Thompson). That relationship produced a daughter, Helen Massey. Massey was also the mother of actress Blanche Massey (born circa 1878). Massey died of consumption in New York on July 23, 1883.
---
Amalia Mignon "Minnie" Hauck (November 16, 1851 – February 06, 1929) was an American operatic soprano.
Miss Hauch was born in New York City, the only child of James Hauck, a German carpenter, and his American wife. Soon after Minnie's birth the Haucks moved to Providence, Rhode Island, and then to Sumner, Kansas in 1857. It was later rumoured that Hauk was the daughter of the financier Leonard Jerome, who was a devotee of the opera. Jerome's daughter, Jennie, to whom some have suggested Hauk bore a resemblance, married the British politician Lord Randolph Churchill and was the mother of the great British war leader Winston Churchill.
In 1862, Hauk began vocal studies with Achille Errani, who secured her a spot with the Max Maretzek Italian Opera Company. At age fourteen she made her debut in Brooklyn as Amina in La sonnambula, and a month later, in November, 1866, her New York City debut as Prascovia in L'étoile du nord. In the American premiere of Gounod's Roméo et Juliette (1867) she sang Juliette. Hauk sang at Covent Garden, London, on 26 October 1868, and debuted in Paris in 1869. The soprano then appeared in Italian and German opera at the Grand Opera in Vienna and other venues throughout Europe. Hauk performed the role Carmen at the opera's British and American premieres in 1878, and Manon at its American premiere in 1885. Her voice became a mezzo-soprano of great strength and depth. Hauk's enormous repertory included approximately one hundred roles, and she sang Carmen in four languages.
In 1881 she married Ernst von Hesse-Wartegg, the Austrian writer and traveller. Much of Hauk's fortune was lost during World War I. By 1918 she was impoverished and nearly blind. Hauk died at her home near Lucerne, Switzerland in 1929.
---
Lilian Adelaide Neilson (03 March 1847 – 15 August 1880), born Elizabeth Ann Brown, was a British stage actress.
By 1872, she was hugely popular and, after making a successful tour of British cities and giving a series of farewell performances in London, she came to America, where her agent was Edwin F. De Nyse. She made her first American appearance on 18 November 1872, at Booth's Theatre, New York City, as Juliet. She was praised by American critics who echoed the acclaim she had received from London theatrical audiences.
She made subsequent American tours throughout the 1870s. She played Amy Robsart, heroine of Sir Walter Scott, in May 1873. She is noted for a fine engagement staged in Brooklyn, New York the same year. Her farewell at Booth's Theatre came on 2 May 1874. Neilson accepted an engagement at the Lyceum in the autumn that year. She performed in Cymbeline by William Shakespeare at the Fifth Avenue Theatre in New York on 14 May 1877. She not only achieved distinction on the American stage, but accumulated a considerable fortune. The parts that she acted in America included Juliet, Rosalind, Viola, Beatrice, Imogen and Isabella, from Shakespeare and Amy Robsart, Julia, Pauline and Lady Teazle, from other authors.
---
Note: Wikipedia primary source for information.