The oddly shaped

Vigor Bitter & Invigorating Tonic

& the

Heublein & Brother bottle
05 September 2015

Frank Wicker sent the pictures (which I have cropped in Photoshop) of a Vigor Bitter & Invigorating Tonic saying, "Hi Ferdinand, have you ever seen one of these? This one is a concave square bottle. The Vigor Bitter & Tonic Co. Hope all has been good, Frank".
I recognized the bottle from the recent Rachel Davis Fine Art Auction. When mentioned to Frank, he replied, "Yes , it has been added to the collection. Ring & Ham says it's extremly rare. But this one is a variant. It's 10 1/4 inches tall in height instead of 11 inches. From what I hear, it was one of the few bottles at this auction with no damage."
Read: Wicker Visit – Austin Healey's and Elephants
I posted the image on Daily Dose and the Peachridge Glass Facebook page and got an almost immediate response from Gerard Dauphinais, "Great piece. I have a bottle the same shape in green from Hartford, Ct. Heublein Co." (see pics, again cropped in PhotoShop) 
I wondered about the Vigor Bitter & Invigorating Tonic and searched online for information, focusing in the Midwest and Illinois area. I just felt the bottle looked like some of the triangular bitters from that region. The Heublein & Brother bottle from Hartford, Connecticut led me to the northeast as it looks like an identical form. In both areas I could not find any support information though I did find an abundance of information on Heublein Inc. (also known as Heublein Spirits). They were an American producer and distributor of alcoholic beverages and food throughout the 20th century.
Heublein was originally a restaurant in Hartford, Connecticut founded in 1862 by Andrew Heublein, a German American entrepreneur. He was soon joined in business by his two sons Gilbert F. and Louis Heublein. In 1875 they took an order to prepare a quantity of pre-mixed martini and Manhattan cocktails for the annual picnic of the Governor's Foot Guard. The event had to be cancelled due to rain. A few days later, a restaurant employee was instructed to dispose of the stored cocktails. But his curiosity led to the discovery and declaration that the alcoholic drinks were "still good". It had been duly noted by the two brothers, who started selling pre-mixed cocktails in the restaurant. These ready-made cocktails were so popular that a distillery was built just to satisfy the increasing demand. The business became Gilbert F. Heublein and Bro. upon its transfer to Andrew's sons Gilbert and Louis Heublein in 1890, when the focus was turning towards their lucrative line of "ready-made" alcoholic cocktail drinks. [Wikipedia]
Read: Afternoon Cocktails in the Tower with Gilbert by Jack Sullivan
Now, let's go back to the Vigor Bitter and Tonic. First of all, the Carlyn Ring and W.C. Ham listing in Bitters Bottles is as follows:
V 21.8

 THE VIGOR BITTER & TONIC CO
// b // THE VIGOR BITTER – / & TONIC CO
11 x 4 (measured diagonally) (8 1/4)
Square, Amber, LTC, 4 concave sides, Extremely rare
When I check my own archives. which are close to 100,000 images, I see a lone folder labeled Vigor Bitters right under my nose. Apparently Glass Works Auctions sold one before! And it is really a Provost Vigor Bitters from Cleveland, Ohio. So my original instincts were correct.
I now check Bitters Bottles again and find:
P 149

 L… Provost Vigor Bitters
// b // THE VIGOR BITTER / & TONIC CO. /
Prepared and bottled by the Provost Vigor Bitter and Tonic Co., Cleveland, U.S.A.
10 x 3 (7)
Square convex sides, Amber and Clear, LTC, Tooled lip, Extremely rare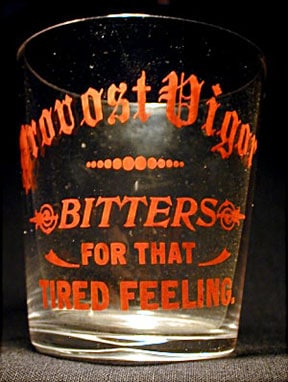 Here is a shot glass found on pre-pro.com. It reads, Provost Vigor (arched, old English) / (line of 12 dots) / BITTERS (ital, with design at either end) / FOR THAT (up-swoosh design at either end) /TIRED FEELING.