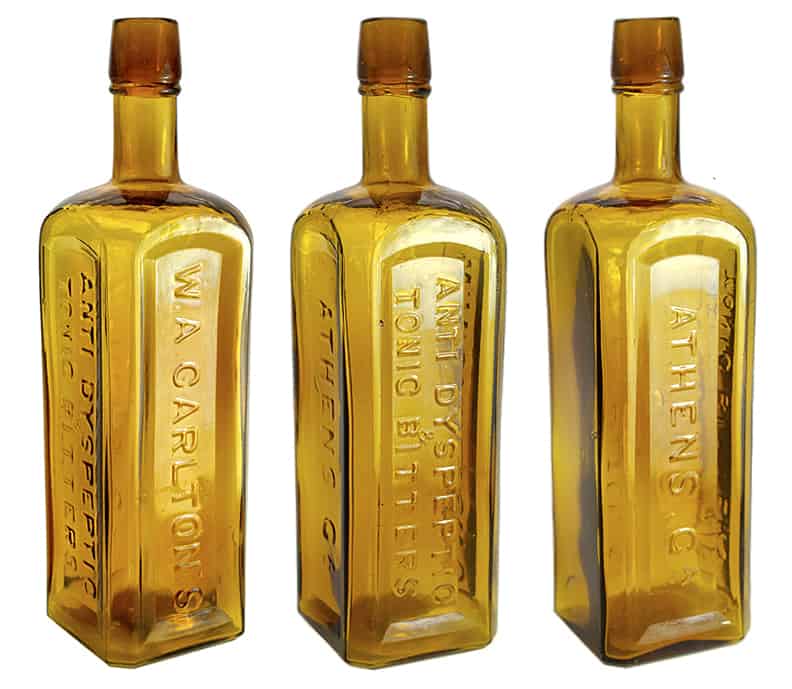 W. A. Carlton's Anti-Dyspeptic Tonic Bitters – Athens, Georgia
17 March 2015

Jim Hagenbuch with Glass Works Auctions has this really neat and extremely rare Carlton's Anti-Dyspeptic Tonic Bitters square from Athens, Georgia in his "Winter Classic" Auction #106 that closes on March 23rd. I've heard about this bottle but have never seen an example before. Apparently W. A. Carlton was a plantation owner on what is now part of the University of Georgia at Athens, Georgia.
The Carlyn Ring and W.C. Ham listing in Bitters Bottles is as follows:
C 50.5

 CARLTON'S ANTI DYSPEPTIC & TONIC BITTERS
W. A. CARLTON'S // ANTI DYSPEPTIC / & TONIC BITTERS // ATHENS. GA // f //
9 11/16 x 2 5/8 (7 5/16) 7/16
Square, Yellow, LTCR, Applied mouth, Extremely rare
W. A. Carlton was a plantation owner on what is now part of the University of Georgia at Athens Ga.
Dug in Savannah, Ga.
WILLIAM ALEXANDER CARLTON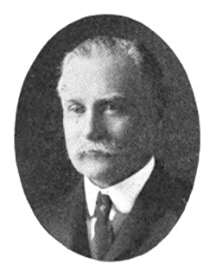 W. A. Carlton, whose name is embossed on the subject bottle, came from a prominent family of physicians in Athens, Clarke County, Georgia. William Alexander Carlton was born on 12 December 1847 in Athens and was the second in order of birth of six children from the union of Dr. Joseph Barnett Carlton and Emma (Moore) Carlton. His brothers and sisters were Julia E. Carlton, Allura H. Carlton, who died in infancy; Joseph H. Carlton, Emma Leila Carlton, who was the wife of Honorable Charles L. Bartlett, member of Congress from the Sixth Congressional District of Georgia; and Dr. James M. Carlton.
His father, Dr. Joseph B. Carlton was born in Greene County, Georgia, on 11 December 1822. He was a son of James R. and Elizabeth (Espey) Carlton, the former of whom was born in King and Queen County, Virginia, in 1795; his death occurring in Athens, Georgia on 10 August, 1888, at the patriarchal age of ninety-three years. Elizabeth (Espey) Carlton was born in Oglethorpe County, Georgia., and was a descendant of one of the pioneer families of Pennsylvania.
James R. Carlton was a son of Elijah Carlton, a Scotch Presbyterian, who immigrated to America from the northern part of Ireland and established his home in Virginia. He served as corporal in the Second regiment of Virginia militia in the war of 1812. His son, James R., Jr., settled in Clarke county, Georgia, when twenty-one years of age; was for some time engaged in the general merchandise business and later became a successful contractor. He erected the first brick building in what is now the city of Athens.
Dr. William Alexander Carlton received his elementary education in the private schools of Athens including Rock College (renamed the Normal School), and the University of Georgia where he graduated with a Bachelor of Arts in 1868. He then went to Atlanta and passed several months in a local laboratory of chemistry and pharmacy with Professor W. J. Land, and in the winters of 1869 and 1870 he took a course in the College of Pharmacy in Philadelphia. Later he took two courses of lectures at Jefferson Medical College, in the same city, graduating as a member of the Class of 1873 and duly receiving his degree of Doctor of Medicine. He then returned to Athens, where he continued in the practice of his profession for the ensuing three years with his father, Dr. Joseph Barnett Carlton, after which he returned to Philadelphia and completed a post-graduate medical course and attended lectures on anatomy, and on the eye and throat at the Wills' Eye Hospital. While there he was honored with the appointment as resident physician of St. Mary's Hospital, where he remained some time. He resumed the practice of his profession in Athens in 1876.
Dr. Carlton was a member of the Medical Association of Georgia, a Democrat in politics, and had been a member of the Methodist Episcopal church South, for nearly forty years. For many interested in the planting industry and in the raising of Jersey cattle and other high-grade live stock.
In 1878, Dr. Carlton was united in marriage to Miss Annie M. Price, daughter of Elihu and Julia Price, of Macon, Georgia. They had five children, namely: Elihu, who died in infancy; Juliet, wife of Dr. Henry M. Fullilove, of Athens; Hilda, who died in infancy; and Annie Frances and William A. Jr. Mrs. Annie M. Carlton died in 1902 and was laid to rest in Oconee cemetery. On June 13, 1906 Dr. Carlton was married to Miss Susie A. Lucas, the youngest daughter of Judge F. W. and Mrs. Martha (Singleton) Lucas, honored and representative citizens of Athens, and who were held in the highest esteem by all who knew them.
Dr. Carlton then returned to Athens and did a general practice until 1890. He then returned to Philadelphia and studied bacteriology at Jefferson Medical College Laboratory under Dr. Handle C. Rosenburger. He then returned to Athens and after fifty
years of continued service in the medical profession he retired. Dr. Carlton died on 9 May 1930 in Athens, Georgia.
DR. WILLIAM A. CARLTON
For fifty years Dr. W. A. Carlton practiced medicine in Athens, Ga. For more than fifty years I have known Dr. Carlton, known him as a physician and known
him as a friend.
He was the family physician of my parents and later my family physician. No
man have I ever held in higher esteem, therefore, it is extremely difficult for
me to do justice to Dr. Carlton in this sketch of his life.
Dr. Carlton was born in Athens, educated in Athens, practiced medicine in
Athens and has lived in Athens all of his life, and he is therefore a real
Athenian. But, he is more than that, he is a real man, a real friend and a real
doctor.
As a boy he was meek, modest, courteous, polite and unostentatious. He was
strong, honest, faithful and persevering. These virtues were so deeply ground in
his mind and heart, and soul that when he became a man they remained steadfast
with him, rounding out one of the most beautiful characters, which distinguishes
one as a man among men.
As a boy he attended school at the old Rock College (University High School),
which was converted into a military institute during the war. The students were
instructed in military tactics by Captain Charbonnier, and by order of the
Secretary of War these boys were detained for local defense, subject to being
ordered to any point in the state. William A. Carlton, with six other cadets,
was appointed to guard 430 Federal prisoners brought to Athens by General
Breckenridge's command. On the morning of May 4, 1865, this lad, having been on picket duty all night was given leave of absence to go to his home and report
for the afternoon. Before he reached home he was captured by Federal troops and his musket taken from him. In a few days he was paroled. So, early in life
patriotism and duty became an unselfish part of his being.
As a physician he has always been ambitious, not ambitious for the praise and
plaudits of a people, but ambitious to give to the sick and suffering the best
that was in him, and his faithfulness is recorded by an undying appreciation on
the part of thousands of his former patients. Everyone who consulted him
received not only the most courteous attention but the most painstaking
consideration.
Dr. Carlton stood at the top of his profession. He came from a family of
doctors. His father and his brother were among Athens' best physicians, and when he attended Wills Eye Hospital in Philadelphia, without making application for the position, he was appointed interne at St. Mary's Hospital, located in that city.
When the news was heralded that Dr. Carlton had retired from active practice
of the profession he loved and honored, there was sadness and regret, which
touched many hearts and many homes, not only in Athens, but in every county
adjacent to Clarke, and even reached beyond the borders of the state.
As a friend, he is sincere and his sincerity accentuates his friendship and makes of it a friendship as valuable as it is beautiful. A a man, he possesses those God-given virtues which through the ages have inspired men "to do justice, to love mercy, and to walk humbly." His motto in life is "Speak ill of no one."
And now, that he has laid down his "working tools," and sought a well-earned
rest after a half century of faithful trust, may God grant him many more years
of health and strength to enjoy the peace and quietude and the love of home and
give to his friends the pleasure and happiness of meeting him and greeting him.
M. G. MICHAEL
DR. JOSEPH BARNETT CARLTON
Dr. Joseph B. Carlton was the father of William Alexander Carlton and was a resident of Athens all of his life. He was born in 1822. After completing his education at private schools and the University of Georgia at Athens, he attended the Medical College of Augusta, where he graduated in 1844. He practiced medicine thirty-seven years. His death occurred in 1881. He was a member of the Georgia Legislature in 1852 to 1856 and member of the Senate 1856 to 1858.
During our Civil War when the battles around Richmond were being fought the number of wounded men was so great that the army surgeons were unable to give them proper attention. Dr. Carlton went to Richmond and offered his services. No one knows how many lives he saved or how much suffering he relieved but for years afterwards many of those he attended as long as they lived could not express their gratitude for the services he rendered them under such trying circumstances. During the war he was appointed surgeon of General Robert Toombsí regiment of State Troops. He had remarkable success in the treatment of pneumonia and measle diseases which had been so fatal in camp. He returned to Athens and resumed general practice. He always felt that skill, attention, and fidelity, were due his patients; they found in him tenderness and sympathy. His affable manner, cheerful disposition, and kind heart won for him many friends.
DR. HENRY HULL CARLTON
Dr. Henry Hull Carlton obtained his literary education in the private schools of Athens and the University of Georgia. He graduated in medicine about four years before the Civil "War at Jefferson Medical College, Philadelphia. He entered into the practice of medicine with his brother, Dr. Joseph B. Carlton. The firm did a large and successful practice.
In 1860, Dr. H. H. Carlton entered the Confederate service as first lieutenant, Troupe Artillery. In a few months the company was reorganized and Dr. Carlton was elected captain. The company served throughout the war and made a wonderful record. After the war, Dr. Carlton resumed the practice of medicine, but times had changed and after two years practice he felt called upon to serve his fellow citizens in another capacity.
He was chosen to serve in the Legislature, Senate and U. S. Congress. He never
lost his deep interest in the medical profession. He died October 26, 1905.
DR. JAMES M. CARLTON
Dr. James M. Carlton was the son of Dr. William Alexander Carlton and was born in Athens, Georgia on January 10, 1858. He received his diploma from the University of Georgia at the age of eighteen and in 1881 the degree of Doctor of Medicine from Jefferson Medical College, Philadelphia. He was a born physician and well qualified to do the work. His practice increased rapidly and his strong constitution was overtaxed. After a little over two years in the practice he was taken suddenly ill and died in a few days, on August 18, 1883. His death was a great shock to his many friends and an irreparable loss to the community; the poor of Athens had lost their best friend. "This successful imitator and follower of the Great Physician, living a short life full of happiness in alleviating pain, and sacrificing self to bring joy to Athens,
obeyed the summons too."
Select Listings:
1850: W. A. Carlton, age 3, born in Georgia, living in Athens, Clarke, Georgia, father Joseph B. Carlton (age 28), Physician  – United States Federal Census
1860: William A. Carlton, age 12, born about 1848 in Georgia, living in Athens, Clarke, Georgia, father Joseph B. Carlton (age 28), Medical Doctor, Wife Emma H. (34), sister, Julia E. (15), Emma D. (7), James M. (2) also James M (25) recorded –  United States Federal Census
1879-1880: William A. Carlton, Physician – Shole's Georgia State Gazetteer
1900: W. A. Carlton, Medical Doctor, born in Georgia in 1847, living Athens, Clarke, Georgia, married to A. M. Carlton in 1878, children, Julia Carlton (18), Annie F. Carlton (13), W A Carlton (9) – United States Federal Census
1909: W. A. Carlton (Susie), Physician, Hodgnon-Shackleford Building – Directory, City of Athens, Georgia
References: History Of Athens And Clarke County, History of the Medical Profession, By DR. WILLIAM A. CARLTON
Georgia: Comprising Sketches of Counties, Towns, Events, Institutions, and Persons Arranged in Cyclopedic Form, Allen Daniel Candler, Clement Anselm Evans State Historical Association, 1906