Dr. Marcus' Universal Bitters – Philadelphia
13 March 2015

Jim Hagenbuch with Glass Works Auctions has a nice example of an extremely rare Dr. Marcus' Universal Bitters from Philadelphia in their "Winter Classic" Auction #106 that closes on March 23rd. Initially, I was kind of excited because I thought I did not have an example, but it looks like I have a super example that I have also pictured in this post.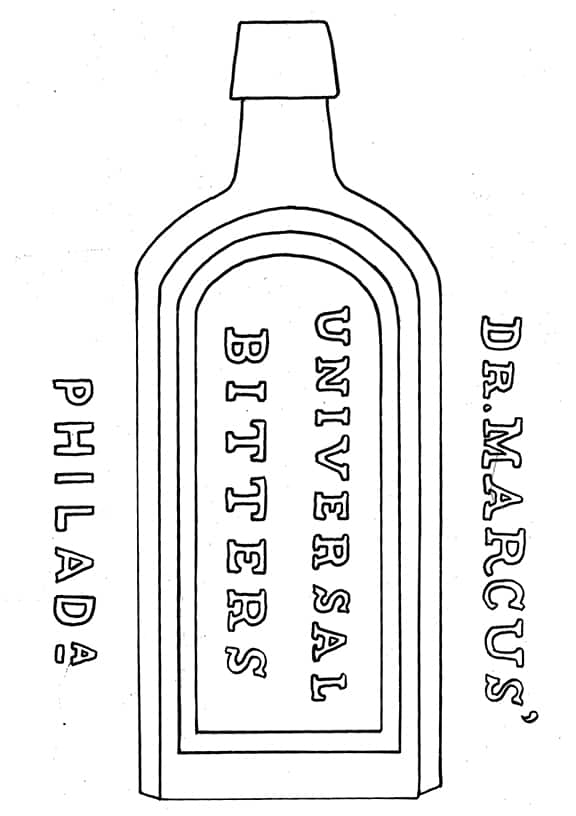 The Carlyn Ring and W.C. Ham listing in Bitters Bottles is as follows:
M 35

 DR. MARCUS' UNIVERSAL BITTERS
sp // DR. MARCUS' // UNIVERSAL / BITTERS // PHILADA //
7 7/8 x 3 1/8 x 1 3/4 (6)
Rectangular, Aqua, LTC, Applied mouth, 4 sp, Rough pontil mark,
Extremely rare
What is really interesting in this post is that there are two examples of the bottle and three styles of photography. You have the Glass Works Auctions photography, the Ed Gray photography and one of my styles for photographing aqua bottles. Each has it merits and each gets the job done in sporting fashion. Believe me, its tough to photograph aqua bottles.
It looks like John H. Holmes was the proprietor in 1861, addressing at 539 S.W. Corner of Front and Thompson Streets in Philadelphia. The advertisement above states that the "preparation has been in use for eight years, having first been prescribed by the eminent Physician of Philadelphia for the present Proprietor". Unfortunately I can not find a Dr. Marcus in Philadelphia directories in the 1850s or 1860s. Holmes was selling the bitters out of his Tavern.