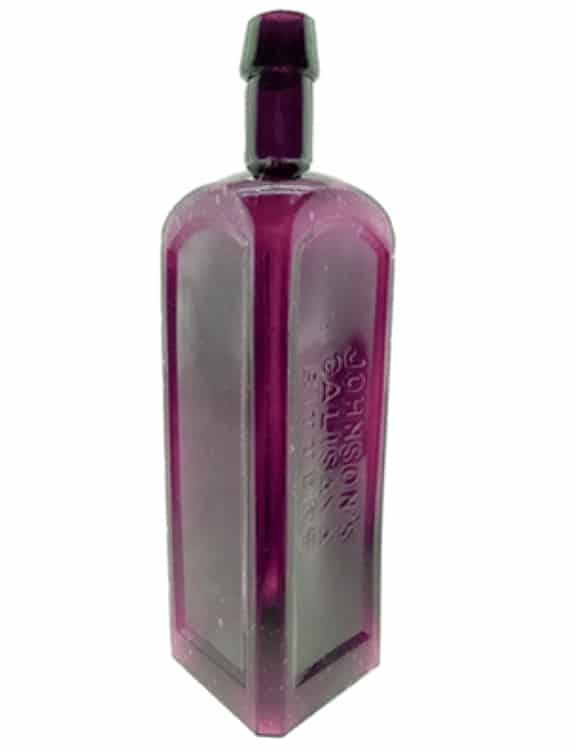 Johnson's Calisaya Bitters –

Burlington, Vermont
02 January 2015 (R•010315)

I can not believe that I have not posted about Johnson's Calisaya Bitters from Burlington, Vermont before. This is one of my favorite squares as it comes in so many exciting colors. This purple example that just showed up on Jeff Wichmann's American Bottle Auctions "For Sale" page is something else. It is pictured at the top of the post. Can this color be true?
My run is pictured below. I am aware of two bottles of similar purplish coloration resting comfortably in New York and Nevada collections. This new example is a total surprise.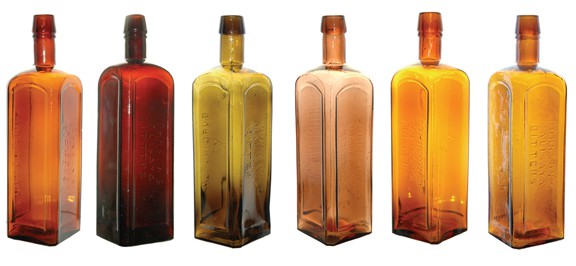 The Carlyn Ring and W.C. Ham listing in Bitters Bottles is as follows: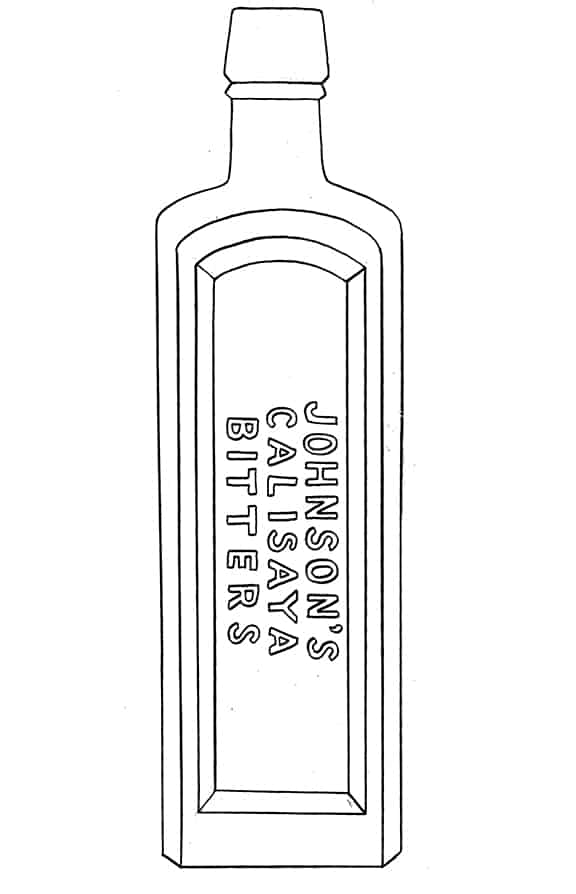 J 45

 JOHNSON'S CALISAYA BITTERS
JOHNSON'S / CALISAYA / BITTERS // sp // BURLINGTON / VT. // f //
L… Dr. Johnson's Calisaya's Bitters
10 x 2 3/4 (7 5/8) 3/8
Square, LTCR, Applied mouth, 3 sp, Amber – Scarce; Green and Puce- Extremely rare
Label: A superior combination of barks, roots and herbs not hitherto attained by any other manufacturer of bitters. A sovereign remedy for dyspepsia, jaundice, constipation, loss of appetite and kindred diseases.
Drug Catalog: 1878 CBN&Co. as of October 1, 1877 distributed by Manhattan Medicine Co. 122 Liberty Street New York City. Henry & Johnson, Sole proprietors.
Tracing the Roots
In 1833 or so, up in Northern Vermont, a medicine man named Reverend N. H. Downs manufactured and sold his popular Downs' Vegetable Balsamic Elixir to patrons in New England and Canada. Eventually his business was taken over by the firm, J. M. Henry & Sons. They acquired other proprietary medicines, originated some of their own and gradually developed a considerable wholesale and retail drug trade.
When J. M. Henry died around 1862, the business became J. F. Henry & Co., the members being the sons, John F. Henry and William W. Henry. Realizing that the activities in a small town were limited, John F. Henry came to New York in 1865 and went to work for Demas Barnes & Company, one of the larger wholesale drug firms in the country. In the fall of 1868, John F. Henry & Company became the successor to Demas Barnes & Company as Barnes moved on to politics and became a United States Representative from New York. The Henry business grew substantially during this period.
In 1873, John F. Henry & Co. expanded again with the acquisition of A. L. Scovill & Company. That same year Henry took on a new partner, Theodore Curran, formally associated with Scovill. The new company name was John F. Henry, Curran & Company.
Later in 1873, the firm was renamed Henry & Johnson with the Henry's adding Eli Broadstreet Johnson as a partner. This is when we see our first advertising for Johnson's Calisaya Bitters (see below) though there is a hint of Johnson's Bitters in 1865 (see above). Eli probably brought his brand to the plate when the partnership was formed.
Sometime in the late 1870s, The Henry's created the Manhattan Medicine Company to manufacture and sell their medicines in the big cities. William B. Henry headed up this effort. If you look within the Manhattan Medicine Company marketing folder below you will see Johnson's Calisaya Bitters and Atwood's Physical Jaundice Bitters for sale.
Read: A Thrilling Tale, Running a Time Table, A Brakeman's Story 1873, Published by Henry & Johnson
In 1875 or so, Henry and Johnson added a third partner Loren B. Lord and the druggist business was renamed Henry, Johnson & Lord. They were making and selling proprietary medicines on Druggists' block at College Street in Burlington, Vermont. In 1882, they were listed as manufacturers of proprietary medicines, pure flavoring extracts, essences, toilet articles, etc., addressing at 119, 121 and 123 College Street. The 1886 almanac below indicates that they were present in both Vermont and Montreal, Quebec. These guys remained in business until at least 1917.
[From the Household Almanac] Historical records assert that in 1840 Moses Atwood of Boston created what became a widely used and very popular patent medicine, Atwood's Quinine Tonic Bitters. Rights to the product were eventually bought by John Henry, who added another remedy, Dr. Roger's Compound Syrup of Liverwort, Tar & Canchalagua, to his collection and created the Manhattan Medicine Company to manufacture and sell the concoctions. The Manhattan Cook-Book is a small volume that is essentially a promotional flyer for the company's patent medicines. Recipes and recommendations for hair care and personal toiletry are threaded throughout with patent medicine ads, so that page 1 of the content touts Dr. Rogers' Compound Syrup, and page 2 lists "recipes" for Tea Biscuit, Delicious Lemon Jelly Cake, and Rusks. Every page is headed by an exhortation to, "Take Spalding's Pills for Costiveness," "Take Dr. Johnson's Bitters for Indigestion," "Use Phalon's Hair Invigorator for the Hair," and many more. Recipes for tapioca, coffee cake, and strawberry tartlets are sandwiched in between medical advice (using many of the medicines advertised) for whooping cough, asthma, pneumonia, and other diseases. This charming example provides fascinating insight into contemporary cooking, medicine, and lifestyles. This edition of The Manhattan Cook-Book by the Manhattan Medicine Company was reproduced by permission from the volume in the collection of the American Antiquarian Society, Worcester, Massachusetts. Founded in 1812 by Isaiah Thomas, a Revolutionary War patriot and successful printer and publisher, the Society is a research library documenting the life of Americans from the colonial era through 1876. The Society collects, preserves, and makes available as complete a record as possible of the printed materials from the early American experience. The cookbook collection includes approximately 1,100 volumes.
William W. Henry
William Wirt Henry (November 21, 1831 – August 31, 1915) was a manufacturer and a colonel in the Union Army during the American Civil War. He was a recipient of the brevet grade of brigadier general of volunteers and of the Medal of Honor for gallantry in action.
Henry was born in Waterbury, Vermont, the son of James Madison and Matilda (Gale) Henry. He taught school in his hometown for one year, then caught 'gold fever,' and moved to California in 1851. He served as constable in White Oak, El Dorado County, California, in 1856. He returned to Vermont in 1857 and joined his father's business manufacturing pharmaceuticals.
Henry married on August 5, 1857, Mary Jane Beebe, daughter of Lyman and Mary (Sherman) Beebe of Waterbury, Vermont. They had five children. Mary Jane died in 1871, and Henry married Valeria (Lillie) Heaton, daughter of Timothy and Susan (White) Heaton of Waterbury.
He was commissioned first lieutenant of Company D, 2nd Vermont Infantry, on May 20, 1861, but resigned on November 5, 1861, for medical reasons. He rejoined his father's business, and returned to the Washington area, selling drugs to sutlers and military surgeons. He then accepted a position as major of the 10th Vermont Infantry on August 26, 1862. He was promoted to lieutenant colonel on October 17, 1862, and assumed command of the regiment as colonel on April 26, 1864, replacing Albert B. Jewett, who had resigned. He commanded his regiment at the battles of the Wilderness, Spotsylvania, North Anna, Totopotomy Creek, Cold Harbor, and Cedar Creek.
He was wounded in action six times, slightly at Cold Harbor on June 3, 1864, and Monocacy on July 9, 1864, and was hit four times at Cedar Creek on October 19, 1864. Due to his wounds and other medical reasons, he resigned his commission on December 17, 1864 and was mustered out of the volunteer service. His departure from the regiment, was "greatly regretted by the officers and men, and their personal regard and regret found expression in a highly complimentary parting testimonial, signed by all but two of the officers of the regiment. In this paper they also requested Colonel Henry to carry home with him and present to the Legislature of Vermont the tattered colors of the regiment, under which no less than twenty of the color guard had been killed or wounded."
After Henry was mustered out of the Union Army, on March 7, 1865, President Abraham Lincoln nominated Henry for appointment to the brevet grade of brigadier general, to rank from March 7, 1865, and the U.S. Senate confirmed the appointment on March 9, 1865.
On December 21, 1892, he received the Medal of Honor for his actions at Cedar Creek, "though suffering from severe wounds, rejoined his regiment and led it in a brilliant charge, recapturing the guns of an abandoned battery."
After he returned from war, Henry rejoined the family business, which included, over the years, manufacturing and wholesaling of drugs, first in Waterbury, and then in Burlington, Vermont.
Henry served as a state senator from Washington County from 1865 to 1868, and from Chittenden County in 1888-1889. He served two years as mayor of Burlington, from 1887 to 1889. He was appointed United States Marshal on April 10, 1879, replacing George P. Foster, and served until June 24, 1886. In 1892 he was appointed U.S. Immigration Inspector. From 1897 until 1907, he was the American Consul in Quebec.
He became a Mason in 1858, was a member of the I.O.O.F, the Grand Army of the Republic, the Military Order of the Loyal Legion of the United States, the Society of the Army of the Potomac, and the Knights of Pythias.
Henry died at the age of 83, and is buried at Lake View Cemetery in Burlington, Vermont.
[Wikipedia]
Select Dates:
1830: Eli Broadstret Johnson born 23 August 1830 in Salisbury, Addison, Vermont.
1865: News Summary: "Two new drinks at the "saloons": "Johnson's bitters"… – The Vermont Transcript, Friday, March 17, 1865.
1870: Eli B. Johnson, age 38, Wholesale Druggist, Burlington, Chittenden, Vermont – United States Federal Census
1873: Henry & Johnson, manufacturers of proprietary medicines (William W. Henry & Eli B. Johnson), 127 Church street (see advertisement above) – Burlington Vermont City Directory
1875: Rev. N. H. Downs' Elixir advertisement as sold by Henry, Johnson & Lord (see below) – Burlington Vermont City Directory
1877: Henry, Johnson & Lord, proprietary medicines, Druggists' block, College st. (William W. Henry, Eli B. Johnson, Loren B. Lord) – Burlington Vermont City Directory
1880: Eli B. Johnson, age 49, Druggist, wife Florilla B. Barrett (2nd wife), Burlington, Chittenden, Vermont – United States Federal Census
1880: Manhattan Medicine Company, 24 College Place – New York City Directory
1882-83: Henry, Johnson & Lord (William W. Henry, Eli B. Johnson and L. B. Lord) manufacturers or proprietary medicines, pure flavoring extracts, essences, toilet articles, etc., 119, 121 and 123 College) – Gazetteer and Business Directory of Chittenden County, Vermont
1886: The Household Almanac, Henry, Johnson & L0rd, Burlington, Vermont & Montreal, Quebec, 1886 – HistoricNewEngland.org
1890-91: Barrett & Johnsons (B. S. Barrett; Eli B. Johnson; F. B. Johnson), publishers "The Earth," book and job printers, 119 College – Burlington, Vermont City Directory
1903: Death Eli B. Johnson on 26 Jan 1903 in Burlington, Chittenden, Vermont – 
1908: "The Household Almanac" circa 1908, Henry, Johnson & Lord, Burlington, Vermont – eBay
1917: "The Household Almanac" circa 1917, Henry, Johnson & Lord, Burlington, Vermont – eBay