Herzberg's Bitters

&

Botanic Bitters

by Herzberg Brothers
04 November 2014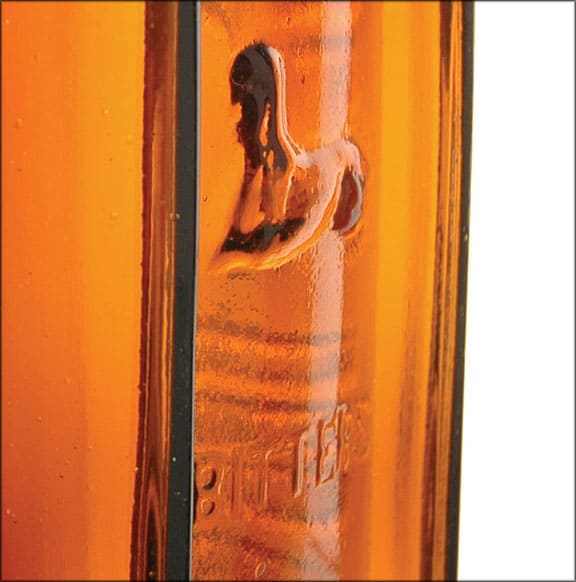 I haven't thought about my Botanic Bitters (pictured on right above) until I received the below e-mail from a fellow with a Herzberg's Bitters cylinder (pictured on left above). The name "Herzberg" is common on both bottles. I wonder if they are related? The e-mail:
Dear Mr. Ferdinand Meyer V,
My name is Harry and I am a novice antique bottle collector. If you could be so kind, I would like to know some information on this 11.5 in tall, amber fifth whiskey style bottle embossed Herzberg's Bitters. I have been trying to find information on this bottle for some time but have not had any luck. The only thing that I can come up with this that a there is another bottle embossed Botanic Bitters Herzberg Bros. New York but that bottle is completely different from this one. I have been told that this bitters is in the Carlyn Ring & W.C. Ham Bitters Bottle book but I do not have a copy of it. Is this an uncommon bitters bottle? I do not know if this helps but I bought this in southeast PA.
Thank you
Harry
The Carlyn Ring and W.C. Ham listing in Bitters Bottles for the Herzberg's Bitters is as follows: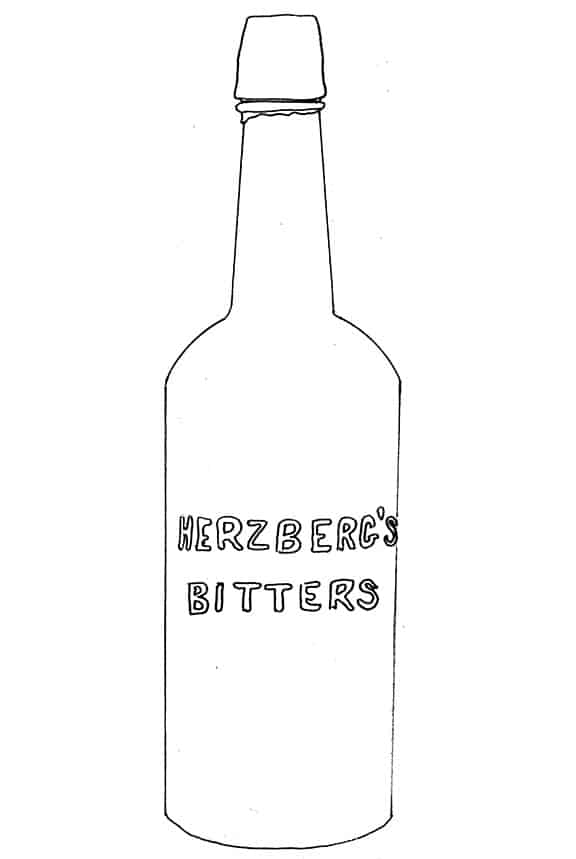 H 104.7

 HERGBERG'S BITTERS
HERZBERG'S / BITTERS // c //
11 1/2 x 3 1/4 (5 3/4)
Round, Amber and Yellow, LTCR, Applied mouth, Very rare
The Carlyn Ring and W.C. Ham listing in Bitters Bottles for the Botanic Bitters is as follows: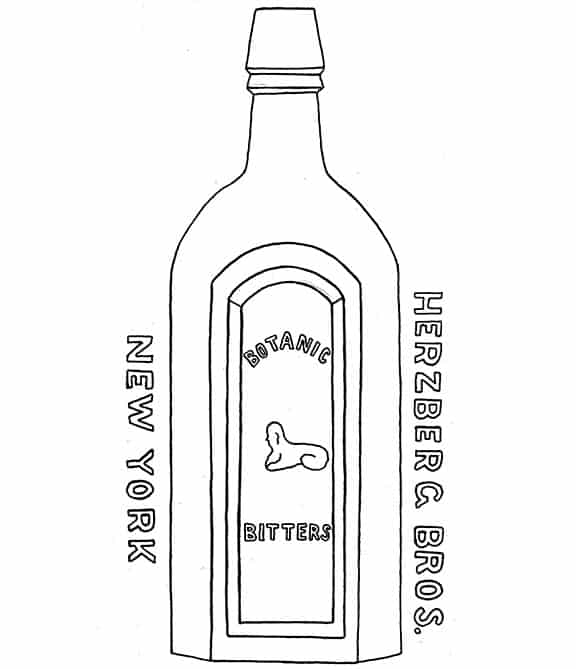 B 165

 BOTANIC BITTERS
BOTANIC ( au ) / motif-sphinx / BITTERS / HERZBERG BROS. // f //
NEW YORK //
10 x 3 1/2 x 2 3/4 (6) 1
Rectangular, Amber, LTCR, Applied mouth, Rare
New York Directory 1877-8 Herzberg Bros. 46 Vesey Street called Botanic Sphinx Bitters. This brand unknown with paper label.
Drug Catalog: 1894 M&R
Trade Mark issued August 1875 to Moritz Hertzberg of New York City for Botanic Aromatic Bitters. As Herzberg name first appeared in the New York City directory in 1877 as producer of Botanic Sphinx Bitters, it is assumed that he produced a bitters with a paper label identity and then switched names adding a sphinx motif by 1877.
Herzberg Family
From the best that I can tell, the father, Heiman Herzberg was born in Germany around 1810 and came to America in the late 1850s with his family, settling in New York City. He was listed as selling "bitters" in 1866 at 72 Broome Street. He had four or five sons, Joseph (1835-), Aaron, (1842-1919), Moritz (1847-) and Leo (1855-). These guys were the Herzberg Brothers and they ran various wholesale and retail liquor stores in New York City from 1869 to 1889 or so. I have a feeling that Emanuel Herzberg (born 1812 in Prussia) was Heiman's brother. He was a physician in New York City.
Their big seller was Botanic Bitters that had an odd "Sphinx" embossed on the face of the bottle. Moritz Herzberg received a patent in 1875 and they sold the product in New York and surrounding areas from then until 1877 or 1878. The Herzberg's Bitters cylinder can not be directly tied to the family but I strongly suspect it was a predecessor to the embossed Botanic "Sphinx" Bitters bottle. Note that Harry found the bottle in southeast Pennsylvania which puts it in the area. I have asked for more pictures as I wonder if the bottle is pontiled. There is also a yellow example out there according to Ring & Ham.
Select Listings:
1810: Heiman Herzberg born in Prussia.
1848: Moritz Herzberg, born in Germany about 1848.
1862: Heiman Herzberg Naturalization on January 2, 1862
1862: Heiman (Heiman, Heisman) Herzberg, liquor, 311 Wash'n, h. 72 Broome – Trow's New York City Directory also Emanuel Herzberg, physician, h 1 Amity – Trow's New York City Directory *Are they related? *Probably brothers
1864: Heyman (Heiman, Heisman) Herzberg, bitters, h. 72 Broome – Trow's New York City Directory also Emanuel Herzberg, physician, h 1 Amity – Trow's New York City Directory
1867: Hyman Herzberg, h 104 Broome, Emanuel Herzberg, physician, h 1 Amity NYC – New York City Directory
1869-1872: Herzberg Brothers, liquor, (Moritz, Joseph and Aaron Herzberg), 70 E. Broadway – New York City Directory
1872: Herzberg Brothers, liquor, (Moritz and Aaron Herzberg), 70 E. Broadway – New York City Directory
1873: Herzberg Brothers, liquors, 207 Hudson, 209 Third and 70 E. Broadway – Goulding's Business Directory of New York
1873: Moritz Herzberg, wines, 181 Water – Goulding's Business Directory of New York
1874: Heyman Herzberg, broker, Aaron Herzberg & Erlend Herzberg, liquors, 209 Third and 207 Hudson, Emanuel Herzberg, physician, Moritz Herzberg, wines, 181 Water – New York City Directory
1875: Patent 2,868 for Botanic Aromatic Bitters (see below) by Moritz Herzberg – Official Gazette of the United States Patent Office, July 9, 1875

1876: Moritz Herzberg, liquors, 46 Vesey, Aaron Herzberg, liquors, 6 Riverton *Erland Herzberg not listed- New York City Directory
1877: Advertisement for Botanic Bitters (see below), Herzberg Brothers, New York – Lowell, Mass Courier, 1877
1880: Moritz Herzberg, wholesale liquor dealer, New York City – United States Federal Census
1889: Herzberg & Co. Liquors, 41 Bowery, 11 Delancey and 44 Division (Aaron Herzberg, B Herzberg, wid Heiman, Leo Herzberg, Moritz Herzberg (also M & L Liquors)