2014 Lexington National

|

FOHBC Run for the Roses

Bottle

Competition Event
08 August 2014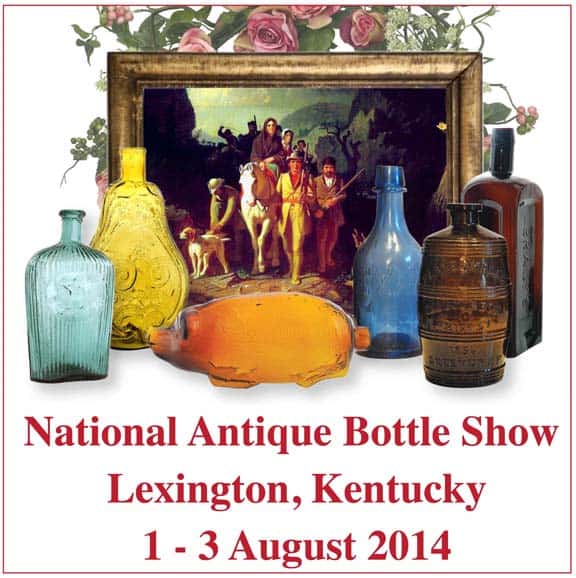 The next group of pictures come from the "Run for the Roses" bottle competition event at the Lexington National. Participants were prompted to bring and enter their favorite Wax Sealer Fruit Jar (to include mold blown as well as free blown jars in any size), Scroll Flask (to include all sizes of flasks), and Midwestern Swirl Decanter (to include swirled, broken-swirled, and vertically ribbed bottles in all forms) to the Patterson Rooms C & D at the host Hyatt Regency Hotel. The competition immediately followed the FOHBC Banquet. Gift certificates and plaques were awarded to the top 3 entries of each category for Win, Place and Show. A pontiled, aqua scroll flask was also raffled off.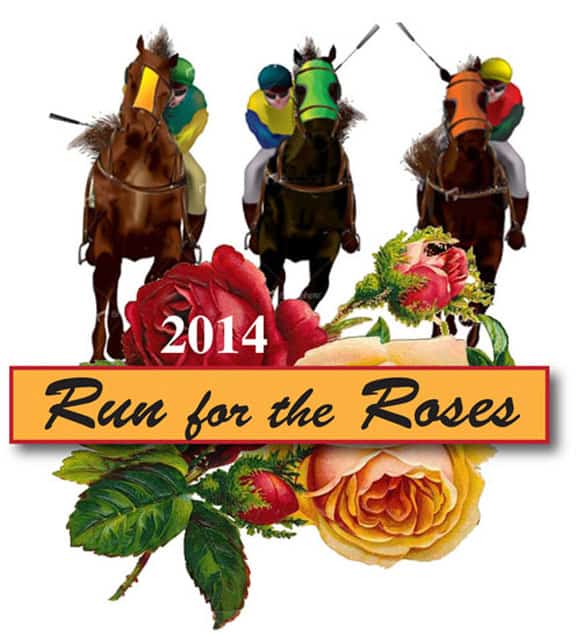 This time around, Federation member Chip Cable (McMurray, PA), videotaped the bottles via broadcast camera, projected on to a 144" screen using an Optima EH501 projector. The FOHBC purchased this equipment to enhance the viewing experience. All bottles were illuminated by 3 LED Video lights with a white background." Chip hit it out of the park. We already have heard many positive comments and many constructive comments to have the three judging groups work together at the same time in the beginning to cull the grouping of bottles and to move things along a bit faster. Chip Cable will be back next year at the Chattanooga National when we have our "Battle of Chattanooga" bottle competition event. Super job Chip!
The event 'Master of Ceremony' was listed as Jamie Houdeshell. Unfortunately Jamie could not make Friday night due to an unexpected funeral he was attending the following, Saturday morning. Ferdinand Meyer V took over this responsibility.
And the winners….
WIN:
Midwestern Swirl Decanter – John Pastor from New Hudson, Michigan
Historical Scroll Flask- Steve Schingler from Braselton, Georgia
Wax Sealer Fruit Jar – Jerry McCann from Chicago, Illinois
PLACE:
Midwestern Swirl Decanter – Tom Lines from Birmingham, Alabama
Historical Scroll Flask – John Pastor from New Hudson, Michigan
Wax Sealer Fruit Jar – Ryne Henrich from Crystal Lake , Illinois
SHOW:
Midwestern Swirl Decanter- Dave Maryo from Victorville, California
Historical Scroll Flask – Mike Henrich from Crystal Lake, Illinois
Wax Sealer Fruit Jar – Perry Driver from Live Oak, Florida
All photographs by FOHBC photographer, Scott Selenak (Los Angeles).
*Note: Please help me with any captions that have missing name information.
CHIP CABLE AND HIS EQUIPMENT
THE CROWD
MIDWESTERN SWIRL DECANTERS
SCROLL FLASKS
Wax Sealer Fruit Jar
Some of the Winners