An

XR

, Dr. Paetz's Stomach Bitters makes an appearance
27 June 2014 (R•110814)


I was a little stunned when I received an auction announcement from Greg Spurgeon and North American Glass earlier in the month. The surprise was not another fine auction of fruit jars which I have come to expect, because Greg is the "fruit jar auction man". The surprise, and the part about being stunned, was seeing an example of a Dr. W. Paetz's Stomach Bitters included in his auction lots. See Listing
Sure, he has other bottles in his auctions, and I did pick up this peachy-puce Baker's Orange Grove Bitters earlier this year from one of his events. It's just that I have never seen a Paetz's. What a beauty! With a super, red iron pontil and looking like a Hostetter's Bitters bottle, this boy was real. When I contacted Greg about the bottle he said, "Yes we just came across this one from an older couple of "closet collectors" here in the Midwest." The bottle ended up selling for a$1,810 not including the auction house premium.
Carlyn Ring and W.C. Ham have it listed as the following in Bitters Bottles:
P 4.5  DR W. PAETZ'S / STOMACH BITTERS // f // f // f //

9 7/8 x 2 7/8 (7 3/4) 1/4
Square, Amber, LTC, Applied mouth, Metallic pontil mark, Extremely rare
Update from Bill Ham:
Paetz was in Columbus Ohio by at least 1855, and then moved to Gallion in 1860. He moved to Indianapolis in 1869. He is listed in the 1870 census in Indianapolis as being 46 years old.
Three examples are known to collectors. One found in a sealed house attic in Cincinnati Ohio with a group of pontiled embossed bottles and a second example was sold at an estate auction in Indianapolis, Indiana in 2006. 
There is virtually nothing out there on this bottle but I will go deeper this weekend. I did find this amusing clipping in the Harrisburg (Pennsylvania) Telegraph from 22 October 1883. Yes this is late for this bottle which is Civil War era but interesting none-the-less. Maybe the doctor succumbed to the evil of drink only to be whipped to his senses by his wife.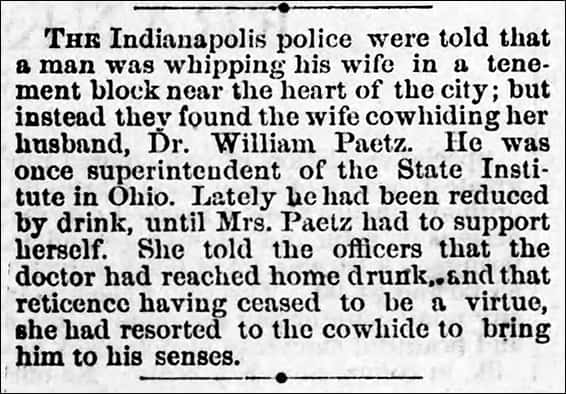 Same bottle shows up 5 months later at Glass Works Auction 105