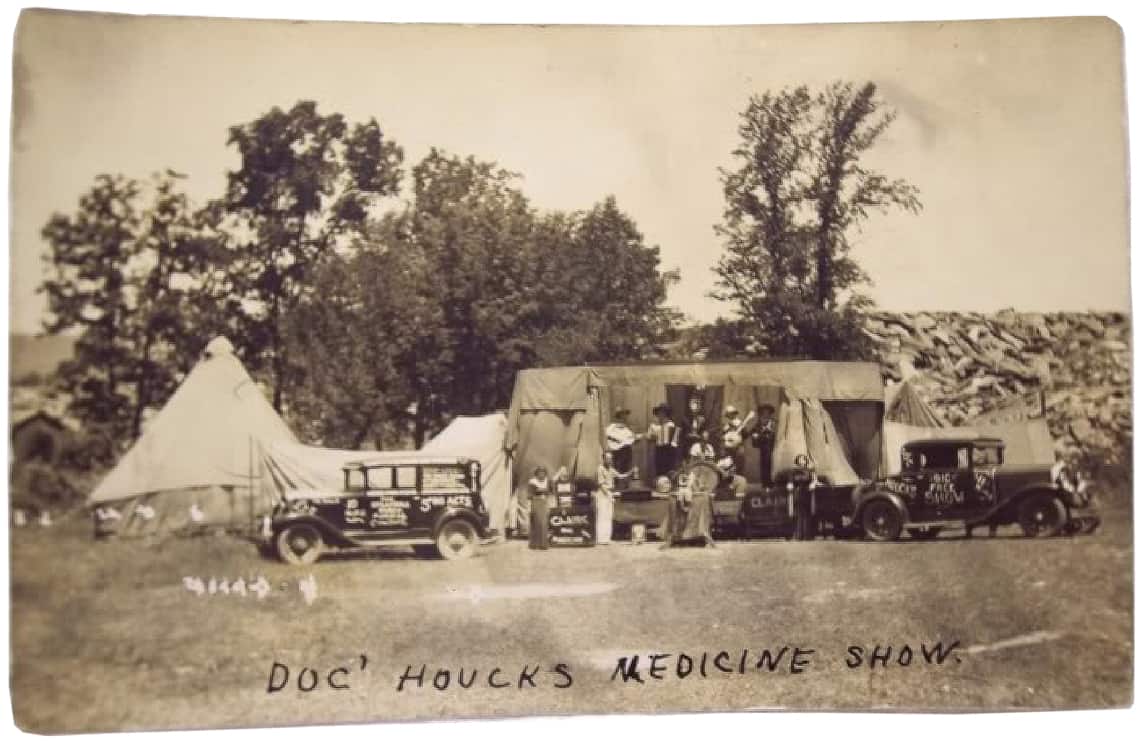 Doc' Houcks Medicine Show
30 April 2014 (R•050114)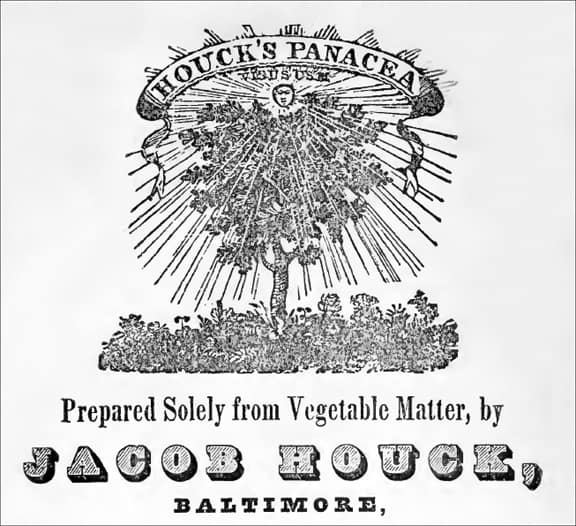 Darrin Irwin (Erie, Pennsylvania) has been sending me these cryptic images from a book talking about Houck's Patent Panacea. I thought I would take a moment and look at Houck. I immediately found this really cool picture at the top of this post for Doc' Houcks Medicine Show. Boy I wish I had a higher resolution image so I could more closely inspect the people and graphics! Obviously a late picture, but why?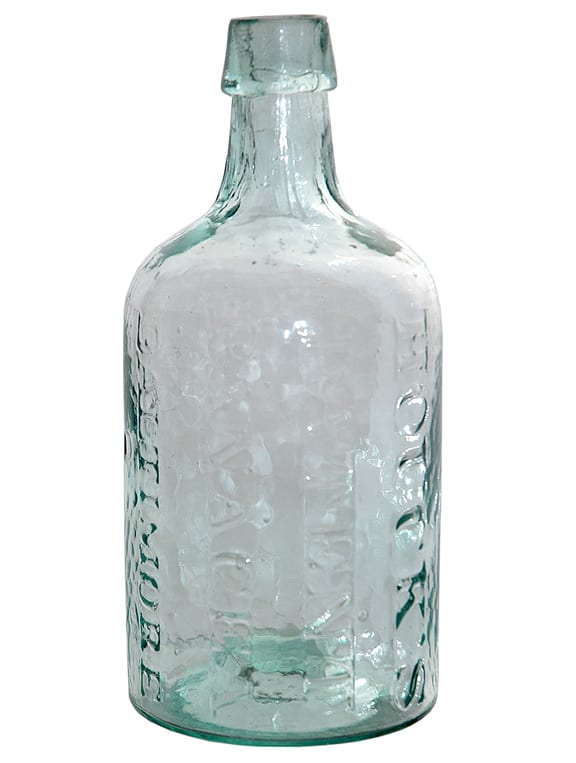 I have possessed a couple of Houck's Patent Panacea bottles from Baltimore simply because they are great, early bottles, and they are from my home town. The example above was won at the FOHBC live auction at the 2010 Wilmington, Ohio National Show. My second example is pictured below. As I said, a great bottle.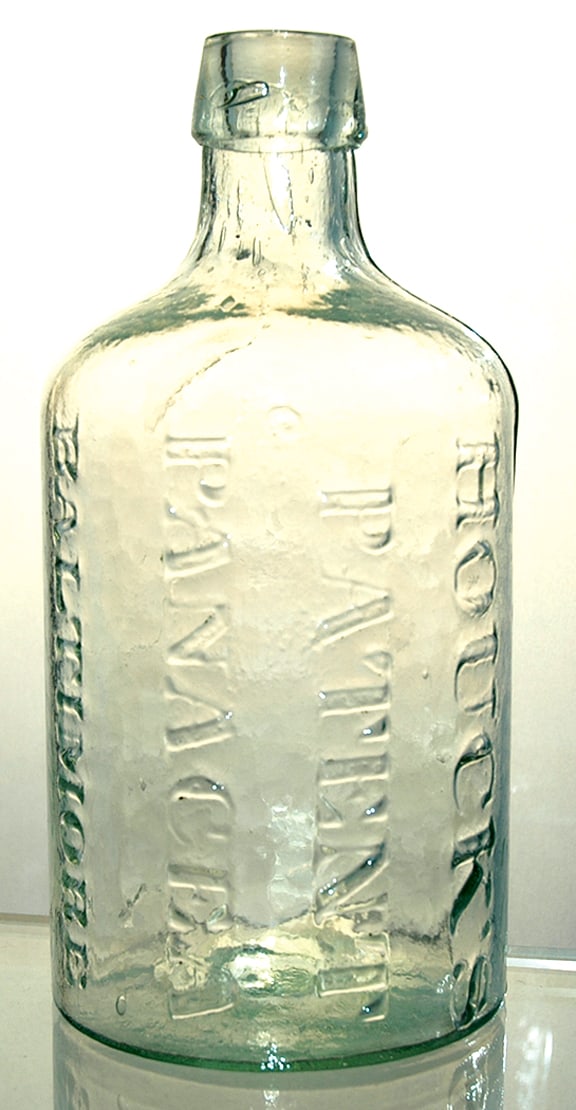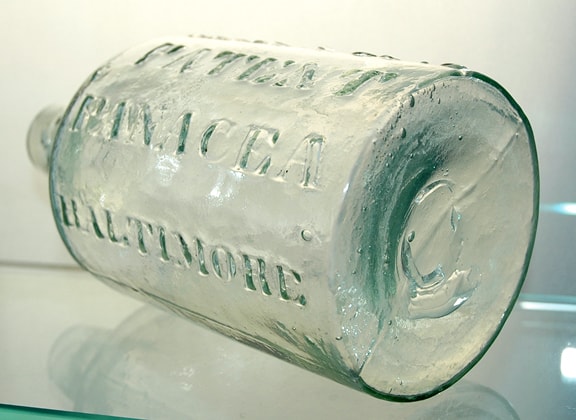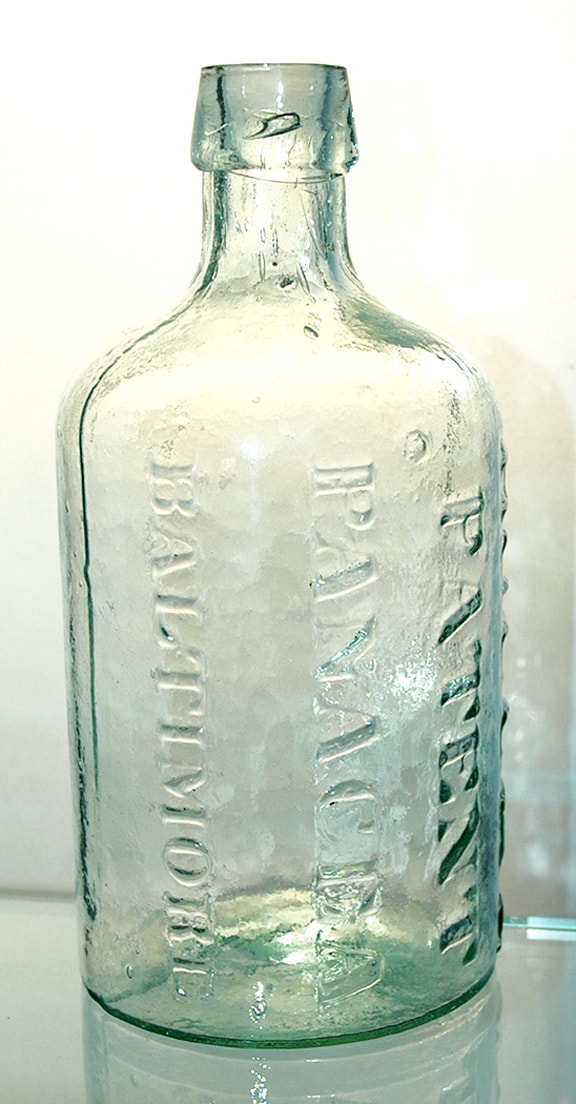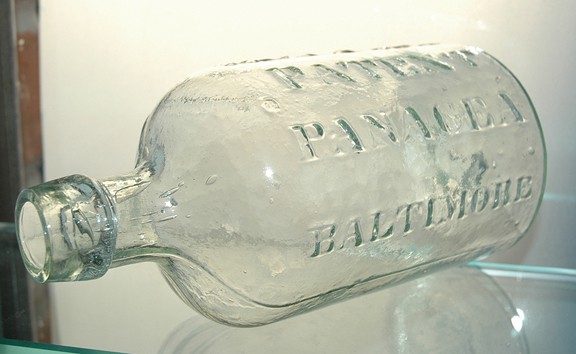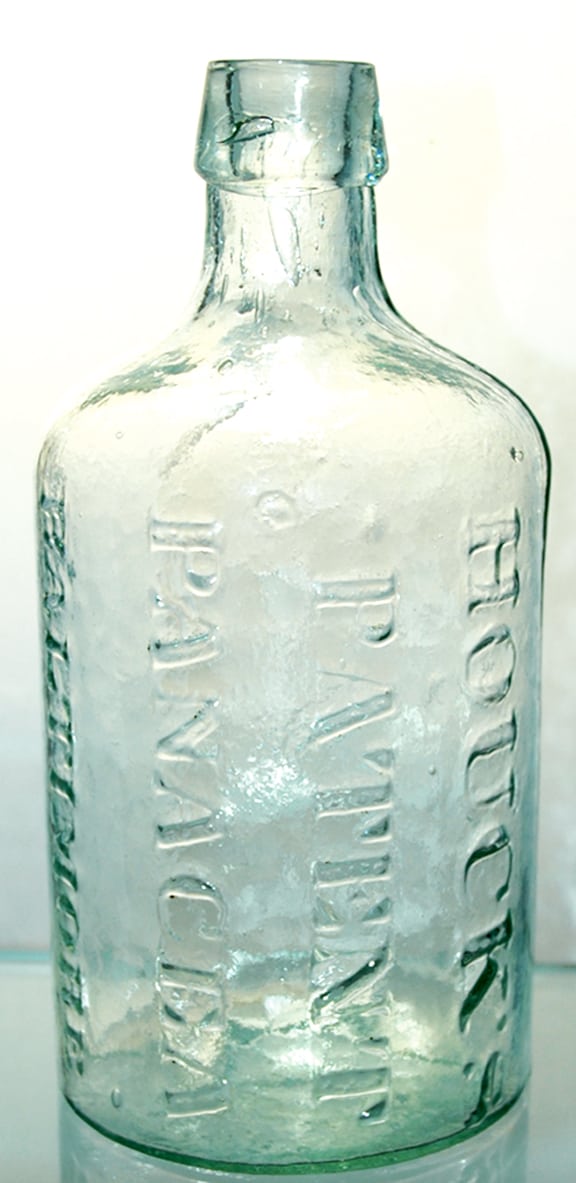 Jacob Weaver Houck (1822-1888) was born in Frederick, Maryland and was the son of Jacob Houck (1792-1850), a prominent merchant. Jacob came to Baltimore in 1828 and eventually graduated from the Maryland University School of Medicine (citation required). In 1833, Dr. Houck obtained a patent (see below) for his "Botanic Panacea" which would make him fairly well known.
He sold his Panacea for $1.50 a bottle and said it was "made solely from vegetable matter". Sure, we don't believe that, do we? Further research shows that a batch of his panacea contained 25 gallons of Rye Whiskey, 25 pounds of Gum Guaiacum, 150 pounds of sugar, 1 pound of Oil of Juniper, and 5 ounces of Oil of Lemon. I guess he forgot to mention the alcohol. "Mix, incorporate well, and bottle for use" records note. "Take one table-spoon-ful before breakfast, two at 11 o'clock, and two on going to bed. Increase or diminish the dose agreeably to the feelings".
His panacea stated that it would cure almost all ills including dyspepsia, loss of appetite, indigestion, inflammation of the stomach, heartburn, diarrhea, dysentery or flux, piles, fistula, obstructed monstruation, ague and fever, bilious or remittent fever, typhus fever, scarlet fever, small pox, St. Anthony's fire, asthma, pleurisy, measles, yellow fever, wind on the stomach or bowels, cholera morbus, consumption, influenza, colds, coughs, inflammation of the chest, palsy, gout, rheumatism, whooping cough, croup, dropsy, rickets, diseases of the liver, jaundice, difficulty of making urine, hysterics, mercurial and venereal diseases, ulcers, sores, etc.
During the same period and throughout the 1830s, Dr. Houck had a Wholesale and Retail  Fancy and Staple Dry Goods business and laboratory located at 121 Market Street opposite the Peale Museum in Baltimore. You can see Houck's business and address printed on an example of facsimile currency below. He also counter-stamped his brand on tokens and coins such as silver half-dollars in 1829 and 1832.
1n 1835, Jacob Houck is advertising (see below) his Houck's Panacea at 121 Market Street, opposite the museum. He says that a bottle can be picked up for $1.50 which is quite expensive for that time. Further down in the ad, Houck says that "he may be consulted at his office every day from 8 o'clock in the morning until nine at night." That is a long day to advertise for patients.
In 1842, Houck is listed as the proprietor of Houck's Panacea and his address is now 16 Hanover Street. Look at this great full-page advertisement below from the same year. He would then move around more is and listed at other addresses in Baltimore.
The Baltimore Bottle Book reports that in later years, Jacob Houck may have permitted others to prepare his popular panacea for sale under some licensing arrangement. An advertisement in the 1855 City Directory of Nashville, Tennessee says "Houck's Panacea, Dr. A. G. Goodlet, mfr. & proprietor of Houck's Improved Panacea and Goodlet's Vegetable Lineament. 29 1/2 No. Cherry St., Nashville, Tenn."These remedies have popular favor in the South and North. And should be in use by every family." Some medicine bottles of the 1850's read: "Houck's / Vegetable Panacea / Nashville, Tenn. " and "Houck's / Vegetable Panacea / Goodletsville, Tenn."
Obviously, the picture of Doc' Houck's Medicine Show is later as there are automobiles. I suppose this picture could be from Tennessee?
Select Timeline
1814: On the eve of the 25th Anniversary of the Battle of North Point, a prominent physician of medicine and purveyor of his famous "Houck's Remedies" gave to the State of Maryland an acre of land on the battlefield for the princely sum of One Dollar. His gift today is known as Battle Acre along the North Point Road in Baltimore County. – Battle Acre: A Deed of Land by Dr. Jacob Houck (1792-1850) "for the purpose of erecting a Monument thereon…."
1831: Jacob Houck, dry goods merchant, 121 Baltimore – Matchette's Baltimore Directory
1832: United States Patent N0. 7574 for Houck's Panacea, Date of Patent: May 9, 1833, Inventor: Jacob Houck. Another source says the patent was issued on 25 October 1832.
1833: Patent Medicines: Jacob Houck, successful inventor of medicines, No. 121 Baltimore street – Complete View of Baltimore
1835-37: Jacob Houck, laboratory & botanic panacea, 121 Baltimore – Matchette's Baltimore Directory
1842: Houck's Panacea, Jacob Houck, full-page advertisement (see above) – 1842 Machettes Baltimore City Directory
1845: Jacob Houck (Dr. Jacob W. Houck, Jr.), proprietor of Houck's Panacea, 15 S. Liberty Street – Baltimore City Directory
1849: Dr. J. W. Houck, 108 Mulberry, Dr. Jacob Houck's laboratory, 357 Baltimore – Baltimore City Directory
1851: Henry T. Houck, panacea laboratory and Dr. Jacob Houck, physician, 8 Eutaw Buildings, Baltimore street – Baltimore City Directory
1855: Dr. A. G. Goodlet, mfr. & proprietor of Houck's Improved Panacea and Goodlet's Vegetable Lineament advertisement (see above)
1860: Dr. Jacob W. Houck, health commissioner, office City Hall – Baltimore City Directory
1865-1870: Dr. Jacob W. Houck, 10 N. Front – Baltimore City Directory