Looks like J. W. Poland made a Bitters!
Poland's White Mountain Bitters
03 March 2014

Wow, what a neat surprise. Bottle trade card authority, Joe Gourd sent me this invoice for Littlefield & Hayes of Manchester, New Hampshire showing a receipt for Poland's White Mountain Bitters and other Poland products. The White Mountain area is a region in New Hampshire. I was familiar with most of the other Poland brands as we have looked at J. W. Poland before. Read: Dr. J. W. Poland – Great New England Medicines. I am not aware of any surviving examples of the bitters bottle.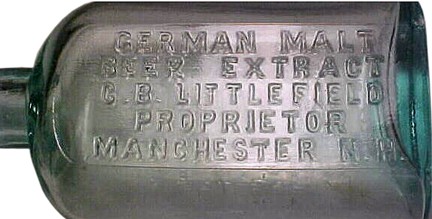 Chauncey Bonny Littlefield

|

Littlefield & Hayes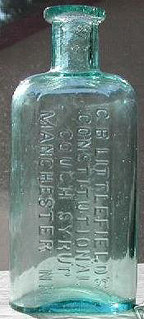 Chauncey Bonny Littlefield was the third child and second son of Erastus J. and Elizabeth B. (Washburn) Littlefield. He was born in Monroe, Maine on February 9, 1846. At the age of sixteen, Littlefield went to Boston, Massachusetts and became a clerk, first in the wholesale and retail drug house of S. M. Concord & Company, where he remained until 1865, and then with Joseph T. Brown & Company where he remained until 1869. On the opening of Massachusetts College of Pharmacy, Littlefield entered a course of study there under Professor George F. Babcock, Professor F. H. Markoe, and others. Here he attended two years.
In 1869 he removed to Manchester, New Hampshire where he resided and opened a drug store carrying on business under the name of C. B. Littlefield until 1892 when the Littlefield Drug Company was incorporated of which Littlefield was made president. From 1870 to 1907 Littlefield was engaged in the manufacture of a meritorious proprietary medicine, which was a profitable industry. The above Littlefield and Hayes letterhead from 1873 says that they were proprietors of Constitutional Cattarrh Remedy and J. W. Poland's Family Medicines. Obviously their best sellers.
1872: Patent Medicines: Littlefield & Hayes, (C. B. Littlefield)., 883 Elm, corner Manchester, Merrimack River Directory, 1872, 1873
1873: Littlefield & Hayes receipt (see top of post)
1892: Cararrh Remedy advertisement (see below) from C. B. Littlefield & Co., – Annual Report of the Town of Gilmanton, 1892