To be Remembered – Ed Bartos & Bill Marks
28 January 2014
I lost my oldest friend Ed Bartos
by James Bender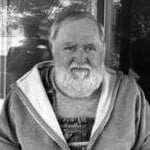 On January 9, 2014, I lost my oldest friend and the man that started me into the wonderful hobby of old bottles. Edward C. Bartos of Richmondville, New York passed away at a young age of 66. Ed has left behind a wife of 43 years (Terry) and three great children (Denise, Jerimy and Eddy).
One of the biggest questions everyone asks today is how we can get younger people involved in the hobby? With this in mind I will share this story.
I was a 13 year old kid who's parents had split up and I was being raised by my mom. My father would stop and see me once in a while and our interests were different. He liked hunting and fishing, I was into sports like basketball and track. I had problems in school doing my home work and always just got by. Science was a class I did not like and always had issues passing. Enter Mr. Bartos my 7th grade science teacher.
Back then, the Cobleskill School system would offer what they called 9th period extra courses. They could be about almost anything. Mr. Bartos, the name I called him for almost 10 years, offered collecting old bottles. Now at the time I could have cared less about old bottles but thought to myself it would be a good way to get on Mr. Bartos's good side, couldn't hurt right? Well two amazing things happened, first I found it very interesting due to Mr. Bartos's teaching style and his true love of the hobby. The second thing that happened is that I found a life long friend of almost 44 years. I will never forget the day he gave me a 'D' on my homework. He told me I better step it up and work harder if I wanted to go digging. Many times after that he would remind that hard work was the only way to get things done.
For my last 4 years of school, I held an average of over 95 and left school a half year early because I had enough credits. For the first 6 to 8 years of our friendship we spent a lot of time together including summers digging old bottles and going to bottle shows. Mr Bartos paid my way in to the famous Charlie Gardner sale which cost $100 for a ticket. I still have the old photos I took that day. I remember Mr. Bartos telling me don't touch. I almost listened until I saw an aqua Washington shaped bottle that I just had to hold. Today we know it as a Washington Centennial Bitters. Mr. Bartos bought an Emerald Green Albany Glass Works pint flask that day. I have never seen another to this day. He knew his bottles and would always say,"knowlege is king". Funny thing, one of my current friends told me the same thing the second time we got together. Ed found one of the first Celery Green Drakes Plantations. Then there was the light Puce Pink soda that was found in a chicken house (still sets on Jim Halls shelf where it has been for 30 years or so). One of my personal favorites is the Amber Quart Sharon Sulphur Water that Dick Watson has in his collection. It is the only one known to this day.
As the years past, Ed and Terry got married and formed a fantastic family. I got in my early twenties and did a lot running around on my own. I would see Ed a name I finally realized I could use at shows and we would get together now and then and go picking. Ed got more and more into antiques in general but still would turn up some very rare bottles. Ed collected many different types of bottles over the years. He built great collections in bitters, sodas and mineral waters. He would build a collection as good as he could and then sell it and start something else.This is something I myself have also done over the years. The last 15 years or so of our friendship was mainly phone calls. I was busy running the Lumber Mill in Cobleskill and Ed had been in a bad car wreck which really effected him. He was always in pain of some kind and his drive was no where near were it was. We bought a small collection about 5 years ago of a bunch of lesser bottles. Ed was so happy that he found it and the day we bought it I knew it was a mistake but I did not care. It was a flash back to the good old days of traveling with Mr Bartos. I took the bottles and Ed took the stoneware to give his son to set around his house. I never did get my money back really but I would jump in the car and do it all again if we could. That day was Mr.Bartos and James on a bottle run. Everyone who knows me today calls me Jim, a name I like much better. Ed made it regular business to call me James, a name I never really liked. It was our own little joke. The last time I called him or he called me I don't remember he ended the call by saying I'm getting tired Jim. I never really thought much about it until I learned of his death.
So the next time you are wondering how can we get the younger people involved in the hobby my answer is to build a friendship first and the rest will come easy.
I will miss my friend yet I know that part of him lives on in me. I always respected Ed and he always respected me. The old bottles I have sitting on the shelves will always be a reminder of him. Bye Ed!
James Bender
Sprakers, NY
The Life and Times of Bill Marks
by Keith O. Evans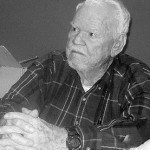 Bill Marks started out serving his country during World War Two with the United States Marine Corp. from 1941 through 1945. Bill saw combat at Gual Canal, Solomon Island, Cape Gloucester and New Britain South Pacific. I thank you Bill for bravely serving the United States during World War Two.
Bill was a Facility Pilot for Eastern Airline in Miami, Florida during the 1940's. Bill went on to become employed with the Civil Aeronautical Administration, (CAA) in the 1960's as an Air Traffic Controller. Bill had the opportunity to dig for Bottles in Port Author Texas in the 1950's finding several embossed Port Author Pharmacy Bottles. Bill also had a change to dig for Bottles at the Savannah GA at an Old Plantation and Olcaluzca, AL during that same decade.
Bill worked with the Federal Aviation Administration in the 1970's. During that same period of time Bill joined the MT Bottle Club in Deland, FL. Bill meets Bill Draggers an MT Bottle Club member who was employed with the Florida Power Company in Deland, FL. Bill Draggers had arranged for the MT Bottle Club to have their club meetings at Florida Power Company's Lounge Room starting in 1969 up until the 1970's. Bill remembers the Contest that the MT Bottle club had in 1969, to name the Club. Each Club member was allowed to place a name into a draw and the name that was pick was "MT" A female Club member won and received a prize a "Vinol" Amber Sprite or Wine bottle, 6.5 inches tall and embossed with a "Pat. Apr 18 1898". As a lifelong member of the MT Bottle Club Bill Marks has held each and every elected and appointed position that the club has to offer. Bill latest position held with the MT Bottle Club is a Board of Director from 2008 to present. Bill holds one the longest records as the MT Bottle Clubs Editor of the Digger's Dispatch Club News Letter for 30 years from 1980 to 2009. In 1993 his wife June Marks joins the MT Bottle Club and is a club member to this day. Bill has attended all but one of the MT Bottle Club shows held annually in March, since the club was founded.
Bill also joined the Orlando Bottle Club in the 1970. Bill did not hold any elected position in this club.
Bill has attended many Bottle show throughout the United States since the 1970's. In Florida Bill has attended the Jacksonville, St. Petersburg, Sarasota and of course the MT Bottle Clubs show in Deland. The out of state Bottle shows that Bill has attended were Savannah, GA, Mobile, AL, Houston, TX, Phoenixes, AZ, and Denver, Colorado. One time in the 1980's Mark set up and sold at the Columbia, SC bottle show  and sold the local bottles that he had dug in that area.   Mark attended the Columbia, SC Bottle show several times between 1980's through 2000's.
In the late 1960's, Bill obtained permission to dig at the Old City Dump in Valdosta, GA. He recalls digging into the side of a hill. Bill also, obtained permission to dig on the Air Force Base near some homes that dated back to the Civil War. He had to check in and out at the front gate and promise not to smoke while on the Air Force Base. The man that gave him permission to be on the property wanted Quart size Whiskey Jars to put syrup in. This man's family sold syrup and needed the Quart size whiskey Jars. So, Bill collected as many Quart sizes Whiskey jars as he could find while exploring the Air Force Base and gave them to the man.  Bill used a probe to check the ground for bottles. Bill also, used a metal detector and found barb wire of an old pig pin. In addition to the pig pen find Bill found and dug two out houses that were approximately four feet apart. Bill used metal washer with a yellow cloth attached to mark the locations that his metal detector alarmed for copper. Bill best find at this location was a pint size jar, half full of Indian Head Penny's near a fence line. Bill enjoyed looking at the History of the Civilian era homes and property that was abandon when the Air Force took over the land. Bill remembers seeing an old horse drawn Plow inside of an old partially falling down shed. While searching for bottle and using his metal detector, Bill saw and killed a Rattle Snake and two Water Moccasins on the Air Force Base, near one of the dilapidated sheds.
In the early 1970's Bill had an opportunity to dig for bottles in Liberty, PA and found embossed Whiskeys, embossed Hutchinson, and pottery type jugs all from PA. Bill found one and two gallon jugs that had a name etched into their surface. The pottery jugs were so close to the surface of a ditch that Bill used a three prong hoe to dig them out. Bill recommends using a three prong hoe to pick up and search through piles of dirt quickly and without fear of damaging any bottles.
In 1973 Bill dug for bottles in Tampa, FL near were Interstate Four was planned. The houses were being torn down to make way for Interstate Four and that is where Bill was searching for bottles. Bill found many Case Gin Bottles and he regrets not keeping the seals off of the broken Case Gin Bottles. Bill found various embossed, cork top Tampa, FL and Ebro City, FL Pharmacy Bottles. During this same time period, when the Hillsborough River near Tampa, FL, water level was low, Bill would dig on the river banks. Bill found such treasures as the Tampa, FL Brewing CO, Hutchinson bottles, Beer Bottles, Tampa, FL sodas, Tampa, FL embossed, cork top pharmacy bottles and Black Glass bottles that were hand blown in a mold.
In the late 1970's Bill dug for bottles near the Missippi River in Batonruex, LA. Bill found five St. Louis Swat clear soda bottle. He also use an alumina John's Boat with no motor to float along the shallow parts of the river, while using a pitch fork to move the boat and probe for bottles in the sandy bottom of the river.
Bill lived in Astor, FL between 1974 and 1980. He would take a boat out onto the St. Johns River near High way 40 and probe the bottom of the shallow area of the river with a pitch fork looking for bottles.  Bill found several Sanford, FL Hutchison bottles. Bill meets one of the hazards of searching for bottles in St. Johns River System in Florida, a water Moccasin which killed.
In the 1970's Bill and a fellow MT Bottle Club member used a boat with an out board motor out on to Lake Dextor which is part of the St. John's River System in Florida and maneuvered the boat and out board motor with a shield on it, near and around the pilings of the old docks to remove the sand in an attempt to discover any long lost bottles. With the out board motor and boat a safe distance away Bill would go into the water of Lake Dextor and feel for any dislodged bottles submerged under the water. Bill found Whiskeys and black glass in Lake Dextor. One the better fines in Lake Dextor was several straight side Cokes from Deland and Daytona Florida.
In the 1970's Bill and Shorty dug at the old city dump in Ocala, FL. They found many embossed cork top Ocala, FL Drug Store bottles. Also, in the 1970's Bill dug bottles near the Old Plantation Motel. He found several Onion type bottle and sold them all of them to an antique shop for $15 apiece.
In the early 1980's Bill stayed at his Daughter's home near Augusta, GA. He dug at an old train station  and found beer bottles, Augusta, GA embossed, cork top pharmacy bottles and Columbia, SC embossed, cork top pharmacy bottles. In the early 1980's Bill dug up a privy in Savannah, GA and found an Indian Queen bitters bottle.
In the late 1980's Bill dug for bottles in St. Augustine, FL, but need not have much luck at finding anything. Bill also dug bottles in the late 1980's in Columbia, SC. He found some miscellaneous smooth side cork top bottles, which he did not keep and some black glass type bottles which he did keep. Bill had to dig down to about 9 to 10 feet level to begin to find the nice bottles. He found embossed cork top Pharmacy Bottles from towns in SC, NC, and GA., just too many different Towns and Cities for Bill to remember. In addition to the Pharmacy bottle Bill found Two Hutchinson bottles from Columbia, SC and many South Carolina Dispensary Bottles and Jugs. In the Late 1980's Bill searched for bottles in Lake Emporium in Volusia CO FL. Bill used a pitch fork to slide across the bottom of this shallow lake in hopes of finding hidden treasures. Bill found a few cork top inks bottles with his pitch fork.
Bill started his adult life with dedication and honor by serving his country during World War Two and has devoted the rest of his adult life to Bottle collecting. Bill has dedicated over 40 years of service to the MT Bottle Club in Deland, Florida. I solute Bill for his Service and I hope someday to humbly follow in his footsteps.
I am sad to say that Bill Marks passed away on 13th January 2014. Bill was a good Husband, Father and person. The MT Bottle Club of Deland, FL will miss Bill. I am proud to have known Bill Marks.