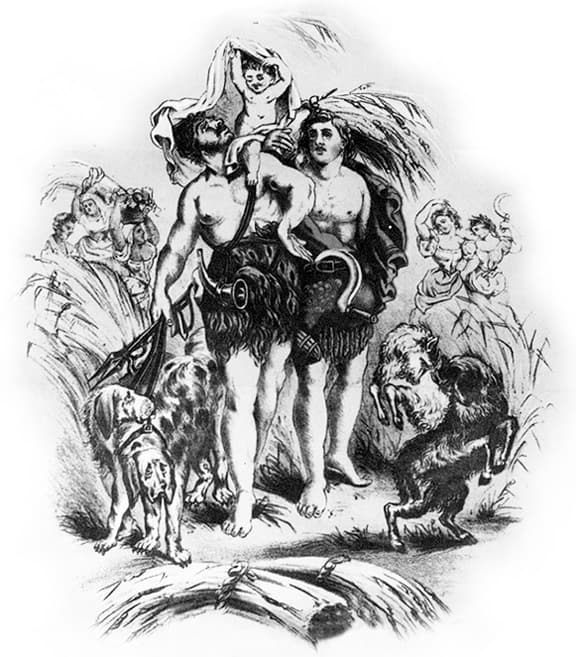 Sterne's Celebrated
Congress Bourbon Bitters
3 November 2013 (R•101818)

While looking at Bourbon Cordial advertising last night, I came across this wonderful lithograph of an early agriculture and hunting scene held by the the Library of Congress. The date is 1863. The image is black & white (see below). I can only imagine how beautiful the color version is. Spotted on the illustration was were four products, Sterne's Celebrated Congress Bourbon, Congress Bourbon Punch, Congress Bourbon Cordial and Congress Bourbon Bitters.
The mysterious "O.B.A. 5623" is also prominently displayed.
[Update: The Library of Congress has now displayed a color example of slightly different art. See below)
There is a listing in the Carlyn Ring and W.C. Ham
Bitters Bottles
for a Congress Bourbon Bitters (C 219) from the
Providence Journal
, January 1, 1864. Why providence? I also found an advertisement within the
Sacramento Daily Union
in 1871 for S. T. Suit's Congress Bourbon (see further below).
Pre-Pro.com lists a Sterne Bros. who may have been a distributor for Maryland Pride, a Record & Goldsboro brand. The company used the brand names: "Maryland Pride", and "Sterne's Extra." Address: 171 Summer, Boston, Massachusetts. I suspect this may be the brand listed in Ring & Ham leaving the Sterne's brand as possibly an unlisted bitters from Kentucky. There is scarce information available.
I wonder if a bottle was found, it might look like a Swain's Bourbon Bitters?
Evan Williams rolled the first bourbon barrel out of his Louisville distillery in 1783, thereby assuring himself a place in history as Kentucky's first commercial distiller. Bourbon is a type of American whiskey that is a distilled spirit made primarily from corn. The name of the spirit derives from its historical association with an area known as Old Bourbon, around what is now Bourbon County, Kentucky (which, in turn, got its name from the French House of Bourbon royal family). It has been produced since the 18th century. While it may be made anywhere in the United States, it is strongly associated with Kentucky.
On May 4, 1964, the United States Congress recognized Bourbon Whiskey as a "distinctive product of the United States." The Federal Standards of Identity for Distilled Spirits (27 C.F.R. 5.22) state that bourbon must meet these requirements:
• Bourbon must be made of a grain mixture that is at least 51% corn (maize).
• Bourbon must be distilled to no more than 160 (U.S.) proof (80% alcohol by volume).
• Neither coloring nor flavoring may be added.
• Bourbon must be aged in new, charred oak barrels
• Bourbon must be entered into the barrel at no more than 125 proof (62.5% alcohol by volume).
• Bourbon, like other whiskeys, must be bottled at not less than 80 proof (40% alcohol by volume.)
• A Bourbon that meets the above requirements and has been aged for a minimum of two years may (but is not required to) be called Straight Bourbon.
• Straight Bourbon aged for a period less than four years must be labeled with the duration of its aging.
• If an age is stated on the label, it must be the age of the youngest whiskey in the bottle.
Only whiskey produced in the United States can be called bourbon.
Select Listings:
1863:

Sterne's Congress Bourbon Bitters. Lithograph of an early agriculture and hunting scene. The image is black & white (see above). – Library of Congress
1863: 

Signature detail on lithograph (above). "S" (or L) Sterne's Son – Proprietors, 31 Dec. 1863, Vol 38. P.81″
1864:

 Sterne's Congress Bourbon Bitters. Lithograph of an early agriculture and hunting scene. The image is color (see above). – Library of Congress
1864:

 Sterne's Congress Bourbon Bitters noted in newspaper advertising (see below). – The New York Times, Tuesday, April 19, 1864