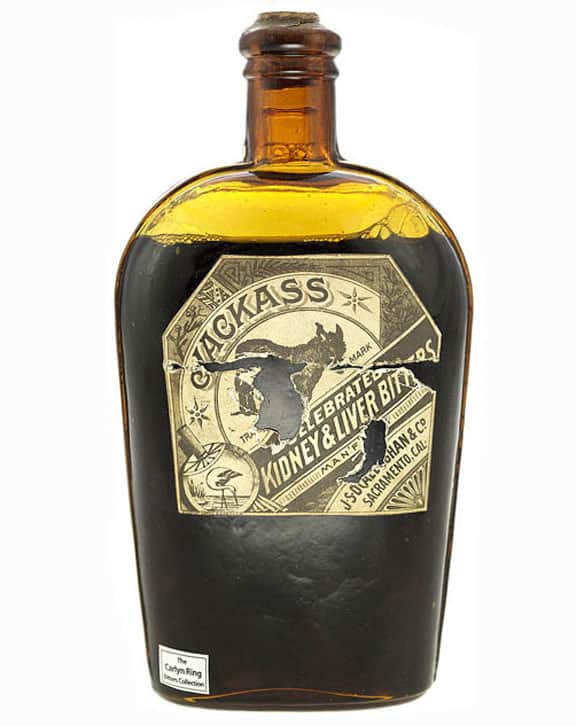 Jackass Celebrated Kidney & Liver Bitters
Sacramento, California
13 July 2013

A really cool, labeled, Jackass Bitters strap-sided flask is making an appearance at the Glass Works Auction #99 "Madness in Manchester" event that will culminate in a live auction on 20 July at the 2013 FOHBC National Antique Bottle Show. Whether this is a political statement, a reference to the jackass bitters plant or a reference to how someone acts, it is a great name and a wonderful bottle. I suspect a little of each. It is also nice to see the Carlyn Ring collection sticker on the bottle.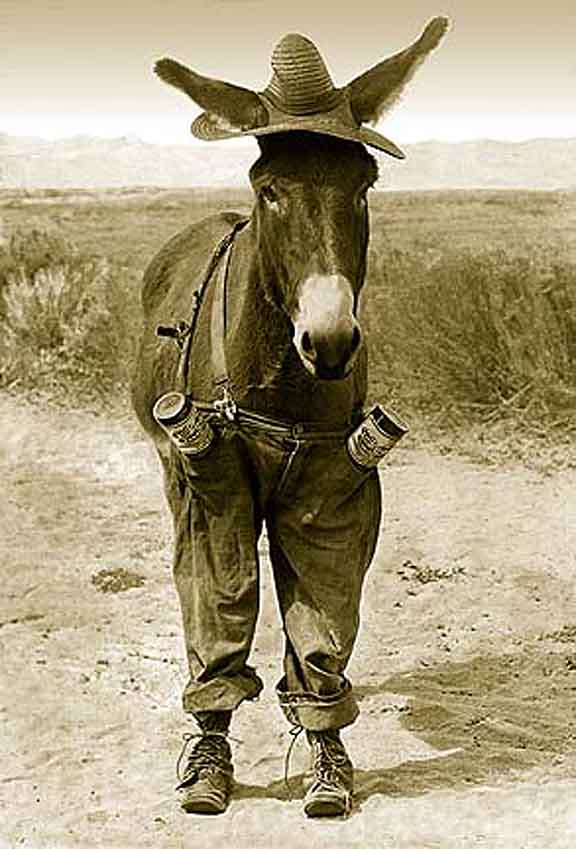 The Glass Works Auctions write-up is as follows for lot #45:
45. 'Jackass / Trade (donkey) Mark / Celebrated / Kidney & Liver Bitters / J.S. Callahan & Co. / Sacramento, Cal.', (J-2L), California, ca. 1890 – 1900, yellow amber strapsided flask, 7 1/2"h, smooth base, tooled lip, 80% original label. The bottle is in perfect condition and has most of the original contents. Quite a rarity and an interesting conversation piece! Ex. Carlyn Ring Collection.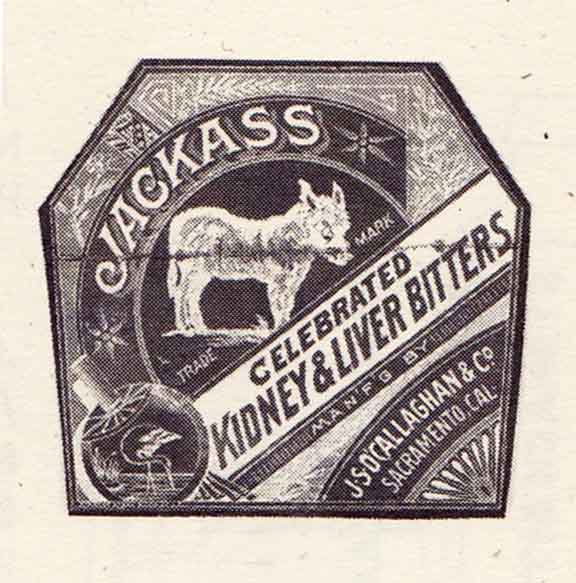 The Carlyn Ring and W.C. Ham listing in Bitters Bottles is as follows:
J 2  L… Jackass Celebrated Kidney & Liver Bitters
J. S. O'Callaghan & Co.   Sacramenta, California
7 3/8 x 3 1/4 x 2 (5 1/4) 1/2
Flask-strap side, Amber, DC, Tooled lip
Jackass Bitters art above from Bitters Bottles by Carlyn Ring and W. C. Ham.
J. S. O'CALLAGHAN
I see that J. S. O'Callaghan is listed as a druggist in Sacramento, California from 1890 thru 1903 where he next shows up in San Francisco directories. In 1918 he adds his son to the druggist listing. These listing go to 1945. J. S. O'Callaghan was also the state president of the California Drug Clerk's Association.
1918 – J. S. O'Callaghan & Son, 30 Beale in the 1920 San Francisco City Directory.
POLITICS
JACKASS BITTERS (Neurolaena lobata)
Jackass Bitters is a well-respected plant that has been used widely in traditional Central American medicine. It has yellow flowers and bitter-tasting leaves which contain a potent anti-parasitic agent (sesquiterpene dialdehyde) that is active against amoebas, candida, giardia and intestinal parasites. Traditionally, the herb is taken internally as a tea or a wine or used topically to bath wounds and infections, or as a hair wash to get rid of lice.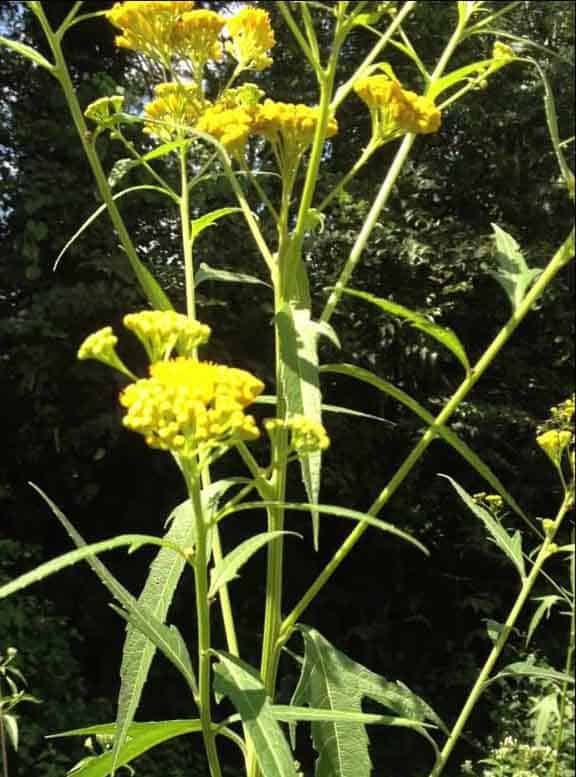 Scientific Name(s): Neurolaena lobata (L.) R. Br. Family: Asteraceae (daises)
Common Name(s): Jackass bitters, tres puntas, Mano de lagarto, gavilana, capitana, contragavilana, inaciabi, zeb-a-pique, herbe-a-pique, cow-gall bitter
Uses of Jackass Bitters
The plant species has numerous ethnomedicinal uses. Medical literature documents in vitro and animal studies on the plant's antibacterial, antimalarial, antiplasmodial, anthelminthic, and hypoglycemic activity, but there are no clinical trials to support its use for any indication.
Jackass Bitters Dosing
None validated by clinical data. Ethnomedicinal resources vary for dosage of an N. lobata leaf decoction in treating malaria, ranging from 3 glasses daily for 4 days to 1 glass daily before breakfast for 7 days.
Botany
The weedy herbaceous plant N. lobata grows in northwestern South America through Central America and into southern Mexico. The plant species also is found throughout the Caribbean islands. It grows 1 to 2 m tall and has alternate trilobed leaves. The yellow flowers grow in compact groups at the end of the branches. All portions of the plant have a bitter taste. When handled, the fresh leaves and stems stain the skin yellow.
History
The plant species has numerous ethnomedicinal uses. In Mesoamerica, the herb was used to treat several diseases, including cancer, diabetes, dysentery (amebiasis), and malaria. In Panama, an infusion of the leaves was used to treat diabetes, hypertension, and hepatic ailments. In the Panamanian province of Darian, it is used for malaria and as an insect repellent. In Caribbean folk medicine, the herb was used medicinally to treat skin diseases, gastric pain, ulcers, and as a general pain reliever. In Guatemala, the plant has been used to treat malaria, anemia, and nervous weakness. It also has been used as a tonic and an antipyretic.
Source: Drugs.com