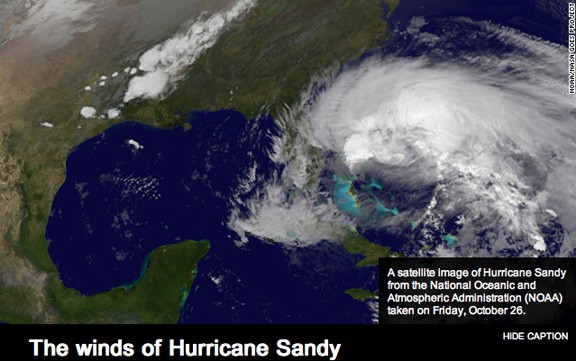 Northeast in crosshairs of 'superstorm' Sandy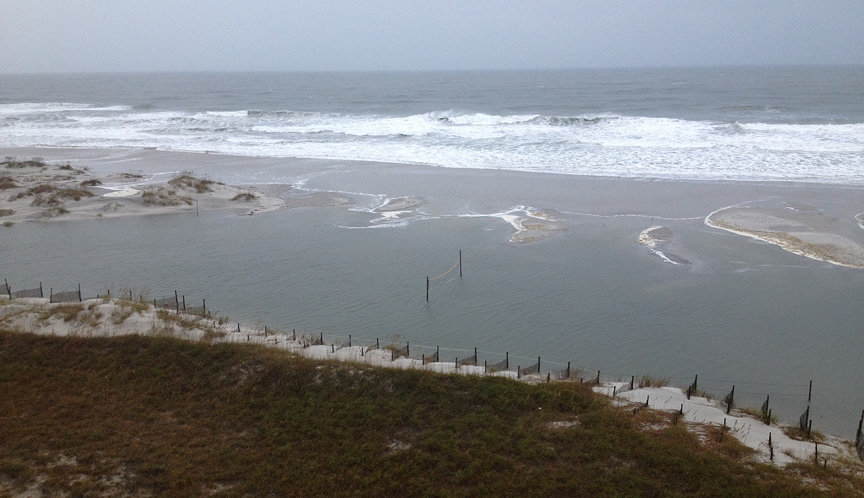 Looking at Daly's Aromatic Valley Whisky…with Sandy
26 October 2012

I sit in my room with my grandson Nicolas at a resort on the seventh floor of a beach-front condominium on the outer banks of Wrightsville Beach, North Carolina writing this post. Elizabeth is home with the dogs and horse events. The satellite dish must have blown off the roof so I just switched to my AT&T satellite Internet service. I am here for a beach wedding today (that would have occurred where the volleyball net area is in the picture above) that will be moved inside because of an unvited guest named Sandy. My balcony door overlooking the beach is open. The winds are strong and the waves are crashing loud.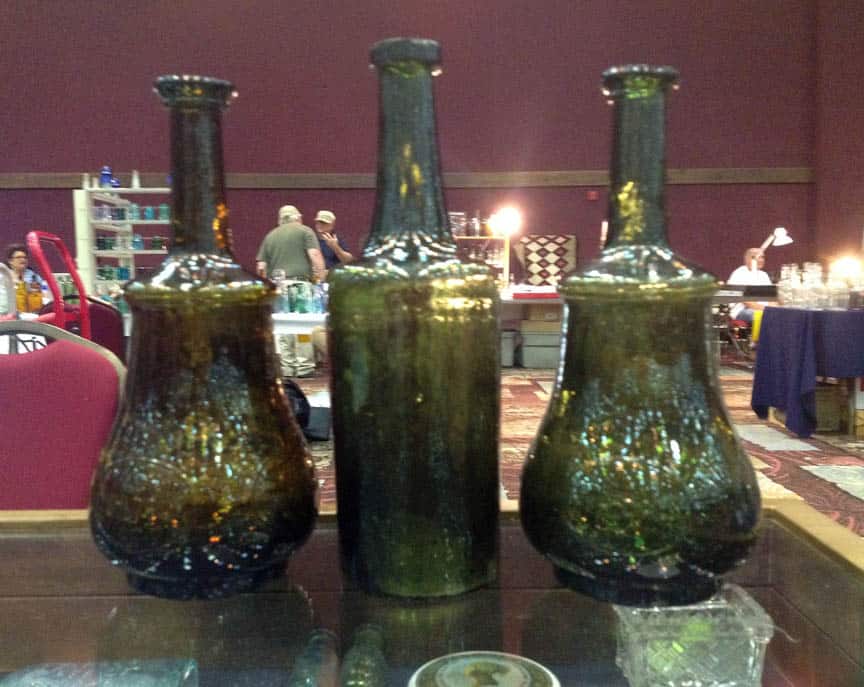 I still have bottles on my mind though and wanted to get some information on the three bottles pictured above. I was asked to photograph the bottles at the Reno Expo. I was led to believe that these were important bottles and a great grouping. They sure looked eastern to me. Why were they at Reno? I have lost my notes and memory for this picture and would like to know more including who owns these bottles so I can give credit. Last night I posted the picture and question to facebook on Early American Glass asking if anyone recognized the bottles? This quickly prompted a response from Michael George and Jeff Noordsy (of course) noting that these were William Daly bottles.
WILLIAM H. DALY  – NEW YORK
Hopping on the Internet, I was able to pull some more information. If you all can supply more pictures and support information for this post, I will gladly add. From what I found so far, this certainly was a popular New York brand with advertisements in Texas, Louisiana and California. These are sexy, well designed bottles. I also thought it was interesting that one of the cylinder bottles pictured below was found in Lake Tahoe, Nevada. Make sure you read the testimonials. They are outlandish.
DALY'S VALLEY AROMATIC WHISKEY

(or Whisky)
By the time of the Civil War, ads in the Galveston Weekly News touted Hostetter's Stomach Bitters; or Dr. Leroy's French Specific for All Affections of the Urinary Organs, and those Affections Only; or Daly's Aromatic Valley Whiskey for Medicinal Purposes; or Brown's Bronchial Troches; or Sanford's Family Blood Purifying Pills; or Old Sachem Bitters and Wigwam Tonic. Texans imbibed gallons of the tonics and ate tons of the pills, as ads for these and other nostrums appeared again and again in newspapers throughout the remainder of the nineteenth century.
TEXAS STATE HISTORICAL ASSOCIATION
State Assayer's Office, 32 Somerset Street, Boston, April 17, 1858.
Mr. W. H. Daly – Sir: – I have made a chemical analysis of your "Old Valley Whiskey", and find it pure, fine, and full flavored Rye Whiskey, containing no injurious matters of any kind. I would recommend it as suitable for Medicinal and general public purposes.
Charles T. Jackson, State Assayer
Link Back – Updated information by Rick Simi at Western Bitters News