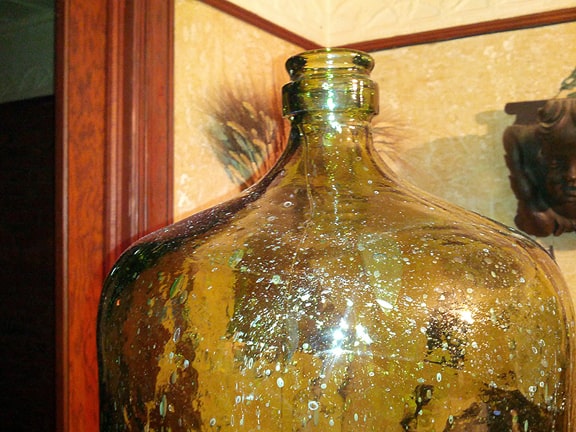 Incoming question about a bottle.
Thank you for the kind reply. Here are some pics of the Water Jug. Thick green, lots of bubbles, mold marks and striations and a nice deep Olive Green. It's approx 18 and a half inches by 11 inches. Has wear, and looks like it has age, not a newer piece in my option. I tried to take a pic of what I think says "Texaco" on the bottem but it is very faint. The person I bought it from said it might have been a Gasoline Jug. I really appreciate this. Thank you again, Nick.
From my friend and Texas bottle authority Brad Seigler:
I have looked at that texaco jug til my eyes crossed. If it is embossed Texaco, it is a great item. Even trying to resesrch for a Texaco item comes up empty. Either way I think it is great.
Comments from facebook:
Marianne Dow: "I would bet it says Mexico."
Rick DeMarsh: "I am with Marianne as the top is not allowable for even very old kerosene bottles IE for stoves…drip style and with something that size full would be hefty and in any kind of enviorment garage or home the base wear would be pretty heavy i'm thinking. Just my opinion"
Michael Dolcini: "I can remember getting gas in one gallon jugs with handle."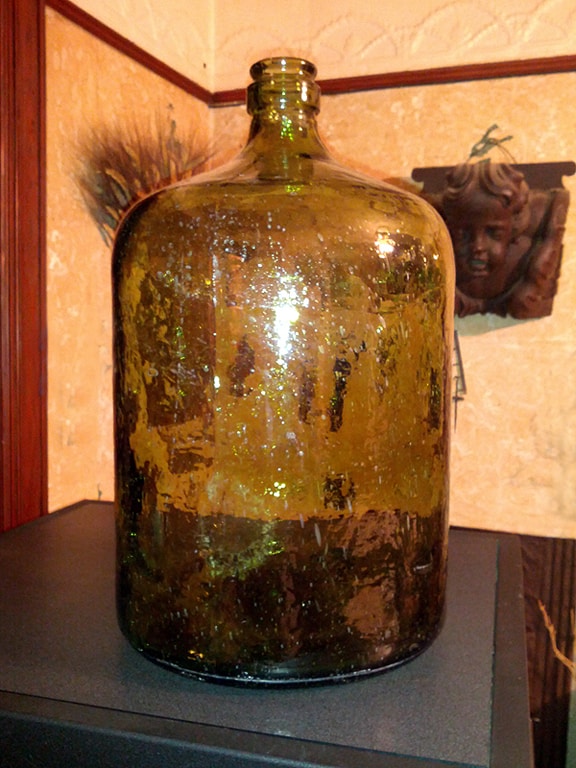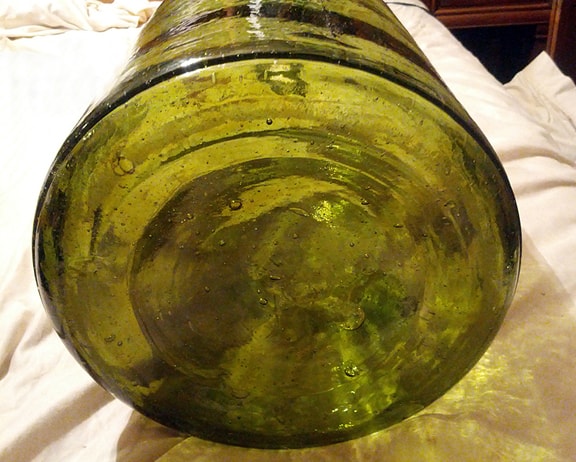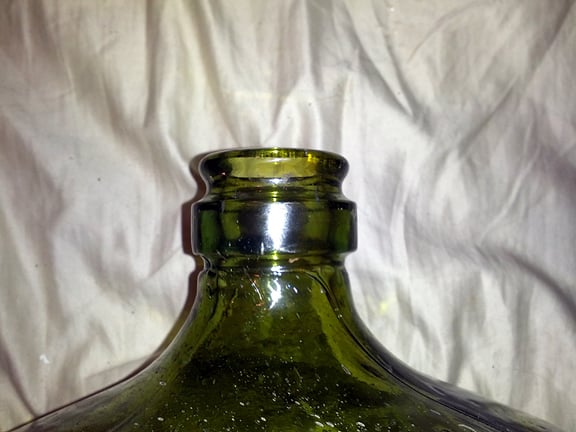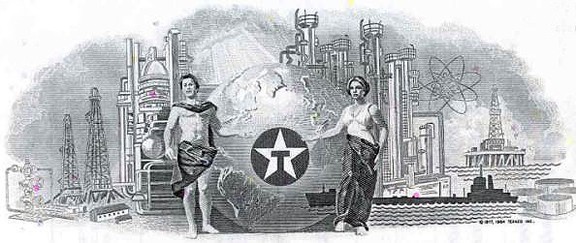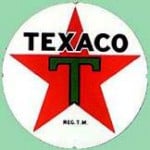 [Wikipedia] Texaco ("The Texas Company") is the name of an American oil retail brand. Its flagship product is its fuel "Texaco with Techron". It also owns the Havoline motor oil brand.
Texaco was an independent company until it merged into Chevron Corporation in 2001. It began as the Texas Fuel Company, founded in 1901 in Beaumont, Texas, by Joseph S. Cullinan, Thomas J. Donoghue, Walter Benona Sharp, and Arnold Schlaet upon the discovery of oil at Spindletop. For many years, Texaco was the only company selling gasoline under the same brand name in all 50 US states, as well as Canada, making it the most truly national brand among its competitors. Its current logo features a white star in a red circle (a reference to the lone star of Texas), leading to the long-running advertising jingles "You can trust your car to the man who wears the star" and "Star of the American Road." The company was headquartered in Harrison, New York, near White Plains, prior to the merger with Chevron.
Texaco Founding through 1930s
1901 – Founded in Beaumont, Texas. Known as the Texas Fuel Company.
1905 – Texaco establishes an operation in Antwerp, Belgium, under the name Continental Petroleum Company.
1913 – Texaco acquires control of the Central Petroleum Company.
1914 – Occupied new offices in Houston on the corner of San Jacinto and Rusk.
1928 – Texaco becomes the first U.S. oil company to sell its gasoline nationwide under one single brand name in all 48 states (50 states after Alaska and Hawaii joined the Union in 1959).
1931 – The Texas Company (Texaco's corporate name) purchases Indian Oil Company, based in Illinois, a move that expands Texaco's refining and marketing base in the Midwest and also gives Texaco the rights to Indian's manufacturing processes of Havoline "Wax Free" motor oil, which becomes a Texaco product and provides the company with a higher-quality motor oil product.
1932 – Texaco introduces Fire Chief gasoline nationwide, a motor fuel that meets the octane requirements for fire engines, and promotes it through a radio program over NBC hosted by Ed Wynn, the "Texaco Fire Chief."
1936 – Texaco begins supplying the Nationalist rebels in Spain with oil, and continues to do so for the duration of the war, delivering some 3,500,000 barrels.
1936 – Marketing operations east of Suez (including Asia, East Africa, and Australasia) are placed into a joint venture with Standard Oil Company of California – Socal (Chevron) under the brand name Caltex, in exchange for Socal placing its Bahrain refinery and Arabian oilfields into the venture.
1937 – Texaco commissions industrial designer Walter Dorwin Teague to develop a modern service station design. The resulting "Teague" Texaco station design is a functional white building with green trimmings featuring one or more service bays for "Washing", "Marfak Lubrication", etc., an office area with large plate glass window for display of tires, batteries, and accessories, along with "Men" and "Ladies" restrooms featuring Texaco-green tile walls and floors. The Teague station design is typically built of white porcelain tile but local and regional variations could include painted brick, concrete brick, and stucco materials. Other features include red Texaco stars on the upper facade on outer sidewalls and above the service bays, and red lettering spelling out "TEXACO" above the office area. Stations are identified by the street from Texaco's "banjo" sign.

1938 – Texaco introduces Sky Chief gasoline, a premium grade fuel developed from the ground up as a high-octane gasoline rather than just an ethylized regular product. Sky Chief is dispensed from a silver gas pump in contrast with the red pump used for Fire Chief gasoline – a move that lasts many years until the early 1960s. 1939 Texaco tanker truck by Dodge on display at the Henry Ford Museum.
1939 – Texaco becomes one of the first oil companies to introduce a "Registered Rest Room" program to ensure that restroom facilities at all Texaco stations nationwide maintained a standard level of cleanliness to the motoring public. The "Registered Rest Room" program is later copied by other oil companies and continued at Texaco until the energy crises of the 1970s, which was caused by oil embargoes.