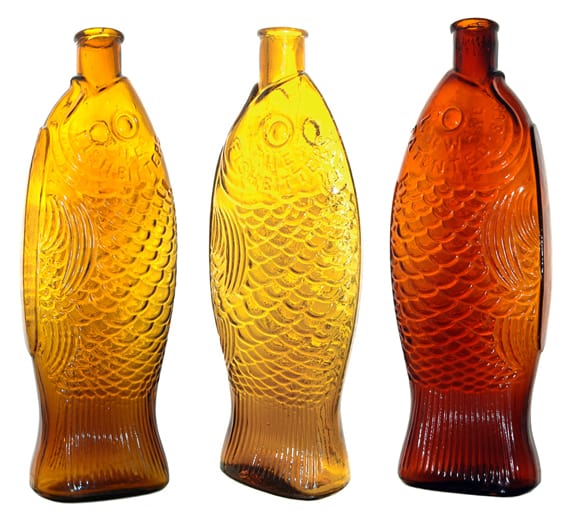 An important advertising card sold on eBay last evening for a surprisingly healthy $787.77 which shows the strong demand for pieces relating to the great bottles we collect. In this case it was a 'Handsome Young Man in Uniform (Civil War?) with Fish Bottle' as described on eBay. This caused quite a stir and was watched by many. I probably had a dozen or so reminders and prompts for the listing as some know I collect figural bitters and specialize in color runs. See: Meyer Fish Bitters color runs
Anyway, I assure you that the winning bidder will be happy to add this piece to his collection. Wouldn't it be fun to find out that this was the blue example? Ha! Can pigs fly?
Uniform update from Ron Coddington: The gold borders of this carte de visite are consistent with Civil War images, and the soldier pictured here appears to be wearing a cavalrymen's jacket. I've seen a number of images of soldiers posing with beer bottles, but not a bottle of this type. At first glance I thought the bottle had a candle sticking out, but it looks more like a tall cork.
I sure would like to find a labeled example of a Fish Bitters that I have pictured below. These a simply great figural bottles.