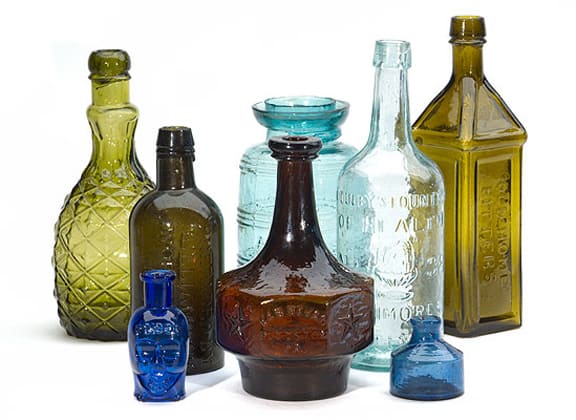 Jeff Burkhardt has been following this elusive Old Home Bitters that showed up at the Mansfield, Ohio Show this year. I have been wanting pictures and info since I first heard of this rare colored bird. I believe Bill Ham also wanted information.
Jeff further adds, Madison, Indiana digger/collector Todd Calvert made the buy at Mansfield last May…right place right time I think. Jack Stecher (New York) and I arrived on scene just as cash was being exchanged for the bottle. Looks quite green.
I, like others, expressed interest, but he said he wanted to hang onto it for time being…
Anyway, Jeff alerts us that it has resurfaced and will be making an appearance at the February 2012 Heckler Auction. Good eyes Jeff!
I've posted the Ring | Ham information and a picture below.
O 36 OLD HOME BITTERS
Circa 1865 – 1875
OLD HOME / BITTERS // WHEELING. W. VA // sp // LAUGHLIN / SMITH & CO //
9 3/4 x 2 5/8 (5 3/4) 1/4
Square, Amber, LTCR, 4 sp, Rare, Very crude letters especially G & C, The older firm. The firm later became Laughlin and Bushfield.
***We need to find out if the bottle from Mansfield (and now at Heckler) is the Laughlin Smith & Co. or Laughlin and Bushfield variant.