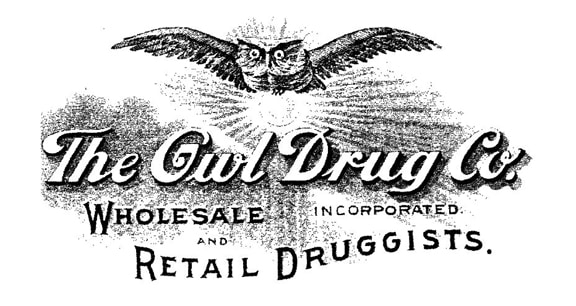 Ferdinand:
Per our conversation, the following information pertains to The Owl Drug Company of San Francisco. I have created a blog entitled the Owl Drug Collectors Blog where you will find 16 postings as of this week pertaining to different subjects related to the Owl Drug Company and other related bottle activities.
The blog includes several pictures of items of interest or for sale including the Owl Drug Handbook, Volume I; Baseball type cap; and a set of dog tags. I have also created a facebook page entitled Owl Drug Collectors where pictures are part of the wall of the facebook and some of the blog postings are listed. I have included pictures of what our Handbook looks like with some of the examples that are shown in the book itself along with the history of the company and its leadership. Volume II of the handbook is in the process of being published and should make its appearance before Christmas. Both volumes of the Owl Drug Handbook is being presented later to the Director of the Library of Congress for their permanent collection. Should you have any additional questions or concerns, please feel free to contact us by email or phone.
David Levine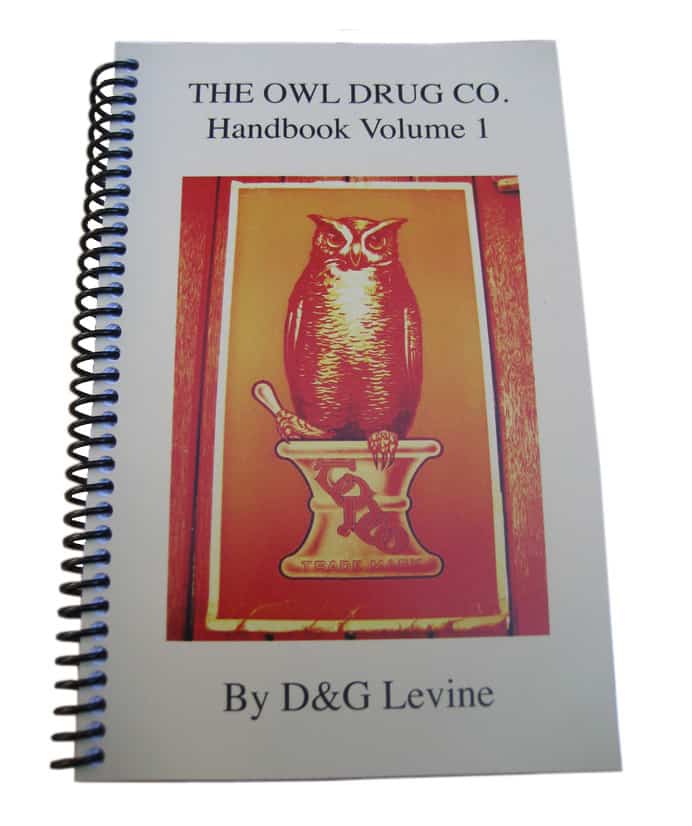 [PRG] I visited the Owl Drug Collectors Blog and found the following information posted about David Levine.
Hello Fellow Owl Drug Collectors! Permit me to introduce myself….
My name is David Levine and I am an Owl Drug Collector. I have been a collector for over 40 years. At the time I started collecting Owl Drugs I lived in California. I was going to college in Northern California at the time under the GI bill. I had gotten out of the service and returned to school in Sacramento and transferred to Chico State University to finish up my last two years of schooling. As a college student you are always looking to earn money, as you can understand. I held many jobs and did many things during this period, one of which was "digging". My digging brought me many things some of which were Owl Drug items. This is how I started my collection.
Another reason I got started collecting Owl Drug items was because one of the foremost Owl Drug collectors in the Western US lived in the same community that I was going to school in. Anyone who was a collector knew this man and talked about him and his collection. Whether he knew it or not he was quite well known throughout the Western United States for his collection. I met with him several times during this period when he shared information about Owl Drug items, showed me portions of his collection, and was a "mentor" and an inspiration to me. It is due to this man that I became a collector at the level that I am currently at and have the collection that I have today. This blog, in a sense, is also because of him too and how he helped me get started.
I am sure that there are many of you out there who are looking for help in understanding the Owl Drug Company and its products, how to collect, what to collect, etc.
As we go along on this road together in the discovery of the Owl Drug, I look forward to sharing information, answering questions and discussing Owl Drugs with you.
Over the years there have been numerous myths and misinformation about the Owl Drug Company. I hope that we can dispel and correct a great number of these myths, misinformation, and misconceptions. In my research during the past year I have found a great deal of information that will clear up a lot of these issues for the Owl Drug collector or potential collector.
I look forward to hearing from any of you about concerns, questions or just want to share information about Owl Drug, collecting, digging, experiences, etc.
[PRG] A few pictures I have gathered either from David's blog or the internet…