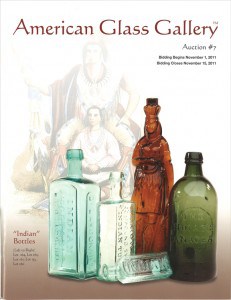 [Reprinted from John Pastor's American Glass Gallery Auction 7 running from 01 November 2011 thru 15 November 2011]
Demijohn's, the "giants" of the hobby, are impressive for their vast array of colors and forms as they are for their great size and stature. It is little wonder why they are so coveted by today's collectors. They exemplify the utilitarian aspect of bottles and are often both "earthy" and delicate at the same time.
A ubiquitous product of early glasshouses far and wide, both in the United States and abroad, they share but one common theme, which is to contain large volume of goods, whether wet or dry. In addition, they have been the workhorse of containers and have enjoyed virtually continuous production since the colonial period.
The three examples featured in this sale are outstanding in terms of the combination of their color and form. With examples such as these, it is easy to understand why so many collectors have added demijohns to their wish list.
For an interesting and enlightening article on these impressive, large bottles, see "Demijohn Basics", Antique Bottle & Glass Collector, February 2011, by David Hoover.
Lot 225 Demijohn, America or possibly Continental, 1860 – 1890. Stunning sapphire blue, freeblown, globular form, heavy applied sloping collared mouth – blowpipe pontil scar, ht. 14 ½", dia. approx. 11 ½", virtually attic mint; (a small sand grain on the surface near the base has a tiny, 1/16" cooling line, otherwise pristine). Exceptional color and in addition, nice character with glass gall and tiny seed bubbles throughout. An outstanding demijohn recently discovered in a house clean out in Lititz, Pennsylvania.
Note: a very scarce and desirable color for a cylindrical demijohn, and is certainly exceedingly rare in this pleasing globular form. It was likely not a "production" piece, but blown by a gaffer for family or personal use, or perhaps a special purpose. Outstanding in color, character, form and condition, and one that will stand out in any collection.
Lot 226 Demijohn, America, 1845 – 1875. Gorgeous medium olive yellow, flattened apple form, freeblown or possibly blown in a "starter" dip mold (there is no evidence of mold seams), applied sloping collared mouth – large, crude disc type pontil scar, ht. 18", width (side to side), 15 ¾", depth (front to back), 11 1/8"; (a couple of superficial faint scratches, otherwise attic mint!) Similar to MW, p.258, plate 64. Outstanding color, beautiful, excellent condition!
Lot 227 Demijohn, America, 1840 – 1875. Beautiful medium green with an emerald tone, similar to a Congress & Empire, or "Congressville" green, large globular form, freeblown with a very roughly sheared neck and applied sloping collared mouth – smooth base, ht. 21", dia. approx. 17", generally excellent; (several light scratches, 2-3" in length, several shallow open surface bubbles, a bubble with a line in the cover glass). An extremely rare color for this size and form. An outstanding piece!
Note; the neck and mouth are extremely crude and not uncharacteristic of other examples of similar construction. Most of the chipping and flaking was likely done at the time of manufacture. However, it is almost impossible to determine with certainty, and some of it may have occurred post-manufacture. Regardless, a very impressive and important demijohn!