In from Western Bitters News…!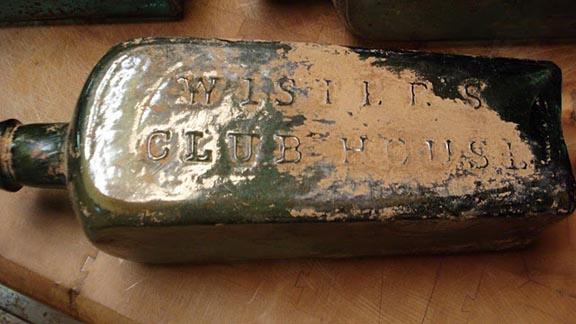 DIGGING NEWS: THE CLUBHOUSE HOLE:
It's funny how things sometimes happen. Coming up on December 3rd & 4th the 49er bottle club is holding their annual show and sale in Auburn California. The feature attraction is "A NON COMPETITIVE GROUP DISPLAY IN TWO CATEGORIES, LONDON JOCKEY CLUBHOUSE GINS AND WISTERS CLUB HOUSE BOTTLES".
It just so happens a couple of local boys, this past week, hit a monster 1850's – 1860's privy here in the gold country. It wasn't luck…… they have been probing and digging this area of the gold country for the last couple of years. As they say "persistence pays off" and in this case it payed off big time….
Included in the whole non damaged bottles were:
3 – Wistar's Clubhouse Gins
2 – Jockey Clubhouse Gins
2 – W.S.C. Clubhouse Gins
2 – J.T. Daly Clubhouse Gins
2 – Von Thofen's Aromatic Schnapps (small size)
1 – Black Glass Hostetter's
02 & 03 December 2011 (Friday & Saturday) Auburn, California 49er Antique Bottle & Antique Show "The Best of the West" (9:00 am to 3:00 pm, early admission Friday $10.00 at Noon – 7:00 pm) at the Gold Country Fairgrounds, Auburn, California, Info: Mike McKillop, 117 A Estates Court, Roseville, California 95678, 916.367.1829, pville1871@yahoo.com
Can't wait. I'll be at Auburn. Hopefully see some of these bottles!