A bottle collectors paradise!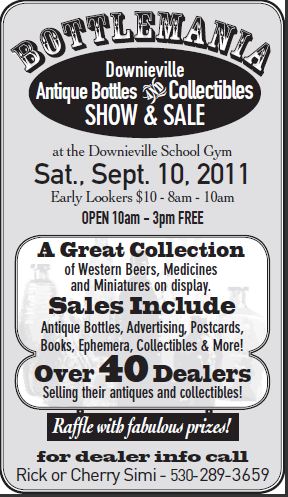 Downieville starts out with a blast!
10 September 2011

Today is the day (10 September 2011) for the Downieville, California annual Antique Bottles and Collectibles Show "Bottlemania! A Blast of Glass from the Past". The show is being held in the Downieville School Gym at 130 School Street. It opens at 8:00 am for a $10 early looker fee and is free to the public from 10 am to 3 pm.
I flew in yesterday about noon. It is about 3 1/2 hours from Houston to Reno. Got my luggage, rental car and headed into the beautiful Tahoe National Forrest. Downieville (read more) has to be one of the most pisturesque, quaint and charming little towns that I have ever been too. This place is so beautiful. Downieville sits at an elevation of 3,888 feet and the 2010 United States census reported Downieville's population was just 282! Now it is filled to the brim with bottle people! Oh la la…
Jerry Forbes rented us a house right on the confluence of the Downie River and North Fork of the Yuba River. I left my window open last night and listened to crickets and rushing water. Even yesterday afternoon provided for some great side bottle 'look-sees' within the confines of our house with bottle friends.
Last night was the famous BBQ dinner at Rick Simi's house and the wine tasting event hosted by Will Clark of 49er Wines. He featured wines from the California gold country. The tasting started at 5:00 pm until they started serving the BBQ dinner around 7:00 pm. Big turnout, glad to see my western friends. I took a few pictures last night. I will get some good bottle shots today and post later.