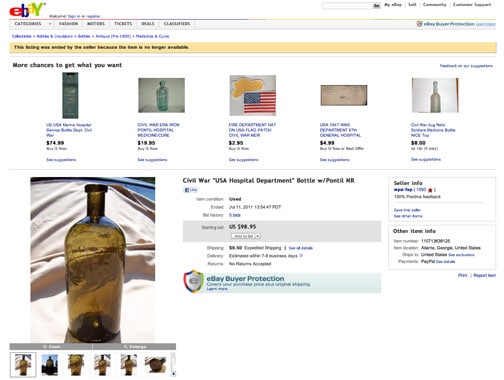 Civil War "USA Hospital Department" Bottle w/Pontil NR
17 July 2011

I thought I would document the series of events on eBay and Facebook that transpired very quickly on 11 & 12 July 2011 that have both given me great cause for concern and great relief at the same time.

Cause for Concern: How can a bottle so good looking, have a 100% Positive Feedback eBay seller, be described so well be a REPRO and be getting bids on eBay from our collecting base.
Read More: U.S. Army Hospital Department bottles
Great Relief: That collectors out there such as Jeff Burkhardt, Jeff Noordsy, Tom Doligale, Rick DeMarsh, Eddie Kuskie, Coboltmoon Glass, Butch Holcolme, Dana Charlton etc. banded together to confirm Jeff Burkhardts suspician of a USA REPRO and quickly documented the case. The eBayer was notified by Jeff and the item was pulled. By the way, I believe this was probably an innocent listing by the eBayer.
They were made by the Dog River Glass Works for Civil War re-enactors. Beware any USA Hospital bottle with a tube pontil!

Jeff Noordsy
The Power of Social Media!
Noted are a few of the actions and Facebook responses:
1) Jeff Burkhardt sends Peachridge Glass an eMail on 11 July directing Ferdinand Meyer to bottle on eBay and laying out case for REPRO. Jeff notes he is contacting seller.
2) Posted on Facebook on 12 July with quick comments such as:
Here is how the bottle was listed…
eBay Listing: http://cgi.ebay.com/ws/eBayISAPI.dll?ViewItem&&item=110713636125&ssPageName=ADME%3AB%3AEF%3AUS%3A1120#ht_2132wt_1398
Offered here for auction is this stunning and beautiful condition U.S. Army Hospital Department 9 1/4″ inch tall quart size medicine bottle with the "USA HOSP DEPT" on the front and this example looks to be from the famed Pittsburgh, Pennsylvannia factory and should date to about 1862/1863. Bottle has the fine pontil scar on the bottom, plus the great looking "whittled" effect to the glass which makes this a VERY desirable early bottle! Wonderful color that is a classic military Olive drab green and shows great mold lines and hand applied lip, please see pics. No staining, discoloration, damage, cracks, or chips/flea bites and is long ago from the estate of an Atlanta surgeon who was a major collector back in the late 1940's through the 1960's. A must have example for the collection and these rarely come up for sale, let alone an example as nice as this, so don't miss out. This beauty is being offered with a LOW opening bid and no reserve, so everyone has a chance. I've added some info. from the internet below. Thanks for looking.
One of the more intriguing areas of Civil War medical antiquities involves the collecting of U.S. Army Hospital Department bottles.  These bottles, simple in shape, and often unappealing in color, have been popular with collectors for decades.  Their popularity springs from the fact that these bottles were produced during a very narrow period of time (circa 1862-1865).  Additionally, they remained in use well into the post war years causing their survival rate to be quite low.
Much of the history of bottles marked simply "U.S.A. Hosp Dept" is clouded in time. However, we do know something of their origin.  Following the Federal defeat at First Manassas and the grim realization that the war may last years and not months, the Army Medical Department, under the auspices of the Quartermaster Department, (the agency responsible for procuring supplies) began purchasing standard medicines for the army.  These medicines were normally packaged in several ways: in bottles, tins, papers, and boxes.  Army officers seemed to prefer packaging in tins and bottles as these were more robust, holding up to the rigors of the field better than packaging in fragile papers or boxes.
Bottles remained a popular form of container for medicines throughout the war.  The Army used both plain civilian bottles and the much rarer Hospital Department bottle. According to Civil War bottle authority Mike Russell, research indicates that Hospital Department bottles were manufactured at factories in Pittsburgh, Pennsylvania and Baltimore, Maryland, although archaeological evidence may point to a third manufacturing plant at St. Louis, Missouri.  Clearly, the principal manufacturer was at Pittsburgh with the secondary manufacturer at the Baltimore Glass Works.
Examples blown at the Pittsburgh factory exhibit concave, slightly recessed, bases with a star design, initials, or a simple dot. Occasionally, some bottles from this firm are seen with an iron pontil scar (a result of an older glassmaking technique that used a rod dipped in iron oxide to hold the bottle base during the manufacturing process).  Baltimore Glassworks examples are flat based and exhibit weak embossing.
Civil War period bottle embossing styles fall into several major types: (1) Two Straight Lines; the top line is "U.S.A." printed in raised letters.  The second line reads, "Hosp. Dept." (2) "U.S.A Hosp. Dept." embossed in an oval.  In this pattern, the "U.S.A" curves along the top of the oval and "Hosp. Dept." curves below (3) "United States Army Hospital Department" spelled out in a straight line (4) "U.S.A" arching over "Med'l Dept." (This is the only style incorporating the abbreviation for USA Medical Department dating from the Civil War era.
Numerous bottle colors exist.  The most common color is clear followed by aqua.  Rarer colors include cobalt (the most popular color with collectors), emerald green, apricot and dense purple or puce. Hospital Department Bottles range in size from a 2 ½ inch high oval shaped vial to a quart size 9 ¼ inch tall cylinder.  Neck styles vary from narrow openings to a wide mouth.  Whether the coloring or shape had any relation to contents is a matter of conjecture, although bottles have surfaced with paper labels indicating their original contents. Wide mouth bottles were probably used for pills.
Regardless of color, all original bottles contain flaws in the glass, resultant of mid-nineteenth century manufacturing processes.  Bottles often contain numerous bubbles, sand and some examples even show a primitive whittled look.  Lips are often crude and appear hand tooled. Archaeological finds confirm that Hospital Department bottles were commonly used in the field after 1863 and that they remained in use on the frontier until the 1870's.
The Hospital Department bottle was slowly replaced by one of similar design in the post-Civil War years.  The more modern bottle employs various abbreviations of U.S. Army Medical Department.  Medical Department bottles remained in issue until WWII and are easily distinguished from their Civil War cousins by the quality of the glass, more refined lip and a base often designating the bottle capacity. The colors of post-war bottles are more standard with dark brown/amber being the most frequently seen on the market.