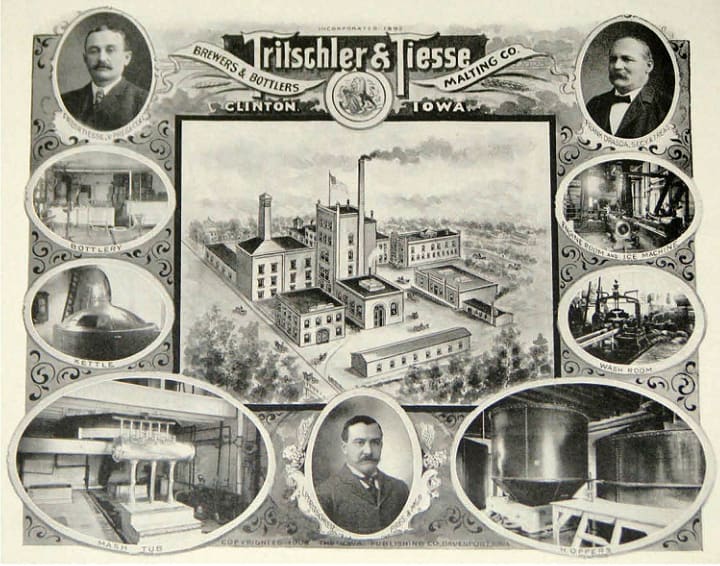 Read about Mark Wiseman's purchase of two crown top beer bottles from the Tritschler & Tiesse Brewery in Clinton, Iowa during the auction of the late Bill Wharff's collection several years ago that led him to co-author an article in the latest issue of the FOHBC Bottles and Extras. Another reason to become a FOHBC member! See American Breweriana Association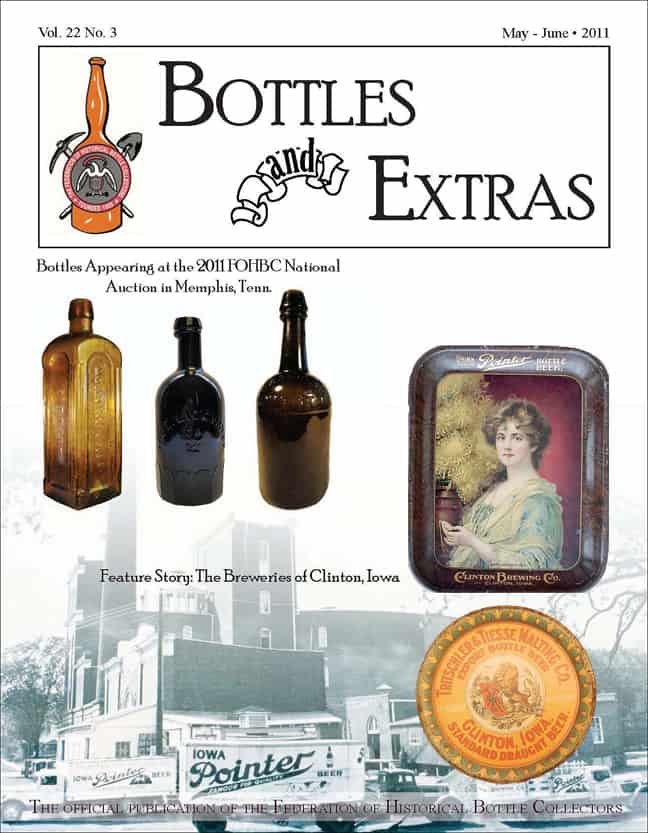 The Federation of Historical Bottle Collectors cordially invites you to join a dedicated group of individuals and clubs who collect, study and display the treasured glass and ceramic gems of yesteryear.
As a FOHBC Board Member I add that The Federation of Historical Bottle Collectors is a non-profit organization supporting collectors of historical bottles, flasks, jars, and related items. The goal of the FOHBC is to promote the collection, study, preservation and display of historical bottles and related artifacts and to share this information with other collectors and individuals.
Federation membership is open to any individual or club interested in the enjoyment and study of antique bottles. The Federation publication, Bottles and Extras, is well known throughout the hobby world as the leading publication for those interested in bottles and "go-withs".  The magazine includes articles of historical interest, stories chronicling the hobby and the history of bottle collecting, digging stories, regional news, show reports, advertisements, show listings, and an auction directory.  Bottles and Extras is truly the place to go when information is needed about this popular and growing hobby.
In addition to providing strength to a national/international organization devoted to the welfare of the hobby, your FOHBC membership benefits include:
• A full year subscription the Federation's official bi-monthly publication, Bottles and Extras
• One free ad per yearly membership of 60 words for use for "wanted" items, trade offers, etc.
• Eligibility for a discount at FOHBC sponsored shows (National or EXPOs) towards "early admission" or dealer table rent
• Access to a knowledge of the world of antique bottle collecting unavailable elsewhere
• Contact information for clubs devoted to the study of historical bottles
• A forum for your writings, articles, and editorials regarding the hobby
• Participation in the nomination and selection of Federation members for the Honor Roll and Hall of Fame
• Federation-sponsored writing, show poster, and newsletter-design contests
• Free publication assistance for your book or manuscript
• And more…
We encourage Affiliated Bottle Club memberships by offering these additional benefits to your group:
• Display advertising in Bottles and Extras at an increased discount of 50%
• Insertion of your bottle club show ad on the Federation website to increase your show's exposure
• Links to your club website free of charge, as well as assistance with the creation of your website
• Free Federation ribbon for Most Educational Display at your show
• Slide programs for use at your club meetings
• Participation in Federation sponsored insurance program for your club show and any other club sponsored activities
Finally…
We need your support!  Our continued existence is dependent upon your participation as well as expanding our membership.  The Federation is the only national organization devoted to the enjoyment, study, preservation, collection, and display of historical bottles.  The FOHBC welcomes individuals who would like to contribute by running for Board positions or by sharing their expertise and volunteering their talents in other areas of interest such as contributions to our publications, assistance with the Federation's National and EXPO shows, or through membership promotion.
If you haven't yet joined our organization, please do so and begin reaping the benefits.  If you are already a member, please encourage your friends and fellow collectors to JOIN US!!