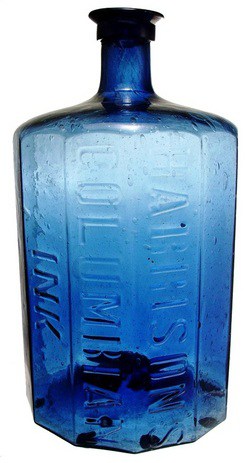 While visiting with the prominent collector Sandor Fuss this past week in Denver, I again was struck by the beauty, size and color of the famous Harrison's Columbia Ink. This big ink would dominate any other display setting but somehow fits in with the rest of Sandor's extraordinary collection of the Best of the Best Historical Flasks and Bitters Bottles. I had the opportunity to inspect this ink at the Bottles and More (BAM) Roger Long Auction when I visited Rod Walck in PA some time back.
The Harrison's Columbian Ink bottle is considered by many to be the top ink for good reason. Until you've actually seen one of these huge gallon master inks and held it in your hands, you don't really get the overall spectacular impression that you do seeing it pictured.
These rarely come up for sale. The last one of note in an auction was probably the Glass Works Auction of the Beka and Bob Mebane Collection in 2002 and 2003. It was listed as follows:
"HARRISONS – COLUMBIAN – INK, (C-763), American, ca. 1845 – 1860, 12-sided, 10 1/2″ (gallon size), open pontil, tooled expanded mouth, perfect. When the premier ink collection of author Bill Covill was auctioned in 1980, the ink was featured on the front cover of the auction catalog. It sold for $8,000, by far the highest price piece in the auction. In 1992 it resurfaced again, this time in the Federation of Historical Bottle Collectors auction in Toledo, Ohio. Selling for $34,000. It was again the highest price item in the auction.
It is not known what Sandor paid for his exquisite example, though I suspect it far surpasses the prices noted above.