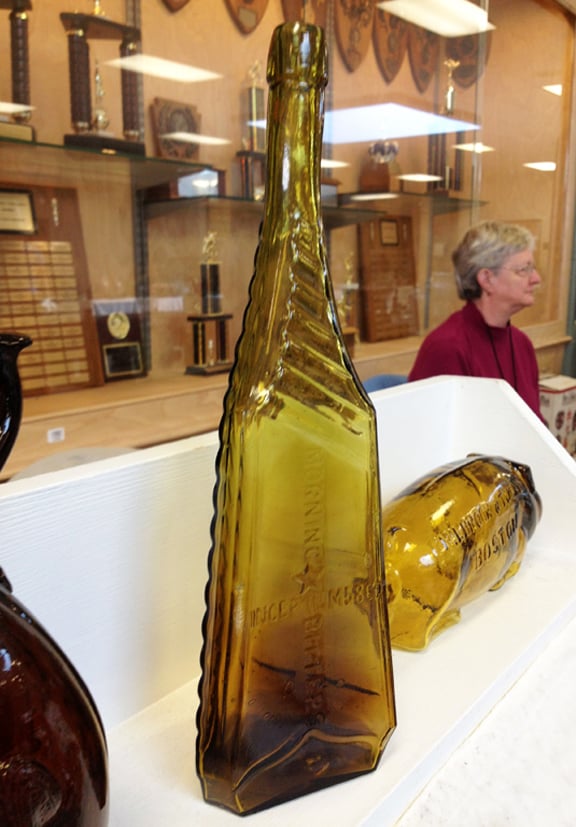 I was looking closer at Ed and Kathy Gray's (GreatAntiqueBottles.com) Morning Star Bitters (see above) yesterday at the Yankee Bottle Show in Keene, New Hampshire. Read More: Yankee Bottle Club – 2012 Keene NH Show Pictures
This is quite an extraordinary and exciting bottle as far as the triangular form, olive toned color and embossing. I especially like the embossed star. It is also from Baltimore which makes it even more fun, being I am a native Baltimorean. The sticker price on the Great Antique Bottles web site is $6.700 though I believe the Gray's might sell the bottle for $5,800 or so. A big ticket price for a usually low priced bottle when you find it in amber.
While reading the description above on their table, I saw the note "possibly the only known example in this beautiful greenish coloration". I am reminded of a very similar example of a Morning Star Bitters in my collection. I have posted those pictures further below. Which example has more green? It is really hard to tell. They are both great examples.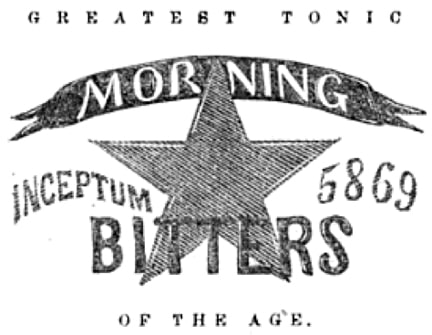 It is also fun to compare the olive toned bottle to an amber example. One was at the Keene show (on Jim Mitchell's table). I borrowed it and photographed it with the Gray example (see below). Look at the crazy applied mouth! An amber example from my collection is also posted below.
The Carlyn Ring and W.C. Ham listing in Bitters Bottles is as follows:
M 135  MORNING STAR BITTERS, Circa 1865 – 1875
motif 7 diagonal ribs / MORNING motif pointed star BITTERS / INCEPTUM 5869 // motif 18 diagonal ribs // PATENTED (au) / 5869 //
Morning Star Bitters Company   Charles Street   Baltimore, Md.
12 7/8 x 3 3/8 (7) 1/4 LTC
12 3/8 x 3 3/8 (7) 1/4 CM
Triangular, Amber, Gold, Yellow with lime tone, LTC and CM, Applied mouth and Tooled lip, With and without Metallic pontil mark, Common, Triangular, Green, CM, Tooled lip, Extremely rare