*Post amended 21 February 2012 with Dana Charlton-Zarro information and Dave Maryo image.
* Post amended 09 April 2012 with additional Pitkin Ruins image of archway.
Jeff Noordsy (visit Jeff and Holly Noordsy online) posted a beautiful picture of three Pitkin flasks (pictured above) that got me wondering about the history and differences between the molds and glass works that made them. I've compiled some information and support pictures. This is a great way for me to get a broader knowledge on this topic for the FOHBC Virtual Museum of American Historical Bottles and Glass project. I have got to be able to at least swim with the big fish that collect and research this topic.
Pitkin Flask: Small bottle of green glass in an ovoid and flattened shape made by the "Half-Post Method". In this method a second pattern molded gather of glass is put over an optically blown flask. The first layer molded flask is turned one way and the second layer is turned the opposite way giving an interesting pattern. Then the flask is expanded to the ovoid and flattened shape.
[PRG] Follow-up correction to process in which Pitkin Flasks were formed by Pitkin authority Dana Charlton-Zarro. PRG thanks Dana.
Ferdinand, thank you for your very interesting article on Pitkin flasks. However, may I respectfully correct a statement made, and provide you and your readers with the manner in which these flasks were formed: after the first gather of glass was semi-formed into the shape of a bottle, the still-pliable gather was dipped into the molten materials again, this time up to the shoulder of what was to become the flask, creatng the "German half-post" or "half-post" — and only then, after it had both layers of glass, was it was dipped into a pattern mold, removed, swirled, and reinserted into that mold (or another if a different rib count was desired) and given the second rib impression, then expanded.
That is, both patterns were impressed into the molten glass after both layers of glass had formed the flask. It was usually the same pattern mold (same number of ribs), and it was swirled first. The second insertion into the pattern mold was used for vertical ribs so as not to obliterate the swirls. (That is what makes the cross-swirled patterns on the few known so much of a mystery even to those of us who have studied Pitkins for many years.)
If it were done as your article stated, one pattern per layer of glass, then the second layer of glass would fill in the spaces in-between the ribs of the first layer, but this is not so on the flasks & inkwells we've come to know (and some of us love) as Pitkin-types.
Pitkins have been studied for many years, and are a difficult form for the unitiated. In years gone by, for example, the people used to think that the "half -post" was an "inserted neck".
Insofar as the number of ribs on Midwestern Pitkin-types (16), and New England Pitkin-types (36), those are the typical count, but many examples have been discovered with a different number, or even a combination of molds used. One of my New England flasks has a 38 rib swirl pattern together with 36 ribs. Pitkin-type flasks were also blown in the "Mid-Atlantic" — New Jersey, Pennsylvania, and probably New York. The number of ribs on those examples are different still.
To this collector, all of the are gems, and I thank you for your article and the opportunity to clarify the method used to make them.
Dana Charlton-Zarro
Originally these flasks were made in The Pitkin Glass Works in Manchester, CT (1788-1830). They were made later in other parts of New England and in the Midwest (e. g. Zanesville, Ohio 1810-1830). Today they are classified as being New England Pitkins or Midwestern Pitkins. You can usually tell the difference by counting the ribs. The New England is 36 ribs and Midwestern 16 ribs. In addition to various shades of green they can be found in amber, blue (rare), amethyst (rare) and colorless glass. The flask came in two main sizes half pint and pint, used as a pocket flask for whiskey.
The Pitkin Glassworks 1783-1830
[from the Manchestor Historical Society] In 1783, Connecticut's General Assembly granted Captain Richard Pitkin and his sons a 25-year monopoly on manufacturing glass, as recompense for their providing gun powder, at a loss, to the Connecticut militia, 1775-1781. The Pitkin Glass Works, the first successful glass factory in Connecticut, was built in Manchester (then the Orford Parish of East Hartford) on the Pitkin farm, now on the corner of Putnam and Parker Streets. Remaining in operation until about 1830, the factory produced demijohns for the West Indian trade, and bottles, flasks, inkwells and other small items, mostly in shades of green. These were considered to be the best color and design in the country. Rare today, Pitkin flasks have brought tens of thousands of dollars at auctions.
It is not known why the factory was closed down. Perhaps it was because of the cost of transporting sand from New Jersey, or because the firewood supply was decreasing with the growth of farming in the area. There may have been poor management, or increasing competition from other factories once the monopoly expired. Gradually, the massive stone building fell into disrepair.
In 1928, Mr. And Mrs. Fred W. Pitkin and others of the Horace Pitkin family quit-claimed the property to the Orford Parish Chapter of the Daughters of the American Revolution. Finding the cost of maintenance a burden, a suggestion was made in 1977 that it be sold for commercial purposes.
A group of interested citizens, led by Mr. Edson Bailey, protested this possibility, and formed a committee to preserve this historic site for the community.
Pitkin Glass Works Inc. (the Corporation) was organized, with executive officers, and five representatives from the Orford Parish Chapter of the Daughters of the American Revolution; five representatives from the Manchester Historical Society, Inc.; and five representatives from the citizenry at large. Papers were filed for incorporation, and by-laws were drawn up. The site was approved for inclusion on the National Register of Historic Places.
Since then, the Corporation has overseen the landscaping of the area, and installed a flagpole with a flag that has flown over our national capitol. The monumental stone ruins have been stabilized by repointing the stonework and replacing the wood lintels.
In the 1980s, students from Central Connecticut State University made a preliminary archaeological dig, but only shards of glass and pottery were found. In recent years, several archaeological digs have been carried out by middle school, high school and university students under the direction of the state archaeologist. Numerous pieces of bottles, flasks and inkwells have been discovered and cataloged. The fragments have confirmed the characteristics of the products made here.
All the funds to support the work of the Corporation have been raised by the generosity of private benefactors, or through the sale of replicas of a Pitkin flask and an inkwell, and pendants made from fragments of glass. An illustrated hard-cover book by Dr. William E. Buckley, "A History of the Pitkin Glass Works," has also been published.
The Corporation remains active, carrying out its mandate to maintain and preserve this part of our heritage for future generations.
Ohio and Midwestern Glass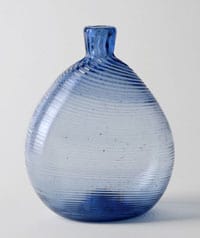 [By George S. McKearin] (This article originally appeared in American Collector magazine, a publication which ran from 1933-1948 and served antique collectors and dealers.)
This article on Ohio and Midwestern glasshouses in the early 19th century focuses on techniques, designs, patterns, and types of wares made, as well as including a list of glasshouse towns and glassmakers. It originally appeared in the November 1940 issue of American Collector magazine, a publication which ran from 1933-1948 and served antique collectors and dealers.
Among collectors, the blown glass which was made at the early glasshouses of Ohio and the Midwestern district has long been highly regarded. The craftsmen working there seem not only to have followed the Stiegel technique but to have developed and even created forms, colors, and elaboration of pattern-molded designs that were distinctly American. This is well illustrated in the beautiful swirl design, so frequently with a delicate feathery effect, produced from part-sized, vertically ribbed molds (Illustrations I and V).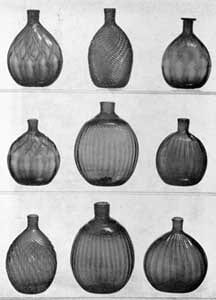 Illustration I: Nine Ohio Blown Flasks: All are about one-half pint capacity. Top row, left, typical Zanesville flask of ogival, sometimes called quilted design, in amber glass; center, flask patterned twice in the mold showing broken swirl design, very heavy, that produced the "popcorn kernel" effect; right, this is unusual because of its flanged lip. Center row, left, another Zanesville quilted flask of deep amber-colored glass; center, Pitkin-type flask in deep anther glass; right, flask with vertical expanded ribbing in reddish ember glass. Bottom row, left, flask with expanded swirled ribbing in dark amber glass; center, Pitkin-type flask in deep amber glass; and right, flask with vertical expanded ribbing in reddish amber glass.
The glass collection formed by the late W. T. D. Howe, president of the American Book Company, Cincinnati, Ohio, and kept chiefly at his country home, "Freelands," in Kentucky, across the Ohio River from Cincinnati, was known to be rich in pieces of this kind. There, in a separate building that also housed a portion of his remarkable library of English and American first editions, were a series of display cases filled with superb glass.
Nothing delighted Dr. Howe more than to show his collection to those interested. On such occasions he would open the cases and take out various pieces for his collector-guests to handle and inspect. In many instances he would relate fascinating accounts of how he acquired this or that piece directly from the descendants of some of the early glassworking craftsmen of Ohio and the Midwestern districts.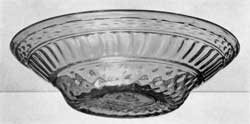 Illustration II: A Magnificent Blown-Three-Mold Bowl: Of brilliant clear green glass, light tone, this piece was probably blown at Kent, Ohio, in a decanter mold. The pattern consists of vertical ribbing between wide bands of diamond diapering. The band of gadrooning which encircles the shoulder in decanters has been almost entirely lost or obliterated in expansion of the bowl. Several of these bowls are known in light green glass and three or four in a glass of olive-yellow tone. This bowl is, so far as known, unique in size and widespread sides.
Such examples were, of course, only a part of what was one of the outstanding collections of free-blown and blown-and-molded glass, principally the products of American glasshouses. It included rare and fine examples, characteristic of the craftsmanship of the blowers in Stiegel's Manheim glasshouse, the early factories of the South Jersey area, and the New York and New England glasshouses where the South Jersey technique in form and decoration was perpetuated.
This Howe collection of well over a thousand pieces is to be dispersed at a two-day sale, November 8 and 9, at the Parke-Bernet Galleries, but before this happens there is still opportunity to record the accomplishments of the early glassblowers of Ohio and the Midwestern districts as exemplified by specimens of this glass that Dr. Howe acquired through years of collecting.
From the early years of the 19th century, and probably through the 1840′s, some of the finest glass, both free-blown and pattern-molded, ever produced in America was made in the glasshouses which dotted the Ohio and Pittsburgh-Monongahela districts. This glass in brilliancy of metal, coloring and delicacy of the patterned design ranks with anything produced at Manheim or by the Venetian or other Continental blowers from whom the Steigel workmen drew their inspiration.
The only exceptions to this are the amethyst perfume bottles, particularly the so-called "Diamond-Daisy" pattern, which are generally considered to represent the apex of Stiegel's achievement in glassmaking. Incidentally, these beautiful bottles, in the large and small ogival or Venetian diamond pattern, as well as the "Diamond-Daisy," are well represented in Dr. Howe's collection.
It also contains many choice specimens of typical American blown-three-mold, clear, as well as in colors, and several rare examples of that type of molded glass in the pattern peculiar to one of the early Kent, Ohio, glasshouses (Illustration II) and which may possibly also have been produced in the Wheeling, Virginia, district.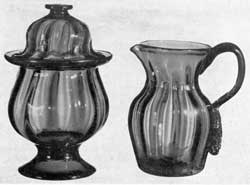 Illustration III: Probably from the Pittsburgh District: The sugar bowl, with cover, has an applied foot and was molded with wide-spaced expanded ribbing. It has a galleried rim, dome cover, flat button finial, and was made of deep sapphire blue glass. The pitcher was molded in the same pattern of blue-colored glass with violet tone. Pieces of this type are believed to have emanated from the Pittsburgh district and, quite possibly, to be a product of the Bakewell, Page & Bakewell Glass Works — period circa 1830-40.
Bottles and flasks, patterned in molds and expanded, were a leading commercial product of most of the early Ohio and Midwestern houses. These were produced in an almost never-ending variety of size, form and color, and combined with delicate designs patterned in ribbed and latticed or diamond molds. The sixteen-rib molds used at Mantua, Ohio; the twenty-rib, identified with Kent; and the Zanesville twenty-four rib were used by skilled blowers to produce not only expanded vertical and swirled ribbing but, by double insertion of the gather, the fascinating broken swirl and delicate "noncom kernel" effects, distinctly associated with these Ohio and Midwestern glasshouses, were produced.
The chestnut-shaped pocket flasks, patterned in diamond molds are among the finest flasks made by these early craftsmen (Illustrations I and VI). They were produced at Mantua and Zanesville; also, it is believed, at the earlier Gallatin-Kramer glasshouse at New Geneva, Pennsylvania, and possibly in other factories in the Pittsburgh and Midwestern area.
The Mantua mold had fifteen diamonds in a lateral chain; the Zanesville, ten; and the New Geneva mold, that has already been illustrated in an article by Harry Hall White, sixteen diamonds. The last was a part-size two-piece mold; the Mantua and Zanesville similar molds may likewise have been two-part, although some are inclined to the opinion that they were three-piece, hinged molds. On the Zanesville flasks (Illustration I), the ogival design usually terminates in a pointed arch effect encircling the lower part of the flasks.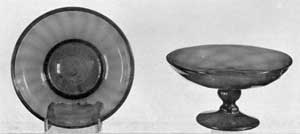 Illustration IV: Shallow Bowl and Small Compote: The bowl or pan with folded rim and expanded vertical ribbing is of golden amber glass. The compote has a bowl blown in a flask mold — ten diamonds — and applied stem and foot. Of brilliant deeper amber glass, it is attributed to Zanesville, Ohio.
Using the same bottle and flask molds, the blowers made beautiful table and decorative wares. A large part of the latter represented individual pieces blown as gifts or for home use, but to some extent such wares were probably made commercially for local markets.
The sugar bowls and covers; pitchers, large and small; pans and shallow bowls (Illustrations III, IV, V, and II) , varying in depth and diameter; salts, flips and tumblers, vases and other articles patterned in these bottle molds are among the finest examples we have in Early American blown glass. The colors are fine and varied. The ambers, ranging from a dark brownish tone to golden yellow, are superb; the greens vary from brilliant aquamarine to deep yellowish or olive tone; occasionally a delicate cornflower, blue or deep sapphire, is encountered; and rarely a brilliant, vibrant amethyst. Similar pieces, free-blown and without pattern, are also encountered in the same range of glowing brilliant colors.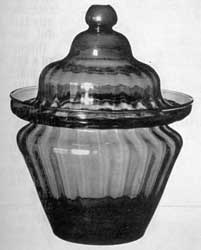 Illustration V: A Zanesville Sugar Bowl: Patterned in a bottle mold, this piece has expanded vertical ribbing, galleried rim, and double dome cover with ball finial. Similar bowls are known in clear, brilliant light green and greenish-yellow amber glass. Others, unpatterned, have been found in dark amber and green glass.
Taken as a whole, this Ohio and Midwestern glass falls in a category of its own, distinctly American and expressive of the finest craftsmanship in the development of glassmaking in America, untainted by the later commercial mechanization of the industry.
The Howe collection is particularly noteworthy for its many outstanding examples of this Ohio and Midwestern glass, Ohio-Stiegel, as the molded pieces have been aptly termed. In the accompanying pictures many of the choice examples are illustrated.
Editor's Comment: Since there has been such keen interest for a long time among collectors in the early glass made in Ohio and the Midwestern district, but as yet no condensed listing of the places where this glass was made nor brief biographical notes about the men who launched these glass endeavors, the following check list of glasshouse towns and men with dates would seem to be in order. It has been compiled from the various books and articles on American glass by Rhea Mansfield Knittle. Harry Hall White, and Mr. George McKearin.
OHIO: Zanesville: Started about 1815 with Isaac VanHorn, Samuel Herrick, Samuel Sullivan, Rees Cadwalader, Davis J. Alarpole, Ebenezer Buckingham, and John Nanne, as the original promoters. Continued until 1820, then leased the glasshouse. Two years later it was bought by Joseph Shepard and James Crosby as Shepaid & Co. Known as the White Glass Works. Closed in 1839.
Cincinnati: Major Craig built a glasshouse here circa 1814.
Moscow: Small glasshouse started 1816. Operated 1817-19 by Pugh & Teeter.
Mantua: David Ladd and Jonathan Tinker started glasshouse in 1821. The next year they separated and left Mantua. Ladd went to Carthage and Tinker to Franklin Mills where both later started small glasshouses.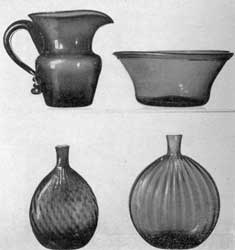 Illustration VI: Other Examples, Probably Ohio Glass: Top row, left, a large free-blown pitcher, not patterned, in dark amber glass attributed to Zanesville; right, bowl of golden amber glass, not patterned. Lower row, left, chestnut flask with broken swirl in deep amber glass; and right, grandfather flask in clear glass with expanded ribbing.
Kent: Glass factory built in 1851. Known as Kent Wells & Co.
Ravenna: Glass factory built in 1857. Closed 1867. Known as The Ravenna Glass Company.
Steubenville: Glass furnace built 1830 by Kilgore and Hanna. Lasted only a few years. Wells, Henry & Co. also erected a small furnace here in 1836 and continued it for about ten years.
PENNSYLVANIA: New Geneva: Albert Gallatin as Gallatin & Co. and Gallatin & Nicholson built and operated a glasshouse here 1793-1803. Acquired then by the active glassworkers Baltzer and Christian Kramer, John Gabler, Adolph Eberhart, George Reppert and Lewis Reitz. Shortly after 1807, plant was moved to Greensboro, Pa.
Pittsburgh: James O'Hara and Isaac Craig established glasshouse in 1798. Called Pittsburgh Glass Works. Leased, 1819, to Rudolph Lorenz. Thomas Bakewell and Benjamin Page, circa 1808, established glasshouse of Bakewell & Co. Later was Bakewell, Page & Bakewell and then Bakewell Pears & Co. McCully & Hay, 1830-32. Phoenix Glass Company, organized 1832.
Read Further: 
The Evolution Of Form And Design In American Bottles: 1739-1903 Chronicling The Transformation From Art To Industry - As Presented by Jeff and Holly Noordsy at the Eastfield Village Glass Symposium in August 2005
Pitkin Flask Image Gallery