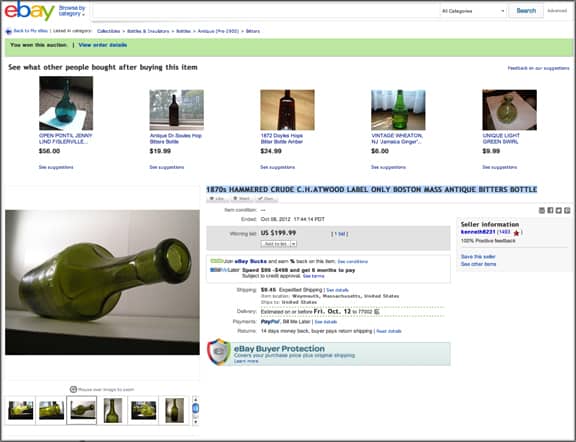 C.H. Atwood's Genuine Tonic Bitters
"It was found in a tidal river three feet under the mud by a striper fisherman on the south shore. Amazing condition for sitting in mud for over a hundred and thirty years or more." 
I came across this eBay listing for a C.H. Atwoods and really liked the write-up and pictures. I commend the seller for a nice job. Let's see if the bottle lives up to expectations…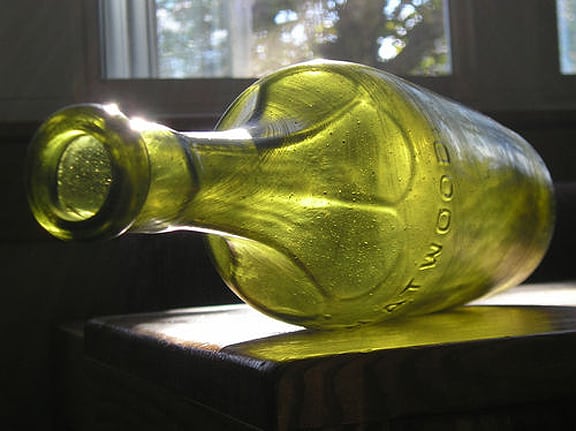 eBay Description:
This bottle is a label only bitters from Boston, Mass. It was blown in a mold in the 1870′s with an applied separate piece of glass for the top. The glass has beautiful character and crudeness and a smooth base just missing the pontil. The best part are the flutes on the shoulders and neck that gives it that unique shaped bottle. It was found in a tidal river three feet under the mud by a striper fisherman on the south shore. Amazing condition for sitting in mud for over a hundred and thirty years or more. The glass is loaded with bubbles and is a wonderful piece to hold up to sun light. Nice bright light bubbles on top of bubbles. No chips or cracks. Has an etched look and feel to the surface of the glass all following the cooling lines in the glass. This adds another thing that is beautiful about this bottle. Maybe a couple tiny scratches but they are only found just to say something is wrong with such an amazing bottle. It stands 10 5/8 inches tall and has a nice feel in your hand.
The Carlyn Ring and W.C. Ham listing in Bitters Bottles is as follows:
A 111.5 L  C H ATWOOD BITTERS, Circa 1860 – 1875,
L… Atwood's Genuine Tonic Bitters, Chas. H. Atwood, Boston
C H ATWOOD
10 x 2 1/2
Round, green fluted neck, RC
Read More: C H Atwoods – Neat Bitters Bottles with Fluted Necks
Dr. Richard Cannon: Charles H. Atwood of Boston advertised this product as early as 1860.
From Bottle Pickers: From 1866 to 1902 there were advertisements for Atwood's Quinine Tonic Bitters. Charles H. Atwood was from Boston, Mass. He marketed this product which was manufactured by Gilman Company who was located in Boston, Mass. This Company was the successor to the Alvah Littlefield & Co.
Alvah Littlefield would purchase the rights to Atwoods Quinine Tonic Bitters from Moses Atwood around 1855. Moses Atwood originated this medicine in 1840.
Littlefield's major distributor for this product was Demas Barnes and in 1869 the Littlefield account was taken over by John Henry. In 1877 John Henry would by the rights to the Littlefield medicines (Charles H. Atwood successor) and began to manufacturer Atwood's Quinine Tonic Bitters in a new company called The Manhattan Medicine Co.
eBay Pictures